Georgia's prison officials will have to explain themselves in court if they continue to refuse hormone therapy to transgender inmates, warns a letter delivered to the state's Department of Corrections on Tuesday by the Southern Poverty Law Center, an advocacy group based in Alabama.
Starting in 2012, department employees violated the Constitution's ban on cruel and unusual punishment by denying hormone treatment to Ashley Diamond, a transgender inmate who had received the treatment for nearly two decades before entering the prison system, the letter alleges.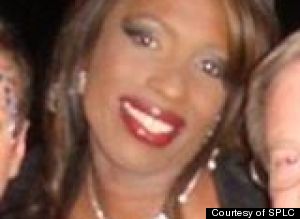 If these allegations are true, the officials also breached the department's own policy, which calls for Georgia's prisons to provide hormones to all inmates who start taking them before their incarceration.
In a press release, the Southern Poverty Law Center quoted Diamond (at left) as saying she's "only asking for respect."
"No one would deny a diabetic prisoner insulin," said Diamond. "No one would sentence a person to a gender change. But because I am transgender, I am denied basic medical care and forced to change gender. Nobody should be sentenced to torture like this."
Diamond, 36, first began taking hormones when she was a 17-year-old living in Rome, Georgia. In 2009, she was convicted of burglary and placed under probation. Two years later, she was sent to prison after allegedly violating the terms of her probation, and that's when the hormone therapy abruptly stopped.
Her voice deepened, she began to grow facial hair and her body changed shape. In a lawsuit Diamond filed in November 2013 (the suit is still pending), she said she suffered from depression and chronic anxiety. She also contemplated suicide, according to the SPLC.

Diamond's case is not unique. Although data on transgender inmates is sparse, a series of recent court cases have shed light on the stories of others in her situation. Judges have consistently sided with the inmates in these cases, pointing to the "cruel and unusual" clause of the Eighth Amendment as a justification for striking down bans on hormone therapy, legal experts say.
"The courts understand that this is a serious medical need," said Chase Strangio, an attorney at the American Civil Liberties Union, adding that people who abruptly stop hormone therapy report feeling "hot flashes, dizziness, anxiety, suicidality, desire to engage in a self-castration and other things that can have very dire physical consequences."
The treatment of transgender inmates varies from state to state and prison to prison. Like many states, Georgia requires its prisons to provide hormones only to those inmates who start therapy before entering prison. California, New York and the federal government claim to offer hormones to inmates who begin transitioning behind bars.
But even in states with the most transgender-friendly policies, prison officials do not always follow their own rules, according to advocates.
"Increasingly, the policies do not prohibit care outright," said Strangio. "The problem has been with implementation."
Georgia's Department of Corrections declined to provide a comment for this story. A representative said the department doesn't comment on pending litigation.
Historically, states have almost always housed transgender people in accordance with the gender assigned to them at birth, but that's beginning to change. In Denver and Washington, D.C., as well as Cumberland, Maine, and Cook County, Illinois, there are policies in place that allow transgender prisoners to be assessed and housed on a case-by-case basis.
In a conference call Monday with the SPLC and transgender activists, Janetta Johnson, an advocate with the Transgender Gender Variant Intersex Justice Project, described her own experience of stopping hormone therapy while in prison. "As time progresses, everything that you possess as far as self-love and self-care begins to disappear, and you become inhuman," she said.
Diamond's lawyers say her case illuminates just a few of the many hardships faced by transgender people in the criminal justice system. In the letter to the Georgia Department of Corrections, David Dinielli, the lawyer handling the case, said prison staff harassed Diamond and placed her in solitary confinement for over a week for "pretending to be a woman."
That's a familiar complaint, advocates say. "Agencies often house transgender people in solitary confinement, rather than making an affirmative effort to make them safe," said Strangio.
A 2011 survey by the National Center for Transgender Equality and the National Gay and Lesbian Task Force highlights the need for such efforts. More than 15 percent of transgender inmates who responded to the survey reported being physically or sexually assaulted by other inmates and by staff.
Transgender people are also disproportionately likely to go to prison in the first place. This is especially true of black transgender people like Diamond: Of the black transgender people who responded to the survey, nearly 50 percent had been incarcerated at some point in their lives.
"The usual mechanisms that lead to the disproportionate representation of people of color in the criminal justice system are heightened for transgender people of color," Strangio said. "Transgender people are pushed out of schools and out of homes because of lack of support and discrimination. There is a lack of employment opportunities because there are no legal protections in many states. And transgender women of color, in particular, are often targeted by police when simply walking down the street."
On the conference call, Johnson said that going without hormones in prison makes it even harder to successfully return to the outside world.
"When we re-enter society, we need to be mentally stable so we can face whatever we need to face when we do get out," she said. "I think that the prison system needs to be held much more accountable."
Popular in the Community