NEW YORK -- A transgender Manhattan man says the New York City Police Department repeatedly impeded his attempts to report an alleged hate crime, and has failed to arrest the man who allegedly threatened him and his family.
Marlow White, 51, filed a $2 million federal lawsuit last week alleging that NYPD officers discriminated against him based on his gender identity, putting him, his partner, and their four daughters in danger -- all during a time when violence against transgender people in the United States is on the rise.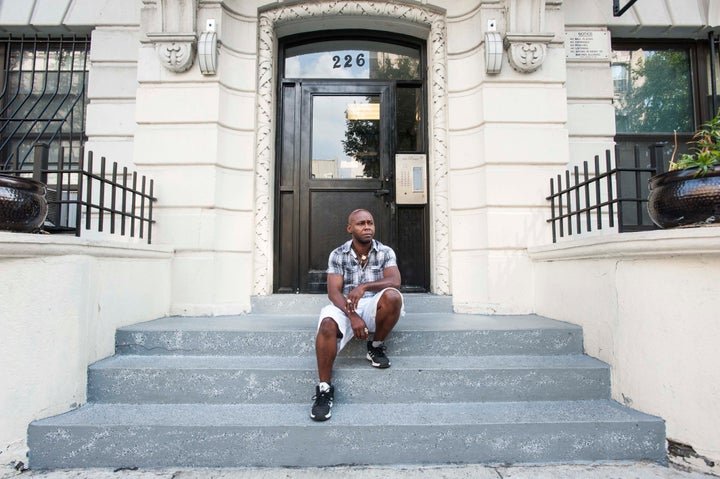 Note: This article contains explicit language that may be upsetting to some readers.
The lawsuit -- filed on Aug. 25 in the U.S. District Court for the Southern District of New York -- states that White, who is on his building's co-op board, went to his neighbor Ana Amezquita's apartment on March 20 to drop off some documents. There, Amezquita introduced White to her boyfriend, Napoleon Monroe.
After some polite small talk, Monroe allegedly shifted the conversation. He told White that he had been in gangs, then lifted up his shirt to show off knife and gunshot wounds. This, the lawsuit alleges, was an attempt to "intimidate" White.
"He begins to tell me about Ana and I spending time together and he's uncomfortable with that," White recounted to The Huffington Post recently. White said he told Monroe that there was "nothing" going on between him and Amezquita.
"I don't want to hear that shit!" Monroe allegedly responded. "Because I'm a real man with a real dick between my legs!"
(Monroe told HuffPost he never said this.)
White, who transitioned in 2004, said he and Monroe exchanged some more words, and he left the apartment.
Over the next month and a half, the lawsuit says Monroe "made a point to stop and say hello to [White] as if nothing happened. During each such encounter [White] ignored [Monroe]." And with each passing encounter, Monroe grew more "agitated."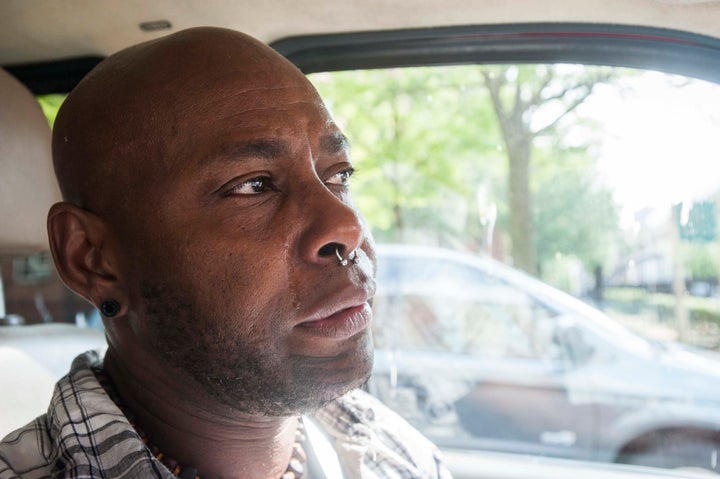 "I'm gonna fuck you and your transexual man up!"
On May 3, White said he was driving three of his daughters to New Jersey to buy the oldest a prom dress when he received an alarming series of text messages from Amezquita's phone number, which can be read below. The texts weren't written by Amezquita, White said, but by Monroe.
"I just slapped Ana!" read the final text message. "Come protect her! I'll cut your fucking head off lil man."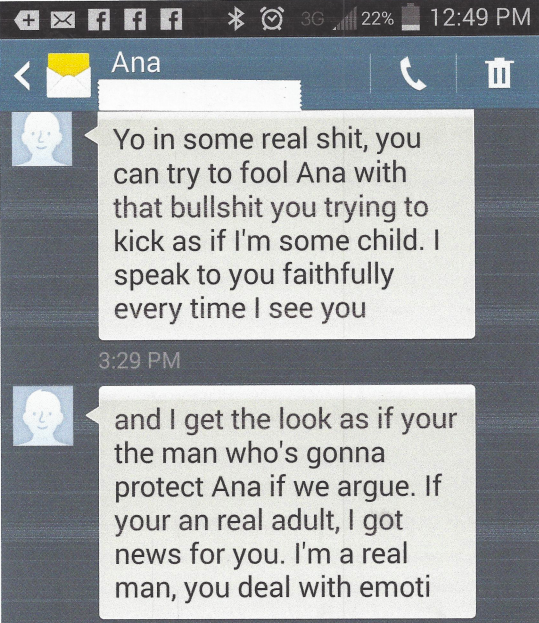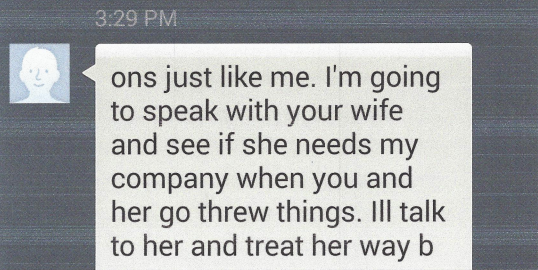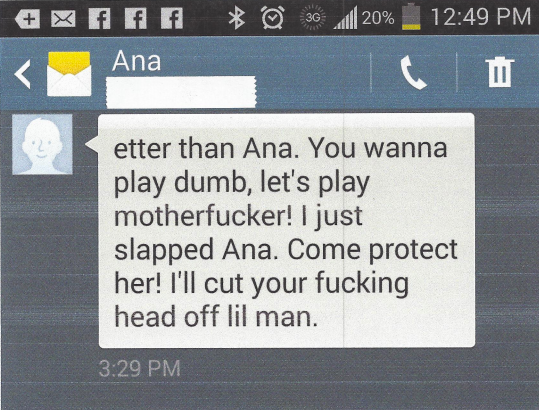 Two days later, White called an emergency meeting of the building co-op board to address Monroe's alleged threats. The next morning, when White's partner, Nathalie Lewis, was leaving the building on her way to work, Monroe confronted her.
"Are you Marlow's wife?" Monroe allegedly asked.
"Do not ask me any questions because I don't know you," she replied, according to the lawsuit. "Leave me alone!"
"I'm gonna fuck you and your transexual man up!" Monroe said, according to Lewis.
A loud verbal altercation ensued, drawing the attention of neighbors. White ran downstairs and several people called 911, while the fracas spilled outside onto the sidewalk.
Two NYPD officers -- identified in the lawsuit only by their last names, Garcia and Ureiba -- arrived on the scene. When Lewis told the officers her partner was transgender and that's why Monroe was targeting him, the officers "expressed obvious distaste for [White], their entire demeanor changed and they became completely uncooperative," the lawsuit states.
While White, Lewis, and their neighbors talked to the two officers, Monroe "was walking up and down the block shouting 'transsexual' while gesturing towards [White], all within sight and earshot of Officers Ureiba and Garcia," the lawsuit continues. "The entire time, [Monroe] repeatedly reached into his pants to grab his penis while shouting at [White's] partner asking if she wanted to see his penis, that he was a 'real man with a real dick,' all within sight and earshot of Officers Ureiba and Garcia."
(Monroe, again, told HuffPost he had never said this.)
The lawsuit alleges Monroe then went into the apartment building and came back outside wearing an apron, in an apparent effort to taunt and mock White over his gender identity. At this, the officers reportedly smirked.
Then, Monroe allegedly screamed, "Officer, you know me! I'm Napoleon!"
White said officer Garcia smiled at Monroe.
"So let me get this straight: you're not gonna take a report from any of us?" White said one of his neighbors asked the officers. "And you're gonna leave here and wait 'til somebody gets killed or murdered, and then you'll come back later to pick up the pieces?"
To this, officer Ureiba allegedly responded: "That sounds about right."
"And that's my word to God," White told HuffPost of the veracity of his lawsuit's version of events. "May I have no good blessing in my life if I'm lying here. [Ureiba] said, 'That sounds about right.'"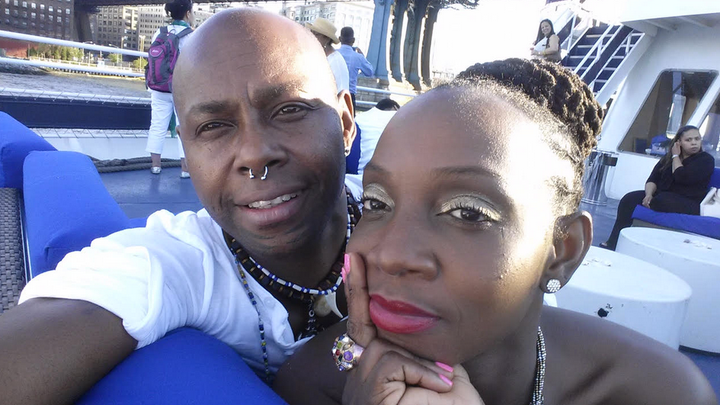 Monroe, who's named as a defendant in the lawsuit, denied every allegation. He told HuffPost that White was "making up stories behind my back" and added that he has no problem with transgender people. "My sister's gay," he added.
While officers Ureiba and Garcia reluctantly took a criminal complaint from Lewis that day, White said, they did not take one from him.
Monroe was arrested later that day on an unrelated charge -- which he said was later dismissed -- involving an incident with Amezquita.
Meanwhile, White received another text message, this time from Amezquita herself, offering him an apology.
"I am really sorry for all this situation," the text message read. "I don't have words to tell you how sorry I am that you get [sic] involved in this mess."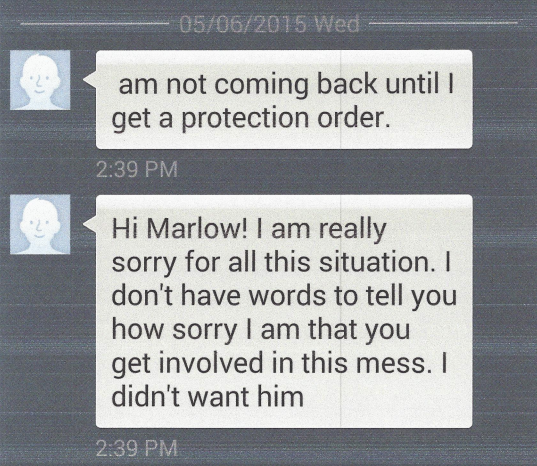 Unconvinced that officers Ureiba and Garcia would do anything, White and Lewis went to the 28th Precinct that afternoon -- but officers there repeatedly rebuffed their requests to file a criminal complaint over Monroe's alleged text messages. The couple gave up and went home.
It was the start of a long and protracted effort to get the NYPD to arrest Monroe for menacing, harassment or stalking. Without an arrest on such charges, White couldn't get a court to issue an order of protection to prevent Monroe from coming near him and his family.
Since then, White has repeatedly seen Monroe on his block or in his building. White told HuffPost that he and the other tenants have changed the locks on the building, but Monroe managed to get a key, and has been seen walking in and out of the building on multiple occasions.
One time, White said, Monroe lunged at him when they passed each other on the street.
"It feels horrible," White said of not being able to get a protection order. "We've had to have our children on high alert. Text us everywhere they go. Soon as they're out of the building, and when they arrive wherever they're going."
"I said to my older daughter, if [Monroe] makes any approach, just call the police," White added. "She looked at me and said, 'Call the police? For what?' And I was like, 'She's right!' That's why I'm in this mess right now, because police didn't do their job."
A Problem Reporting Anti-Transgender Hate Crimes To Police
Moreover, when LGBTQ people did report incidents to authorities,"27% of survivors reported experiencing hostile attitudes from the police," according to the NCAVP report. It's unsurprising, then, that police only classified 6 percent of reported attacks or harassment against LGBTQ people as hate crimes.
Transgender Americans were also 4.6 times more likely than non-transgender Americans to suffer violence at hands of the police themselves.
Meanwhile, even as transgender people become more visible in the public eye than ever before, overall violence against the trans community is on the rise. Hate-motivated violence against transgender people rose 13 percent last year, according to the NCAVP report. And 55 percent of anti-LGBTQ homicides in 2014 involved the killing of transgender people.
Anti-transgender violence, as well as police mistreatment of transgender people, has been particularly pronounced in New York City in recent years.
In 2012, police arrested a transgender woman for allegedly using a discount fare card illegally at the 125th Street subway station in Harlem. An officer at the precinct allegedly asked her whether she had a penis or a vagina -- a question she refused to answer. She was then "painfully chained to a fence wherein, for no apparent reason, her arm was lifted over her head and attached to the fence to make it appear that she was raising her hand in the classroom," according to a lawsuit she filed against the city. "She sat there in that position for 28 hours."
That year, the NYPD, under pressure from LGBT and civil rights groups, revised its patrol guide to ensure that those in NYPD custody would be held in sex segregated police facilities according to their gender identity, even if that identity differed from the sex assigned at birth. It also banned the practice of chaining "special category prisoners" to rails, bars or chairs for long periods of time.
In 2013, a group of transgender women were attacked by a group of men in Harlem specifically because of their trans identity. One of the women, Islan Nettles, died of her injuries. Advocacy groups later protested the NYPD's handling of the case, saying the department was too slow to bring charges against suspects.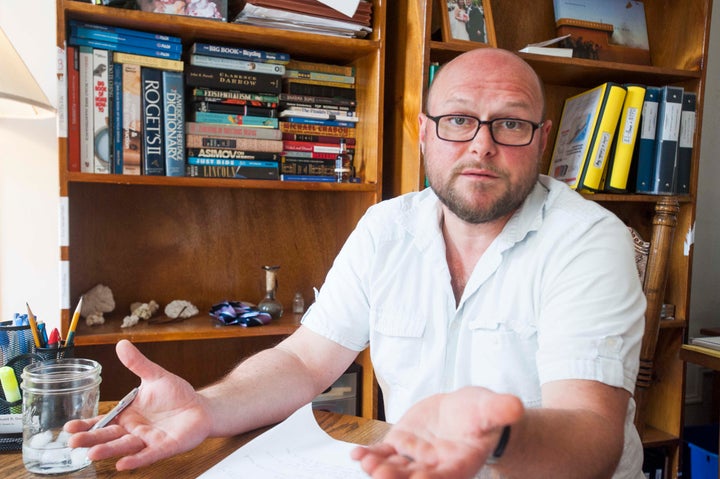 On May 15, with the help of his lawyer, Donald Dunn, White obtained a court order requiring the NYPD to take his criminal complaint regarding Monroe's text messages.
But when he and Dunn delivered the court order to the 28th Precinct, they were again met with resistance. An officer, identified in the lawsuit as Lieutenant Cautter, reportedly scoffed at the phrase "person of trans experience," which appeared in the court order. And when another officer interviewed White about his accusations against Monroe, Dunn said the officer was uncooperative.
"She acted as if though she were the lawyer for Napoleon Monroe, advocating for him and against Marlow," Dunn said. The officer, identified in the lawsuit by her last name, Rosendary-Phillips, again refused to file a criminal complaint.
When Dunn threatened to file a contempt of court charge against the city, the NYPD finally relented, and sent hate crime unit officers to White's apartment to formally take his criminal complaint against Monroe. But that criminal complaint, Dunn said, was limited only to one text message ("I'll cut your fucking head off lil man,") and none of Monroe's other alleged actions.
As of this writing, Monroe still hasn't been arrested on any charges related to White -- which means he still can't get an order of protection. White's repeated text messages to NYPD detectives working on the case have gone unanswered, he said.
Dunn said he's actively looking for other "people of trans experience who have been refused the right to file a complaint by the NYPD."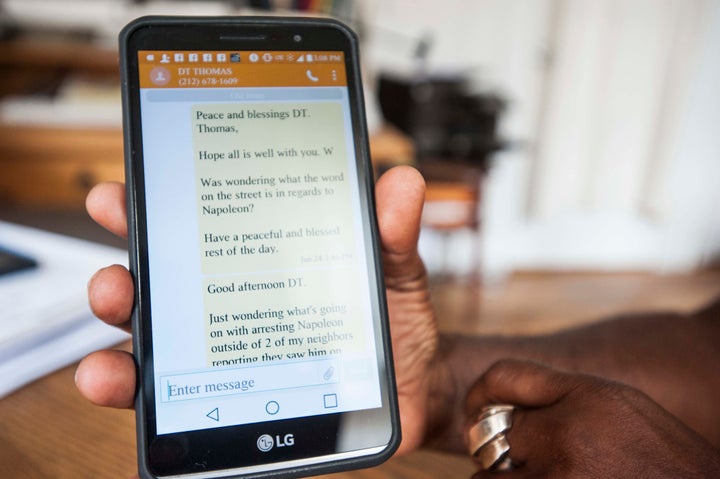 When HuffPost asked the NYPD about White's lawsuit, the NYPD public information department replied in an email that "there was a Complaint Report filed in connection with this case at the time of report by the victim," but didn't clarify when the complaint report was filed.
The department also said police had filed a "Wanted Card" for Monroe after White confirmed his identity. The card notifies officers who stop Monroe and run his name through the system that he's wanted for arrest. Otherwise, it's up to detectives working the case to track him down.
The city law department didn't respond to HuffPost's request for comment on the lawsuit.
Legal counsel for the city ― and Monroe, who doesn't have a lawyer ― are all due in court on Friday to respond to two preliminary injunctions Dunn has filed on behalf of his client, White. The first injunction seeks to stop the NYPD from "further discriminatory conduct against [White]." The second would direct the NYPD "to take and file Plaintiff's complete criminal complaint against his assailant and to investigate that complaint in a non-discriminatory manner."
Whatever the outcome of those injunctions, Dunn told HuffPost, the lawsuit, which seeks $2 million in damages, will proceed.
White, who works part time as a courier and is an active LGBTQ advocate in Harlem and the Bronx, said that although he has frequently faces discrimination, many people on his block in Harlem, where he transitioned back in 2004, have always been supportive of his gender identity.
Standing outside his building this week on a sticky, summer day, it was obvious that everyone in the neighborhood knew White, who has since been appointed president of his building's co-op board. Three children, who rolled up on a scooter and a toy car, all said, "Hi, Uncle Marlow!"
For now, White said he's just worried about the safety and well-being of his family.
"Why is it that I would have to get murdered or really badly injured for someone to take care of us?"
UPDATE: 8/24/2016 ― In November of 2015, Napoleon Monroe filed a counter-lawsuit against Marlow White, stating that the allegations made against him by White were untrue and caused emotional distress. In February 2016, White and Monroe agreed to dismiss their legal claims against each other without prejudice. White's lawsuit against the NYPD is still ongoing.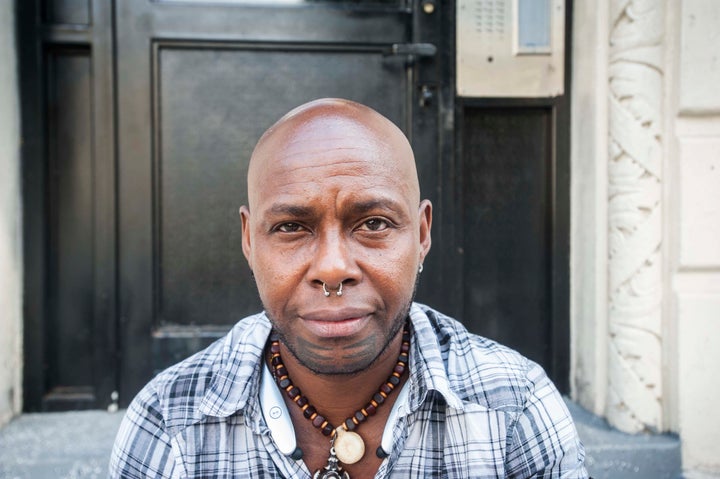 Popular in the Community