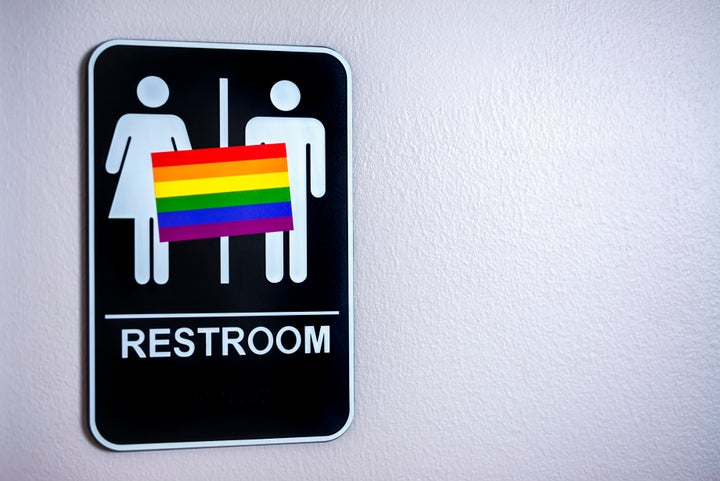 After the Trump administration rescinded federal guidance that said transgender students should be able to use the restroom that corresponds with their gender identity, the White House has taken pains to paint the matter as one of states' rights, not discrimination. Schools still "must ensure that all students, including LGBT students, are able to learn and thrive in a safe environment," according to a letter Wednesday from the departments of education and justice.
But early evidence indicates that the Trump administration's move is already harming the mental health of transgender kids and adults. Hotlines run by groups like The Trevor Project and Trans Lifeline both saw small increases in the number of calls they received this week, according to representatives of the groups.
The Trevor Project runs a hotline, instant messaging and texting service for LGBTQ youth in crisis, manned by trained counselors. Although the organization has not yet been able to crunch the numbers, it saw a small bump in calls and chats this week, said Steve Mendelsohn, interim executive director.
Trans Lifeline, a hotline that provides services to transgender people experiencing crisis, also saw a small increase in calls Wednesday and Thursday, when the nonprofit received 239 and 379 calls, respectively. The hotline's daily average so far in February has been 167 calls and in January it was 139, according to numbers provided by Trans Lifeline Director of Operations Nina Chaubal, although there was also a small increase in early February.
Trans Lifeline saw a huge jump in calls in the days following the Nov. 8 election.
"The administration's actions are hurting the transgender community and our call volume is going up, but not quite the way it went up in Nov after the election," Chaubal wrote in an email. "In many ways, the story our call volume tells is our community being in more or less constant crisis since November."
The Trevor Project also saw a huge increase in calls following Donald Trump's election, as well as an increase in donations. In the first two days after the election, The Trevor Project saw calls double ― the highest volume in the organization's history. The group, which typically raises $7 million a year, received $1 million in a month. It will use the added funding to expand its mental health services.
This week, Mendelsohn said he saw more evidence of the LGBTQ community and its allies organizing on social media to fight back against the administration ― a silver lining of sorts.
"What we're seeing is that instead of them all calling us to talk about their anxiety and fear, they're channeling it into action, and that's showing up in our social media," Mendelsohn said. "People are not feeling good about this, but they're riled up and ready to fight."
Rebecca Klein covers the challenges faced in school discipline, school segregation and the achievement gap in K-12 education. Tips? Email: Rebecca.Klein@huffingtonpost.com.
Popular in the Community