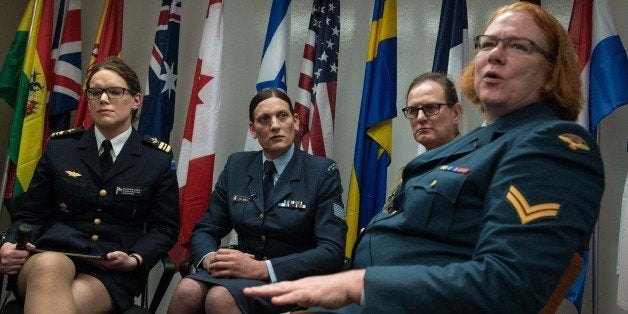 WASHINGTON -- Cpl. Natalie Murray has been a member of the Canadian Armed Forces for 27 years. She is a radar technician, and she has been deployed as far away as Bosnia to put her specialized training to use. That was in 2002.
About a year later, she transitioned from publicly identifying as a man to identifying as a woman. It didn't take long for word to spread in the military.
"I've arrived at a unit, and they're expecting a drag queen," said Murray. "A lot has to do with how media portrays us, or at LGBT events, when trans issues are being addressed, that's exactly who they bring out. A drag queen. ... Part of why I stand up and be who I am is to address that."
Murray was one of more than a dozen speakers at a first-of-its-kind event on Monday: an international conference of transgender military service members, hosted by the American Civil Liberties Union. Eighteen countries currently allow transgender people to serve openly -- the United States is not among them -- and transgender troops from five of those countries gathered in Washington, D.C., to share lessons learned and, perhaps, to influence U.S. policy.
Speakers at the event revealed the sharp contrast between the United States' military policy on transgender people and the military policies of some of its closest allies. The Supreme Court of Canada, for example, ruled in 1992 that it was unconstitutional to ban people from serving based on their sexual orientation or gender identity. In the United Kingdom, there's never been a ban. Instead, it's been a matter of keeping military personnel educated on LGBT issues over the years.
Sweden may take the top honors, however. In 1972, it became the first country in the world to let people change their legal gender after sex reassignment surgery. Acceptance of transgender people in the military took hold in the mid-1990s, said Maj. Alexandra Larsson, a transgender intelligence officer for the Swedish Air Force.
"The key for me was when a four-star general, the chief of defense, said in a press conference ... that he wouldn't accept any discrimination against LGBT people," said Larsson, speaking at the conference. "That summer, I walked alongside the chief of defense and the minister of defense in the Stockholm Pride Parade. ... I'm sure their presence made 50 more people come out. That aspect of symbolic leadership is so, so important."
"I have the best job in the world," added Larsson. "I really, really do. I'm so grateful to be in that position."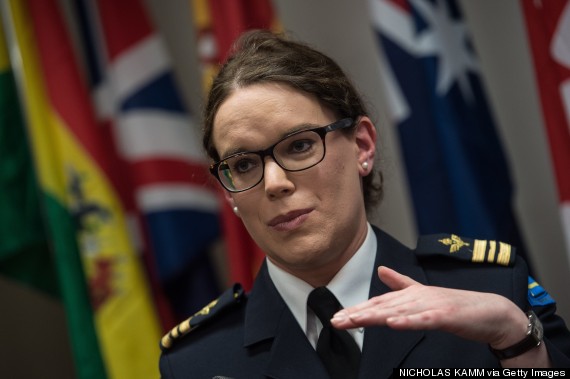 Maj. Alexandra Larsson was the first person in uniform to transition genders and continue to serve in the Swedish Armed Forces.
Don't expect U.S. Defense Secretary Chuck Hagel to march in a Pride parade anytime soon. Gay and lesbian people have been allowed to serve openly in the U.S. military since 2011, but transgender people are banned. And that's not about to change.
"I can confirm that for you -- that no review of the policy has been ordered," Lt. Cmdr. Nate Christensen, a Department of Defense spokesman, told The Huffington Post. "DOD regulations don't allow transgender individuals to serve in the U.S. military, based upon medical standards for military service."
Specifically, Defense Department instruction 6130.03 bars people with "psychosexual conditions ... including but not limited to transsexualism, exhibitionism, transvestism, voyeurism, and other paraphilias" from serving in the military.
"I would want to hear more from individuals who are close to this issue, know this issue, who I would value their judgment and their direction on," he said.
Despite the ban, an estimated 15,500 transgender personnel are already serving in the U.S. military in secret, according to the think tank Palm Center. Conference attendees said Monday that only hurts a force's operational effectiveness.
"Without a doubt, the more mature our inclusive policies become, the more effective our operational delivery becomes," said Sarah Maskell, a squadron leader in the United Kingdom's Royal Air Force and an official policy advocate for diversity within the military. "People are preparing to take on the challenge of military operations without the stress of personal changes."
Nearly everyone speaking at the conference said it wouldn't be that difficult to openly integrate transgender people into the U.S. military system.
"Organizationally, it's just not a heavy lift," said Lucy Jordan, a transgender sergeant in the Royal New Zealand Air Force. "It's about investing in the most important thing in your organization. It's people, people, people."
It comes down to educating military brass on transgender issues, the speakers said. And treating people with dignity. And shower curtains.
"That's one of the things people always say. 'Oh, transgender people, oh my! How do you deal with bathrooms?'" said Lt. Cmdr. Nicole Lassaline of the Canadian Armed Forces. "We're kind of saying, 'This person has the right to use that washroom. If you have a problem, you go use the other washroom.' It's worked fairly well and opened their eyes. They've said, 'Oh, maybe I don't have a problem.'"
Lassaline, who leads a focus group for transgender personnel, said there have also been cases of female soldiers not wanting to undress in communal dressing rooms because they have scars from breast cancer surgery or other operations. The goal, she said, should be to preserve people's dignity.
"It's the privacy of the person that should be respected," said Lassaline. "And really, how much does it cost to put a curtain in a shower cubicle? Really."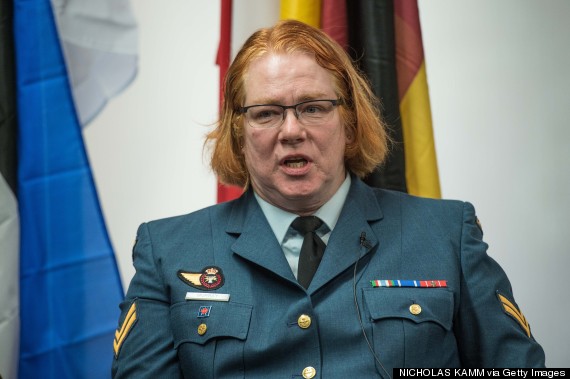 Cpl. Natalie Murray is the eighth Canadian military member to transition genders while in the force.
To be sure, it hasn't always been a smooth process for transgender military personnel even in the countries that don't ban their service. Murray said she feels she's been prevented from advancing in rank because she is transgender, and people in her initial unit made it clear that they didn't want her around. But the situation has improved over the years, she said, and she chooses to put herself out there to help her transgender colleagues.
"I had someone come out to me and start their transition, and my first words were, 'Don't do it unless you really, really have to. It's a pain in the ass,'" she laughed. "I would rather have not had to deal with this at all. But it's the best thing I've ever done."
Conference participants said their advice for transgender Americans who want to serve in the military is to keep speaking out and educating people on transgender issues, particularly those in the military and in Congress.
"My trans community [guides] 90 percent of the direction of my policy," said Maskell. "It's not a revolutionary step. It's not fighting against the machine. It's working with the machine because generally the machine just needs educating."
"Being able to be open and authentic is the key," added Donna Harding, a transgender major in the Royal Australian Army Nursing Corps. "For trans people in the service, all we want to do is serve to the best of our abilities and to serve with dignity."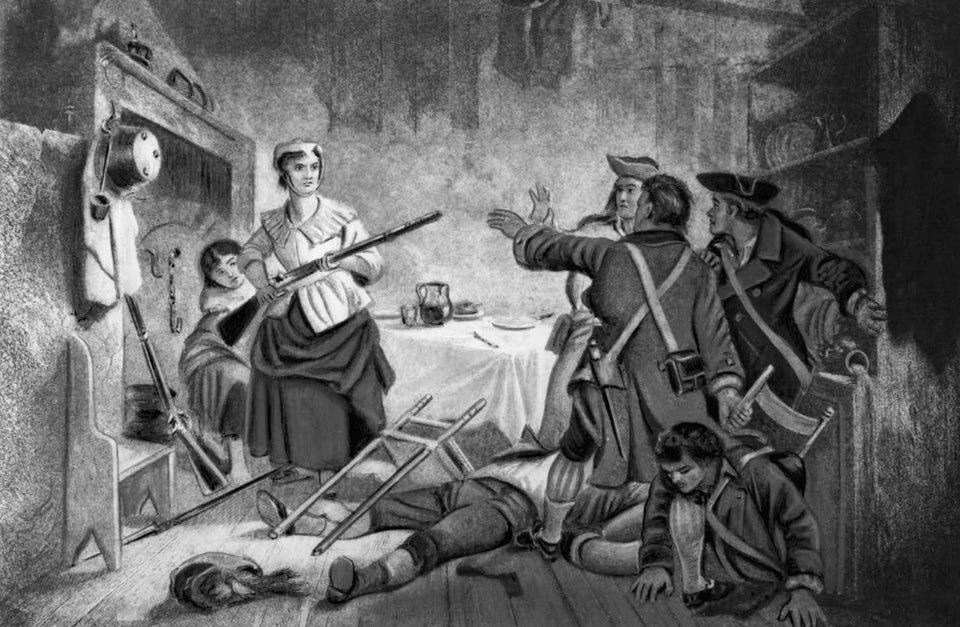 U.S. Service Women Through The Years