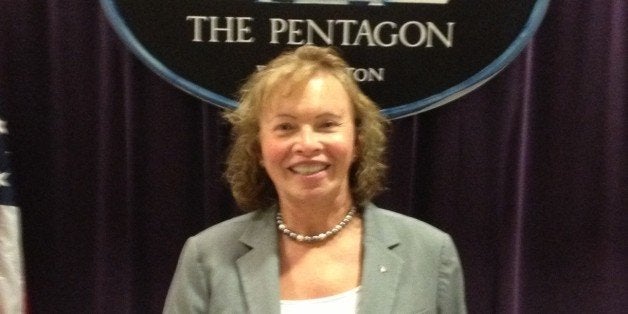 WASHINGTON -- When the Pentagon holds its Pride Month event next week honoring gay and lesbian service members, Sheri Swokowski will be there to make a bold statement.
All she has to do is show up.

Swokowski, a retired U.S. Army infantry colonel, is the highest-ranking transgender veteran in the country. The U.S. military bans transgender people from serving, but when Swokowski appears at the Pentagon event on June 9, she will be presenting as female while wearing a new dress uniform that bears the infantry brass and braid associated with her uniform as a male soldier -- a message to the military leaders in the room that transgender service members do exist and should be allowed to serve openly.

"I just want to be a visible symbol for those out there that are forced to, I won't say lie, but not be authentic in order to serve the country that they love," Swokowski told The Huffington Post. "They are very brave. I'm sure they're trying to do the best they can and keeping their fingers crossed that, sooner or later, the Defense Department is going to get on board and accept transgender people."
The ban has been in place since the 1970s, but it clearly isn't working. There are 15,500 transgender military personnel currently serving, in secret, according to a 2014 Williams Institute report. Beyond that, there are an estimated 134,000 transgender veterans or retirees from guard or reserve service. In 2014, an independent commission led by Joycelyn Elders, a former U.S. surgeon general, found no "compelling medical reason" for the ban.
Swokowski knows what it's like to serve in silence. She was an infantry soldier for nearly 35 years, living as a male but feeling that her true identity was female. She began taking hormones to transition into a woman "almost immediately" after retiring from the military in 2004. By 2007, she was presenting as female.
"Because of the ban, I put off transitioning out of love and respect not only for my family but for my nation, my job," she said.
She's hit some bumps in her career since her transition. In 2007, she took a job as a lead course instructor at the U.S. Army Force Management School in Fort Belvoir, Virginia, and was "properly dismissed" when she began presenting as female. She got a job at the Pentagon a few months later.
Defense Secretary Ashton Carter signaled earlier this year that the military may be inching, slowly, toward lifting the ban. During a Q-and-A with troops in Kandahar, Afghanistan, Carter said he is "very open-minded" about transgender people serving in the military. Carter is the keynote speaker at next week's Pentagon event.
"I'm hoping to get a front row seat or an aisle seat so if I don't get an opportunity to personally meet the secretary of defense, at least he will be able to look at me and see me and understand that the brass I'm wearing as a female is not found in our Army," Swokowski said. "It just needs to be recognized."
A Defense Department spokesman did not respond to a request for comment.
This year won't be the first time Swokowski attends the event, which she expects will include about 200 military leaders and personnel. She went last year. But the difference is that this time she'll be in uniform instead of in civilian clothes. Since women aren't allowed to serve in infantry, Swokowski's attendance at the event will also be the first time a female has legitimately appeared in a U.S. Armed Forces infantry uniform anywhere, never mind in the halls of the Pentagon.
The reason she's wearing her uniform this time is because the Army came through for her earlier this year by agreeing to change her name on a crucial military identification form known as a DD-214. The form is a lifelong document that military personnel use for all kinds of things once they retire, ranging from college applications to taking a bar exam to applying for jobs. Only a handful of transgender vets have been able to do this. Swokowski said once that happened, she felt it would be appropriate to wear her uniform again.
"It wouldn't be proper for me to be in a formal uniform, in my mind anyway, until the proper documentation and paperwork," she said. "That paperwork will secure my plans, when the time comes, to be buried and laid to rest in Arlington [National Cemetery]. I wanted to make sure the inscription reads 'Sheri Swokowski, Colonel, Infantry.'"
Her voice softened as she added, "That's near and dear to my heart."
Swokowski hasn't exactly been a wallflower when it comes to speaking out for transgender troops. She's been advocating for their right to serve openly for years and regularly travels from her home in Wisconsin to Washington, D.C., to lobby people on the issue. She's also worked closely with her senator, Tammy Baldwin (D-Wis.), to press for transgender rights. Baldwin says while the 2010 repeal of the military's "don't ask, don't tell" policy opened the door for gay and lesbian troops to serve, it's important to remember it did nothing for transgender military personnel.
"With the discriminatory legacy of 'don't ask, don't tell' behind us, it is my hope that our nation can move even further down the path to equality by allowing those in the transgender community to openly and equally serve the country they so love," Baldwin said in a statement. "I have long admired Sheri's courage as she works to pave this path for those who follow, and am grateful for her advocacy as she continues to advance the fight for all those who face discrimination."
Swokowski said senior military leaders seem the most resistant to changing the policy. She said she knows a handful of transgender people currently serving under commanders who know about their gender identity and support them because of their performance, but may feel "uneasy" because it's against policy to work with a transgender service member.
"I think [top military brass] don't want to talk about it because they're not comfortable with it. It's something new," she said. "Just because you're assigned a different sex at birth doesn't mean that we are different in society. ... We're not any different. We need to have folks understand that this is a medical condition and it's deserving of treatment. That's kind of the bottom line. I was a commander. I commanded an infantry company and, you know, you take care of your people."
The Army has already taken steps to make it a little easier for transgender troops to serve. Top Army officials announced in March that they were elevating the level of authority required to discharge someone based on gender identity. And of the five transgender veterans who have been able to change their DD-214 forms to reflect their new names, four were in the Army. The other was in the Navy.
Asked if she's nervous about how she'll be received at the Pentagon event next week, Swokowski said she's mostly just curious to see what will happen.
"I'm not there to incite anything," she said. "It's not for me. It's for those 15,000 folks that are out there. I've been through that. I know what that's like."
Calling all HuffPost superfans!
Sign up for membership to become a founding member and help shape HuffPost's next chapter
BEFORE YOU GO
PHOTO GALLERY
10 Incredible Improvements For LGBT People Since The First State Legalized Gay Marriage