A transgender pastor is lashing out against people who cite God as their reason for supporting a controversial Texas bill that aims to prevent trans people from using public bathrooms that correspond best with their gender identity.
"In the beginning, God created humankind in God's image. ... So God is transgender, " Wynn said, to which the crowd roared in approval. "We're all created in the image of what is holy and divine and sacred, and we should all be treated that way."
More than 200 people, including Wynn, testified against Senate Bill 6, known as the "Texas bathroom bill," during a public hearing with the Senate State Affairs Committee that began Tuesday morning and spilled into Wednesday morning.
Despite more than 13 hours of mostly oppositional public testimony, the committee voted Wednesday 7-1 in favor of the proposed legislation. The bill will now advance to the full Senate, where its passage is all but assured. Many senators, including the majority of Republicans and one Democrat, have already voiced support for the bill.
During Tuesday's hearing, Democratic state Sen. Eddie Lucio Jr. cited "God's creation" as one reason he supports the bill.
"God created everything as far as I'm concerned, but especially man and woman," Lucio said.
Wynn blasted the senator's message during his address outside the Capitol.
"We're going to stop using God as an excuse to hate people," Wynn said of the bill's religious supporters, before paraphrasing author Anne Lamott. "If God hates all the same people you do, then you've created God in your image."
Though S.B. 6 is modeled after North Carolina's bathroom bill, which was signed into law with broad Republican support almost one year ago, Texas lawmakers have faced steady opposition from LGBTQ activists and business owners. The bill could face an uphill battle in the Texas House, where Speaker Joe Straus (R) has raised concerns over the economic effects of its passage.
"I think we should be very careful about doing something that can make Texas less competitive for investment, jobs and the highly skilled workforce needed to compete," Straus said at a Texas Association of Business meeting in January.
Texas Lt. Gov Dan Patrick (R) began pushing for the passage of S.B. 6 after former President Barack Obama's administration issued a directive for public schools to allow trans students to use the bathrooms that match their gender identity. President Donald Trump's attorney general, Jeff Sessions, rolled back the Obama-era rule in February.
Wynn joined several other trans rights activists during the press conference outside the Capitol, which featured powerful speeches from a trans engineer and parents of trans children.
Watch the full press conference below. Wynn begins speaking at 24:22.
Support HuffPost
Every Voice Matters
Before You Go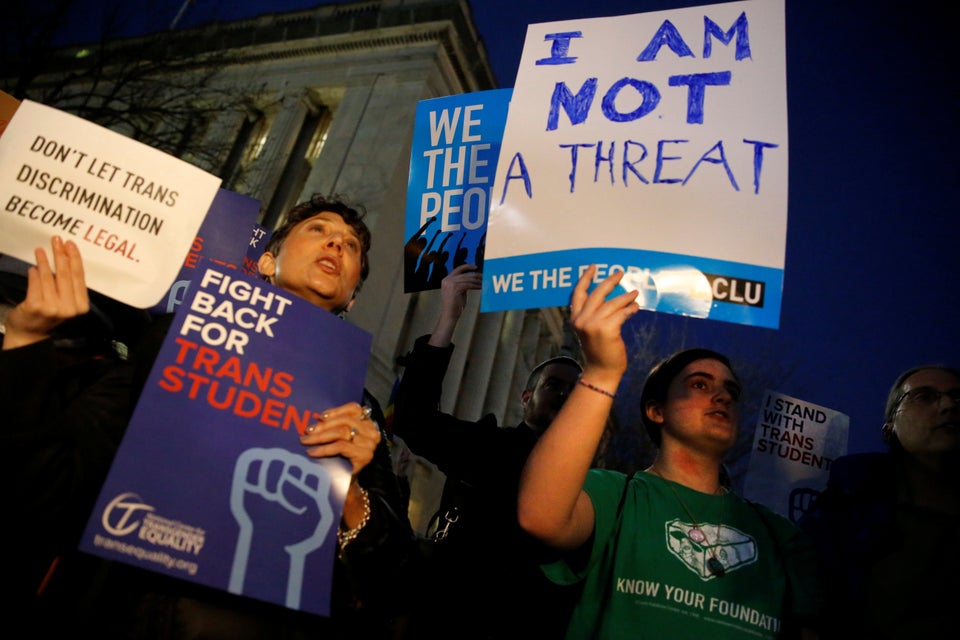 LGBTQ Groups React To Trump Revoking Trans Protections
Popular in the Community