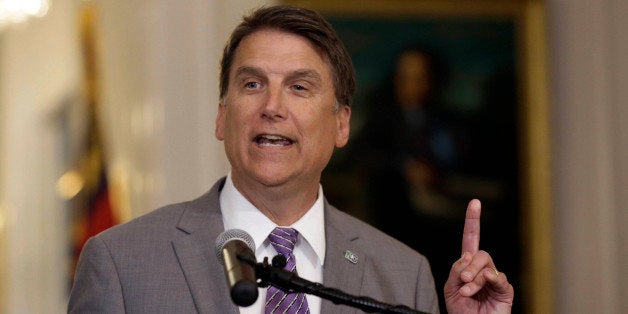 Over the last several weeks, we've had North Carolina's bathroom law debated and parsed in both our political and social discourse. Even within my own organization, National Action Network, on my national radio show and those that tweet/send me messages, people have been on both sides of this issue. Some that have worked with us on civil rights challenges are even arguing that this is a distortion of the Civil Rights Act. I have found myself debating many -- including allies -- because the concepts of civil rights and justice are for everyone, not just tailored to your particular group. The bottom line is, people have a right to live their lives even if it doesn't match what you think is correct. When we fight for civil rights, we must fight for equality for all; anything less is hypocrisy and an insult to the definition of justice itself.

On Monday, U.S. Attorney General Loretta Lynch called North Carolina's transgender bathroom law "state-sponsored discrimination", and said that it is targeting a problem that doesn't exist. "This law provides no benefit to society, and all it does is harm innocent Americans," she said as the Justice Department is counter-suing North Carolina over this egregious bathroom law.

AG Lynch is absolutely correct. Supporters of the law are inventing a problem where none exists, and creating fear and hysteria in order to drum up support for their cause. And for people like North Carolina's Governor Pat McCrory to use this issue for political purposes: It is outrageous, vile and a sad testament to how low politicians will go to maintain power. If he thinks that this bathroom law will help him get re-elected this November, I urge all residents in North Carolina to send a clear message that it will have the opposite effect. You simply cannot trample on the civil rights of others because you think it's politically expedient -- that is not only morally reprehensible, but outrageously discriminatory.

It's easy to throw around statements, ideas and even laws like this one and make it appear as if it is somehow a good concept. But let's pause and remember that religion and religious grounds have been used against everyone from African Americans to a woman's right to choose and more. We cannot allow religion to be misused yet again in this day and age against the transgender community. The even larger issue is the fact that we cannot empower states to supersede federal laws against discrimination. AG Lynch was also spot on in reminding people of Jim Crow laws. Are we re-instituting state's rights, which was the basis of segregation in the first place? Where will it end?

I travel a lot around the country, from state-to-state, city-to-city, town-to-town. It's important to also keep in mind that this bathroom law is simply unenforceable. If I were to go to a public bathroom in an airport and someone suspects a person in the bathroom is transgender, who do they call to inspect that? We already know that we don't have enough TSA workers to cover security screening stops. Now we are going to get TSA to monitor bathrooms to make sure people enter the "correct" ones? Is this a realistic law, or just a wedge issue to draw out the votes of the far-right and evangelical with something that is not enforceable or realistic in the first place?

Don't be deceived by fear, or by talking points of those that care more about their own advancement as opposed to the equality of all of our citizens. Don't be deceived by people using religion to suppress the rights of others. And don't be deceived by an election year wedge issue and don't forfeit civil rights because of your personal beliefs and biases.

There is a lot more at stake here than meets the eye -- or the bathroom.
Calling all HuffPost superfans!
Sign up for membership to become a founding member and help shape HuffPost's next chapter