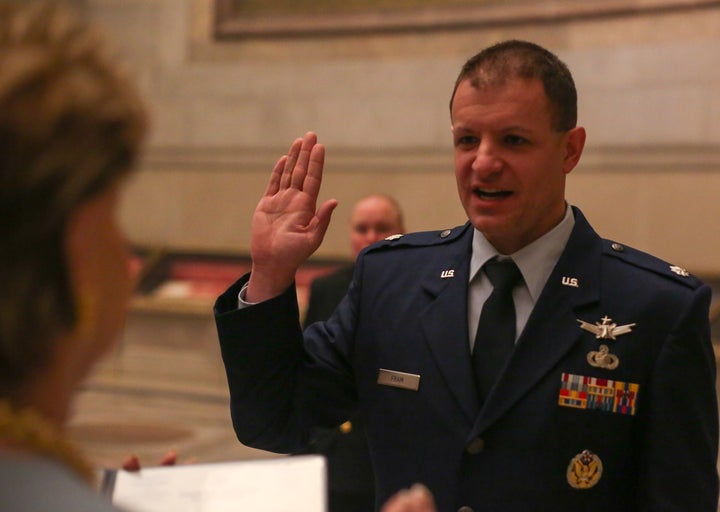 While the future of open-transgender service remains in limbo, transgender service members continue to silently fill roles vital to our Armed Forces and national security. At 0800 on January 9th, 2018 at the National Archives, Major Bryan (Bree) Fram was promoted to Lieutenant Colonel by Brigadier General Richard Boutwell, Director, Regional Affairs, Deputy Undersecretary of the Air Force for International Affairs, Headquarters United States Air Force.
Lieutenant Colonel Bryan (Bree) Fram is an active duty astronautical engineer in the US Air Force currently serving as the Iraq Country Director for the Air Force at the Pentagon and responsible for overseeing all Air Force security cooperation and assistance activity with Iraq. Bryan, who also presents as Bree, publicly came out as transgender on the day the transgender ban in the military was dropped in 2016.
It is tradition that newly appointed officers reaffirm their commitment to the country by retaking the oath of office. However, today Lieutenant Colonel Fram's oath held much more significance. At the National Archives in front of the U.S. Constitution, Congresswoman Madeleine Bordallo (D-GU) administered Lieutenant Colonel Fram's oath of office. Bryan swore to continue to support and defend the constitution of the United States against all enemies, foreign and domestic, while his own future, career and the welfare of his family remain in limbo.
Bryan, an astronautical engineer-essentially a rocket scientist and Iraq-combat veteran, is a shining example of the threat the transgender ban places on the readiness of our Armed Forces. Bryan has been selected to lead airmen as a Materiel Leader, the acquisition equivalent of Squadron Commander. It is no surprise because both General Boutwell and Congresswoman Bordallo had nothing but high accolades to say about Bryan's time serving under them.
Bryan also volunteers as the Policy Committee Chair of the non-profit Service members, Partners, and Allies for Respect and Tolerance for All also known as SPART*A-Trans, an organization that advocated for open transgender service and is dedicated to the support and professional development of transgender service members. Today, his leadership for other transgender service members was clear. His promotion ceremony was narrated by Navy Lieutenant Commander Blake Dremann, who is a leading advocate for open-transgender service and currently the President of SPART*A. Several other openly serving transgender service members, Coast Guard Captain Jay Caputo and Specialist Nicholas Malone, were in attendance to support Bryan's accomplishments, along with Bryan's wife Peg Fram, their two daughters, and Bryan's parents.
Bryan's bravery to share his story, in order to help other transgender individuals, serve in our Armed Forces, continues to demonstrate the character of military leaders that we risk losing with the transgender ban.
Popular in the Community