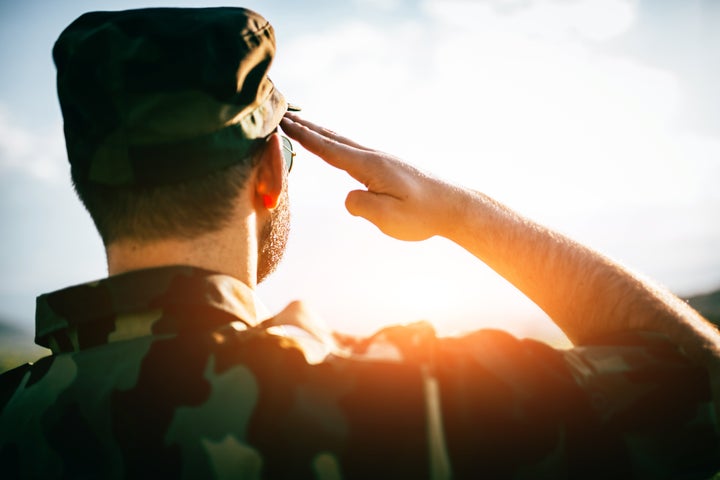 Five-time draft-dodger President Trump recently announced transgender individuals will no longer be welcome to serve in the United State Military. Even more callously, he went on to state such willing service members would be a "disruption" and a "burden."
Speaking of disruption, perhaps Trump took this opportunity to ban an entire group of Americans from honorably serving their country in an attempt to distract from the emergent evidence of possible collusion with the Russia government, the ongoing struggle to repeal and replace Obamacare or just his dubious future as President. Perhaps he's grappling with the tremendous weight of the scandals he created.
If this latest action is simply a distraction, I will grant him that small victory as this bigotry cannot go unanswered.
In June of 2016, then Republican Candidate Trump thanked the LGBTQ community and promised to fight for them. That can now, unfortunately, be considered one of the now countless deceptions he's communicated during his fraught presidency.
Trump cited fiscal concerns for the ban. Between $2.4 million and $8.4 million is expected to be spent on transition-related care. According to the Government Accountability Report, one of Trump's trips to Mar-a-Lago costs taxpayers approximately $3.6 million. If Trump is truly concerned about the costs transgender members of the military pose, he could simply choose to stay at the White House this weekend and eat ice cream instead of visiting his favorite golf resort essentially absorbing the expense.
The Army will be spending $300 million on bonuses and advertising in an effort to enlist 6,000 more recruits, which is a goal Trump has been very adamant about. It's currently unclear what will happen to the up to 6,630 transgender service members currently serving on active duty and up to 4,160 in the reserves.
It's nonsensical to unnecessarily remove more than 10,000 trained service members, who are willing to serve due to a minimal medical expense of several million dollars. Meanwhile, we'll spend $300 million to enlist a fraction of that number.
A recent report by the Center for Naval Analyses (CNA) revealed an abysmal future of military recruitment. The report addresses the trend of new recruits have become "increasingly unqualified for military service". Automatically disqualifying otherwise qualified participants to serve directly contradicts Trump's proposed goal of dramatically growing the military.
The repulsive claim that transgender individuals serving in the military would be a distraction has been used to excuse discrimination throughout our military's history. It was used to ban gay Americans from enlisting. It was used to bar women from combat roles. It was used to defend segregation and keep black service members from fighting alongside their white counterparts.
Trump's multiple draft deferments and lack of military experience are well-known. Perhaps his comment that transgender service members will be a "disruption" is one of ignorance and not malice. If that is the case, do not underestimate the incredible aptitudes and virtue our military possesses. They are not as easily distracted as our commander-in-chief.
An openness to diversity and inclusivity are fundamental to a strong military. Discrimination and exclusivity are counterintuitive and greatly hinders Trump's proposed mission of strengthening and growing our military.
Banning an entire group of Americans based on their gender identity, which is a circumstance far beyond their control, is yet another sordid example of bigotry in the Trump administration. It does not make sense fiscally or pragmatically. It is simply the result of a transphobic con-man having the power to execute disastrous orders.
Transgender service members should not only be described by their gender identity. They are courageous patriots who are willing to pay the ultimate sacrifice to defend their fellow Americans. They are not burdens. They deserve our respect and the honor of serving with dignity.
As history has shown, hate is not what makes America great. The tide of intolerance always turns. I cling to the hope that the tide will turn swiftly.
Popular in the Community