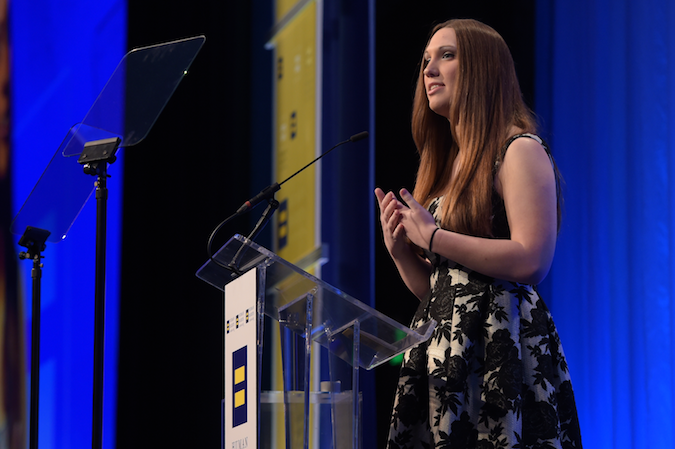 PHILADELPHIA ― Sarah McBride has never even been to a party convention. But she's speaking at the Democratic National Convention on Thursday, and when she does, she'll make history.
At just 25, McBride will be the first transgender person to address a major party convention.
"It's a pretty incredible experience," McBride told The Huffington Post on Tuesday over salad and iced tea. "I definitely, throughout this last week, have been thinking about the responsibility of the degree that I'm representing the community. I want to make sure I do right by transgender folks across the country and elsewhere."
As the national press secretary for the Human Rights Campaign, McBride knows which issues to highlight as the most pressing for the transgender community. High on the list is passage of the Equality Act, a federal bill to ban workplace, housing and education discrimination against LGBT people.
But it's more important to her to simply put a human face to a community that most Americans don't know much about, beyond magazine covers of Caitlyn Jenner and debates about bathrooms. With more than 10 million people watching, McBride will get deeply personal with a story about her late husband, Andrew. He died from cancer in 2014. They had only been married for four days.
"Transgender people are so often reduced to just being trans. That's an important part of who we are, but it's not all of who we are," McBride said. "I also want to demonstrate for a larger audience the humanity behind these issues. That trans people love and dream and hope and fear and cry, just like everyone else."
Sen. Chris Coons (D-Del.) has known McBride for years -- he's neighbors with her parents -- and said he's not surprised she was chosen to speak for the transgender community.
"She's got a tremendous story to tell, a strong and capable voice," Coons told HuffPost. "I think she'll offer a great speech that will help Americans who perhaps just don't know enough about our transgender fellow citizens. Maybe all they know is this bathroom controversy, or maybe they've never met anyone who's transgender. Sarah is someone who, by her character and personality, will help make that connection and help us understand that we're stronger together."
It's a remarkable moment for the LGBT community, but also for the Democratic Party. It was a seismic shift in 2012, when Democrats included support for same-sex marriage in their platform. This year, they've adopted every major plank of the LGBT movement, from an endorsement of comprehensive non-discrimination legislation to condemning violence against transgender people to rejecting state laws that chip away at LGBT rights. There's also a record number of LGBT delegates at this year's convention, including 27 transgender people.
That's a sharp contrast to the GOP's 2016 platform, which, among other things, advocates going back to defining marriage as between one man and one woman, and supports adoption agencies that refuse to serve same-sex couples. It even affirms "conversion therapy," a wholly discredited practice of trying to turn gay people into straight people.
McBride said she hopes to cut through all of that and just be a sign of hope for someone out there, confused about their gender identity, that they're not alone.
"I'm really thinking in particular about someone who is struggling with who they are and wondering whether this country has a place for them," she said. "I'm thinking about that person and the fact that maybe they can turn on C-SPAN and see someone standing up at a Democratic convention and saying the words, 'I am transgender,' and realize they can live their true self, that they can live authentically, that there are a lot of leaders in this country who see them, who value them, whose protection is their mission."
This article has been updated with comment from Sen. Chris Coons.
Before You Go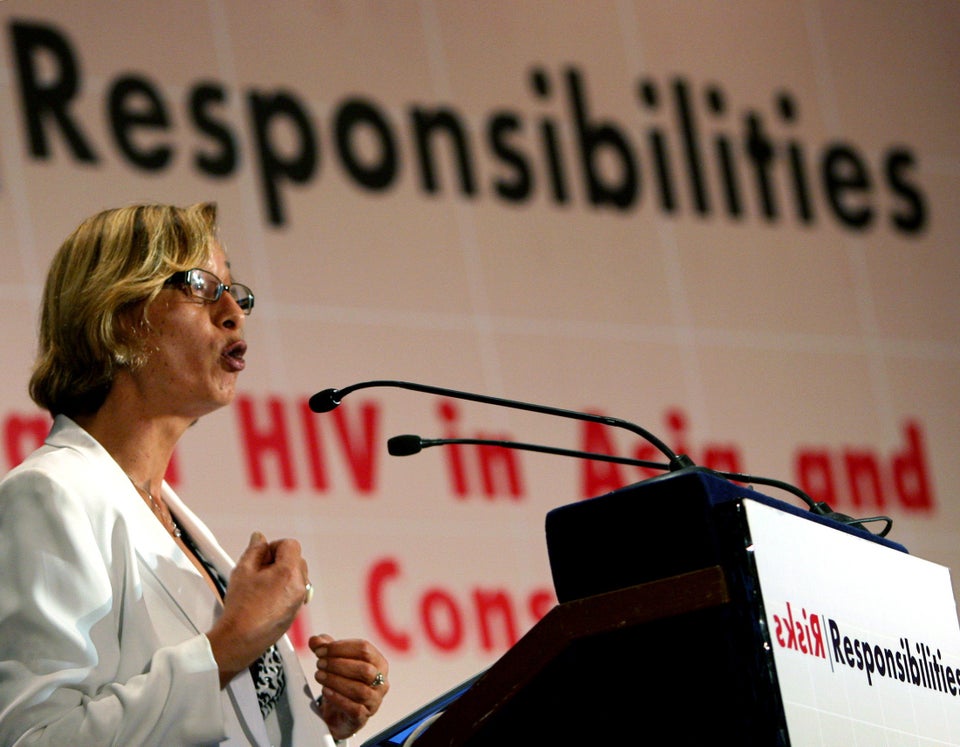 History-Making Transgender Politicians