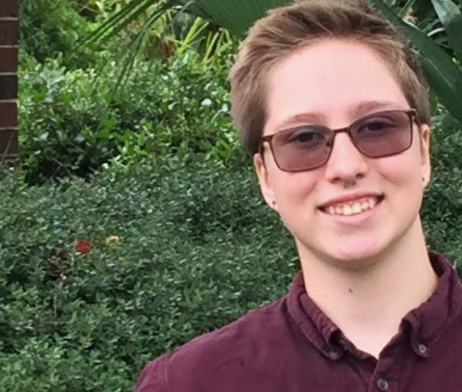 There was a time when Erica Kasper thought justice might be near for her transgender son, Drew Adams. After his high school refused to let him use the bathroom that aligns with his gender identity, the Department of Education started investigating the Florida school for discrimination, she says. For months, investigators spoke with the family and school administrators. Then everything came to a screeching halt.
After a federal judge in Texas placed an injunction on President Barack Obama's guidance to schools to respect the gender identity of transgender students in August 2016, the investigation was put on hold, Kasper was told by investigators from the Education Department's Office of Civil Rights. Then, after Donald Trump became president, he rescinded the Obama administration's guidance and dropped the government's legal challenge to the injunction. Since the election, Kasper says, she has not been able to reach anyone at OCR.
The family decided to again take matters into their own hands. This week, with the representation of Lambda Legal, they sued St. Johns County School District for violating the Constitution's Equal Protection Clause and Title IX, which bans gender discrimination under federal education law.
"It was disappointing and sort of confusing. We didn't know where to turn next," said Kasper. "I contacted Lambda Legal after I couldn't get hold of anyone at OCR."
When most kids use the bathroom at school, they don't think too much about it. They take its simplicity for granted. They pick the closest one and go.

Drew Adams
Despite the Trump administration's rescission of transgender student guidance, advocates say that federal law still protects students from this kind of sex discrimination. The Department of Education did not immediately return requests for comment on the case. 
Drew Adams, who is 16, maintains a rigorous academic schedule in between volunteering at a hospital and practicing jiujitsu, says his mother. He was able to use the boys' bathroom for a few weeks in his freshman year until the district received an anonymous complaint.
While his teachers and peers have been mostly supportive of him, the same cannot be said for the school's administration, which emphasized that the school is in a conservative community, said Kasper.
Now it sometimes takes as much as 20 minutes for Adams to reach one of the school's gender-neutral bathrooms, which often makes him miss class time.
"When most kids use the bathroom at school, they don't think too much about it. They take its simplicity for granted. They pick the closest one and go. But now when I use the bathroom at school, I have to plan ahead," wrote Adams in a blog post for Lambda Legal. 
Adams' case is the latest in a string of lawsuits against schools for failing to allow transgender students to use the restroom that corresponds with their gender. In late May, a federal appeals court sided with a transgender boy who had been banned from his school's male restrooms. The decision was seen as an important validation of students' rights amid the Trump administration's recent actions.
Even though the Trump administration has moved to walk back support for these students, Lambda Legal attorney Paul Castillo is hopeful that courts will vindicate the rights of transgender students.
"By filing this case, we are making a statement to the school that discrimination is not OK and the violation of students will not go unchallenged," said Castillo. "We will continue to be vigilant and bring cases like this until districts comply with the law."
The school did not immediately respond to requests for comment, but it released a statement to other outlets taking issue with the lawsuit.
"We disagree with the plaintiff's interpretation of the law," St. Johns County School District Superintendent Tim Forson said, according to Action News Jax in Jacksonville. "Beyond that it would inappropriate for us to try this case in the media. We had no knowledge of the complaint filed today before a press conference was held. We will work through the legal process with our school board and its general counsel."
Calling all HuffPost superfans!
Sign up for membership to become a founding member and help shape HuffPost's next chapter
BEFORE YOU GO
PHOTO GALLERY
48 Transgender Pioneers