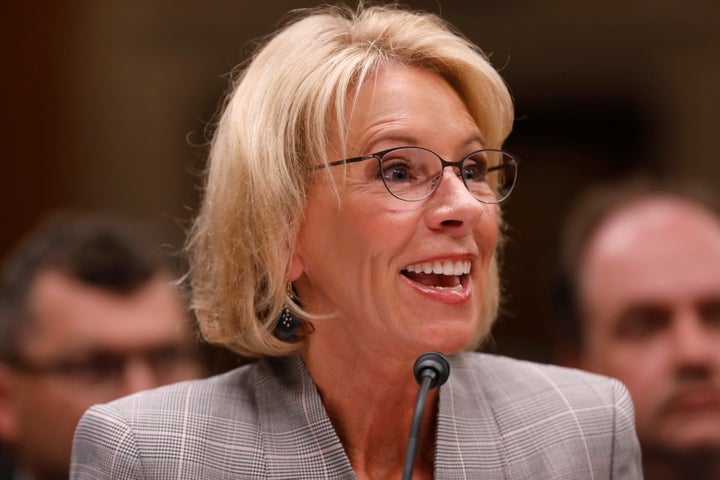 After the Department of Education and the Department of Justice rescinded Obama administration guidance regarding transgender students in February, the Department of Education's Office for Civil Rights has received new guidance on how to deal with cases of discrimination against transgender students.
The instructions, issued to employees last week, say officials should rely on "Title IX and its implementing regulations ... in evaluating complaints of sex discrimination against individuals whether or not the individual is transgender."
An employee familiar with the guidance ― which was obtained by HuffPost and can be read in full below ― says he interprets this to mean that officials should investigate issues of discrimination just as they would have before the Obama-era rules were implemented.
The Obama administration called on school districts to treat a student's gender identity as their sex and to treat students in a way consistent with their gender identities, including when it came to bathrooms and locker rooms. After rescinding this guidance, Trump administration agencies sent a letter saying the issue should be decided at the local level.
The Trump administration guidance calls on OCR investigators to look into situations in which schools failed to protect transgender students who face sex discrimination, harassment or different treatment based on sex stereotyping. It specifically mentions instances of harassment in which transgender students are called the wrong pronoun or name.
However, groups that advocate for transgender students fear that the OCR is trying to shirk responsibility for protecting students against bathroom discrimination.
Only one part of the instructions specifically mentions student bathrooms, in an example explaining that investigators should not dismiss an entire complaint because specific allegations have been rejected. Specifically, the instructions say that investigators should not reject gender harassment allegations in a complaint, even if they have dismissed allegations involving "denial of access to restrooms based on gender identity."
"They are hinting that they are not enforcing the law," said Mara Keisling, executive director of the National Center for Transgender Equality.
While Keisling said her organization is still trying to figure out the exact legal ramifications of this memo, she "would not be surprised if this turns out for the worst."
A statement from the Gay, Lesbian, & Straight Education Network expresses similar concern.
"GLSEN calls on OCR to specify whether they will defend trans students' access to safe and appropriate school facilities – regardless of where the student lives or what local protections may or may not exist. Forcing trans students to use restrooms that do not align with their gender identity puts those students at risk of harassment and violence," GLSEN Executive Director Eliza Byard stated.
Across the country, there have been a handful of high-profile lawsuits over whether or not students can use school bathrooms that are consistent with their gender identities.
Groups that advocate for LGBTQ students met with Department of Education officials Friday morning in an off-the-record meeting. The Department of Education did not respond to requests for comment.
Read the full guidance below:
This is a developing story and will be updated.