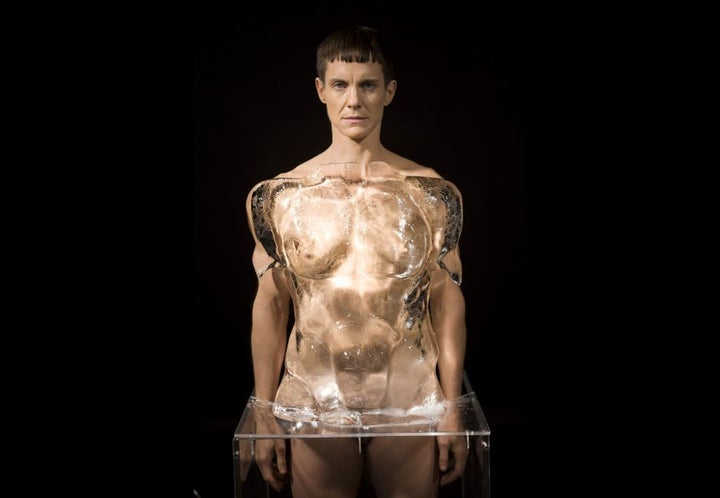 Transgender themes in art & dance at PAFA
The improvisational dance ensemble Graffito Works is made up of a stellar collective of some of the most accomplished dancer-choreographers in Philadelphia. The company was formed in 2015 by Steven Weisz and the troupe performs in public spaces and regularly collaborates with area museums and galleries. On January 18, for one night only, they will present three 20 minute improvisational dance pieces at the Pennsylvania Academy of Fine Arts (PAFA) as part a current exhibit Melt/Carve/Forge: Embodied Sculptures by Cassils.
Cassils multi-media installation, curated by Jodi Throckmorton, in PAFA's historic Morris Gallery and Rotunda is the artist's exploration of gender identity, transgender empowerment and themes dealing with what Cassils describes as "forgotten violence used daily against transgender bodies." The exhibit was originally presented as a site-specific work for the GLBTQ cultural institution ONE Archives in Los Angeles.
The PAFA exhibit opened in November and shortly after Cassils' (referred to as the genderless 'they') also performed an explosive performance in PAFA's historic Morris Gallery titled Becoming an Image. In total darkness, Cassils pounds a 2,000 pound block of clay, with a series of kicks and blows, in which the audience only sees the spectacle when illuminated by the flash of a photographer's camera.
In a phone interview from New York last week, Weisz said he was already a fan of Cassils work from exhibits in Toronto, Canada and said that when PAFA approached him about doing a piece around the this exhibition he immediately was on board. He said the work particularly resonates "Given the political climate examining nonconformity and gender identity has a great significance now. Anybody who has gone to a Cassils performance piece walks away with a different set of feeling about these issues," he said.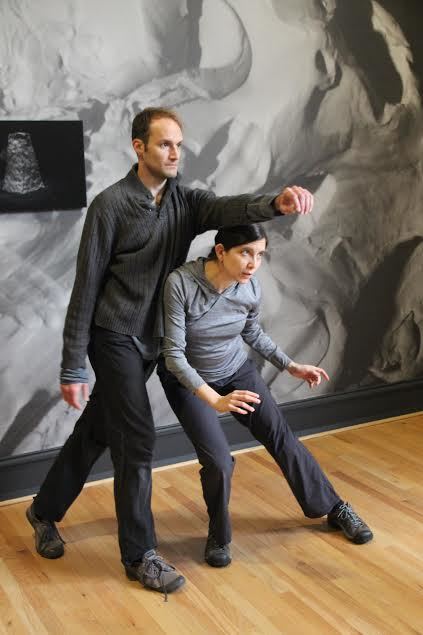 One of the hallmarks of Graffito Works is that they interact with the art work and the physical space as more than a backdrop, but more of an artistic exchange of artistic and choreographic ideas. The troupe- Lee Fogel, Meg Foley, Loren Groenendaal, Beau Hancock, Megan Mazarick, Marion Ramirez, Jenny Sawyer, Zornitsa Stoyanova are all accomplished dancers-choreographers in their own right. Meg Foley is cited in Dance Magazine's prestigious '25 To Watch' in 2017. The other member of the troupe is composer-musician Julius Masri, who works with synth-keyboards and acoustic instruments to create the improvisational score during the performances.
Weisz explained that the company is "inspired by Cassils performance and the images and themes…around the discussion of how you mold yourself physically into the person you want to be? We are using an art form, as Cassils does, to create a dialog around issues of gender."
The ensemble develops the improvisation within a sketchy performance plan, in this case three of the dancers will be in the ground floor gallery with a soundscape and five dancers will be in the Rotunda performing with Masri. The ensemble movement might be literal or abstract, or something else entirely, as the ensemble responds choreographically and spontaneously to the rooms, the artwork, the themes and images from Cassils' performance.
"Audiences are able to discuss these issues in a more open and frank manner. It allows audiences to challenge notions about gender, to ask questions about these important issues. As artists, we don't know if it provides answers or spurs upheaval, but for the audience to see this spontaneous performance makes them an active part of the experience."
Graffito's last performance in the summer took place in the newer galleries of PAFA during an exhibition of the work of African American artist Norman Lewis, whose canvases documented social justice themes of the 60s and specifically, the civil-rights movement and visual art inspired by black communities and the social justice movement. Their performance at the Lewis exhibit had the energy and mystique of a 60s era 'happening.'
Elizabeth Hamilton, PAFA's public programs manager noted that there was such great feedback from about the dance troupe's performance that they were looking for another chance to collaborate again. "We try to have programs live performance that matches well with the exhibit. Since Cassils' work deals so much with the body, this was a great opportunity to ask them back." "They provide the opportunity to reflect through dance to the physical space and the context of the art work and this is a great way for two art forms to interact, especially since there was a performance element in it as well by the artist, so what we have now on multi-media video and photographic exhibition and now another live performance component to continue the conversation of Cassils' art, themes and work," Hamilton said.
Graffito Works one-night-only performance January 18, 6-8:30pm at Pennsylvania Academy of the Fine Arts, 118-128 North Broad St. visit www.graffitoworks.com
Melt/Carve/Forge: Embodied Sculptures by Cassils continues through March 5, for more information go to www.pafa.org
Support HuffPost
The Stakes Have Never Been Higher
Related
Popular in the Community