Meet Sabreena Lachlainn-Henderson. A transgender woman hailing from Detroit, MI who aims to sail around the world solo, non-stop, unaided and unassisted in 2017.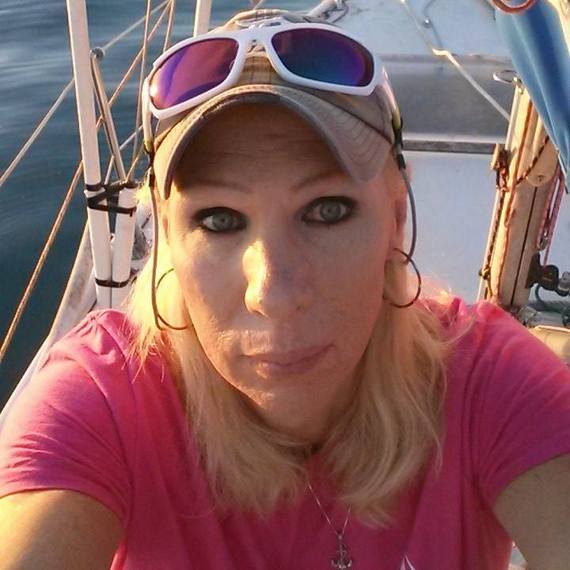 There is a long list of people who have circumnavigated the world before, but Ms. Lachlainn-Henderson plans to be the first transgender woman to do so.
"I am crazy nervous, but excited and that is a good thing because it keeps me on my toes safety wise. The one thing you can never do when sailing solo or even as a crew member is to get comfortable because that is how bad things happen," said Ms. Lachlainn-Henderson.
"I really believe that is how Sarah Young was killed on Ichor Coal a few nights ago. They were in 40 knot winds with seas 25 feet and she did not hook into her safety line and a big wave along with the high winds ripped her right off the the back of the boat in to the North Pacific. That is why on my solo journey I can never let my guard down, not even for a moment."
GOD'S WIND 2017 is the name of her project and although she will be sailing solo, she has a team supporting her on this journey.
Her project manager is Laurence Sunderland who owns and operates Sunderland's Yacht Management. Captain Dennis Derouin, who owns and operates Blackwater Marine Logistics, is her co-project manager. Sabreena's Southern Ocean Coordinator and advisor is Bruce Arms who has many credits to his name. Victoria Conley is acting as the team's Spiritual Advisor, while Dr. Ken "PK" Render joins the mission as the Team Pastor.
"The boat we will be using is called an Open 40," said Ms. Lachlainn-Henderson. "It is also known as a Class 40. These boats are designed for racing. They are lightweight, fast and they more or less have a very shallow bottom. Unlike a traditional sailboat that sits low in the water, these boats are designed to surf above the waves and made specifically to handle the big rollers ie; waves I will encounter in the Southern Ocean near Antarctica."
When asked what inspired her to undertake this endeavor, Ms. Lachlainn-Henderson replied:
"All my life I have pushed boundaries in sports from free climbing without any safety gear to breaking down barriers by playing in two Nationally sanctioned Women's Pro Football Leagues; the IWFL (Independent Women's Football League) and the WFA (Women's Football Alliance). I was the first openly transgender female to play, paving the way for others who followed. When I stepped away from the game after nine seasons, I needed something to stoke my competitive juices and one of my childhood dreams had been to sail around the world, but I never dared dream it could really happen. It was in 2010 that I began to follow the voyages of two sixteen year olds, Jessica Watson from the Sunshine Coast of Australia and Abby Sunderland of Marina del Rey, CA. Each set out to claim the title of youngest around solo nonstop unaided and unassisted. It was at that moment that I began to map out my own plan to do just the same."
Here is Ms. Lachlainn-Henderson as #10 in 2012 playing for the Detroit Dark Angels against The Fusion:
"In 2014 after my final season of Women's Pro Football, I began mapping out my journey and what it would take to achieve that goal. The transgender community has always been considered on the fringe while LGB people have been accepted and now are not really considered such a big deal, but someone changing their gender because of an incongruence to what they were born as is still frowned on in a lot of circles. I wanted to fulfill a dream while at the same time showing that we are just like everyone else, that we too have dreams and aspirations and mine just happens to be to sail solo nonstop, unaided and unassisted around the world. Also because of my personal faith in God, I believe he put me here for a reason."
"I am going out there to show what it means to live by faith and not by sight. My personal slogan for my journey comes from Hebrews 11:1 'Now Faith is the substance of things hoped for, the evidence of things not seen.' Sailing is a dangerous endevour but there is great personal reward in it, there is a deep spiritual connection because it's just me, the boat and the ocean and all that entails, good, bad or otherwise. I want to show our community that if you have a dream, you believe in that dream and you work hard then it can achieved."
"And finally I am doing this for my deceased baby girl Demitra Alyssa who me and my ex lost when she died in February 1990 from a late term miscarriage. In fact, my boat will bear her name....Demi's Pink Lady."
"The Pink Lady portion of the name is an ode to Australian teen Jessica Watson who at the tender age of 16 in 2010 became the youngest unofficially to sail solo nonstop, unaided and unassisted around the world and whose boat was called Ella's Pink Lady, also my Southern Ocean Coordinator was Jessica's Project Manager and the chief architect and master mind in her completing her journey plus Pink is my signature color so my boat will be adorned in a Hot Pink paint scheme with white and baby blue accents."
Ms. Lachlainn-Henderson is no stranger to danger. When I asked her how long she had been sailing, I found out that she had also been in the Armed Forces.
"I played around with sailing when I was stationed on the West Coast while in the Armed Forces. Then again when I was stationed on the Atlantic Seaboard and eventually the Great lakes, but to really give myself a real shot at succeeding I have been sailing a solid 2 years. I'm not just applying my learning experience to the water, but I have also studied as well. Sailing is growing by leaps and bounds and the boats are becoming faster and much more technical, so to help me I have spent my off the water time studying books such as Storm Tactics by Lynn and Larry Pardey, Sail Power by the late Wallace Ross, which is a book my mentor Blair Adren has used for years as a reference guide even after almost 30 years of racing on the Great Lakes. I have read countless personal stories of people who have sailed solo nonstop, unaided and unassisted around the world to glean as much information from their experiences, what worked, what didn't, etc. You can never know too much."
To train for the mission, she will be using one of the three boats Mr. Sunderland has acquired for a motion picture about his daughter Abby's failed attempt in 2010, but to be able to afford the cost of this undertaking, outfitting the boat and compensating her team Ms. Lachlainn-Henderson has started a GoFundMe and is currently looking for more sponsors.
"The boat will run anywhere from as low as $80, 000 to upwards of $200,000 plus my support team. We will need to prepare for food, equipment and any other expenses that may come up."
"In taking on this challenge I am accepting God's calling to bring awareness to this issue, but at the same time I am going out there to attempt the greatest athletic challenge on the planet to show that despite the great distance (30,000 Nautical Miles) I will cover over 5 months, the rogue waves, the squalls, the mind numbing storms, nerve wracking winds, extreme isolation, and being wet and cold, that I can do this and if I can do this then it will show anyone who is struggling that no matter how long the odds, no matter what the naysayers will claim, if you have a dream, work hard at pursuing it and know that anything is possible."
For more information, check out the GOD'S WIND 2017 Facebook page here.
Calling all HuffPost superfans!
Sign up for membership to become a founding member and help shape HuffPost's next chapter