After Makana Milho, a transgender woman from Hawaii, published videos of her supervisor allegedly asking her for sexual favors in return for an early dismissal from her court-ordered community service, she first felt empowered.
The videos, Milho believed, could serve as proof of the sexual abuse she endured off-camera ― especially since her supervisor allegedly told her no one would believe her because she's a felon. (Milho was serving her fifth day of a six-day community service sentence which, upon completion, would've expunged an old felony charge of theft.)
Although relieved when the videos led to the arrest of her alleged abuser, Milho wasn't quite ready for the hate-filled backlash she received after her story went viral.
Online commenters lashed out against Milho, criticizing her breast implants, shaming her for posting sexy photos herself, and telling her that she's responsible for her own abuse. Some even accused her of being a prostitute after they discovered she had previously posted a personal dating ad on Craigslist.
The ads, Milho maintains, were strictly seeking friends and "casual encounters," and never involved "selling herself" for money. "Not everyone is going to understand that men won't approach transgender people in public," she told The Huffington Post. "It's much easier for transgender people to meet a decent guy on Craigslist than it is in person."
The hate continued to pour in, so Milho decided it was time to stand up for herself by addressing her haters directly with an inspiring Facebook Live video on Wednesday.
"The main point of my video was to basically show that you should 'never judge a book by its cover,'" Milho told HuffPost. "As a transgender woman, it empowered me to take a stand and show others that your past shouldn't matter, we all are humans and bleed the same."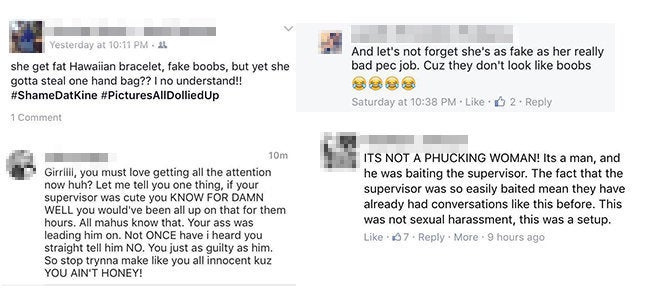 During her two-minute-long livestream, Milho listed all the horrible things she's been called online since her story went viral, revealing the struggles she's had to face growing up as a transgender woman who was orphaned, once homeless and bullied for her appearance.
Milho defended her old photos and Facebook posts, explaining that she gets through the negativity by making people laugh and being comfortable with her body.
"I have posted sexy pictures, because I was comfortable in my body," she said. "I used to think I was a majestic creature, like a unicorn."
"So don't ever let anyone stop you from shining," she concluded. "Spread love and not hate."
It's important to note that Milho's past photos or dating ads have nothing to do with the alleged sexual abuse she endured. And Milho's decision to come out against her alleged abuser and the people who continue to harass her online was courageous in itself.
Milho said her video gave her a chance to express herself, and she hopes it will inspire others to stand up for themselves.
"I made this video because I realized life is too short ... instead of spreading hate, we should spread love and aloha," she told HuffPost, adding that she wanted to concentrate on what happened during her assault on July 22.
"Those are the emotions that make me cry to this day," she said. "I won this battle but I have not won this war."
REAL LIFE. REAL NEWS. REAL VOICES.
Help us tell more of the stories that matter from voices that too often remain unheard.
BEFORE YOU GO
PHOTO GALLERY
15 Things To Know About Being Transgender By Nicholas M. Teich