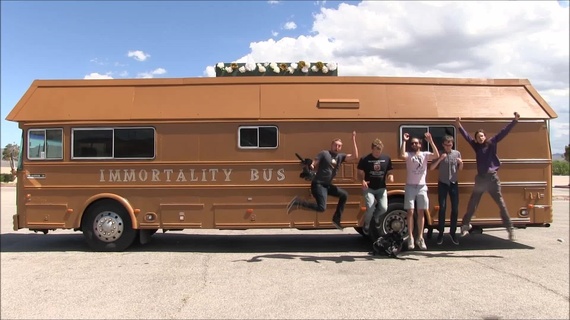 Riders jumping in front of the Immortality Bus before arriving in Las Vegas (left to right) Jeremiah Hammerling, Zoltan Istvan, Jamie Bartlett, Dylan Matthews, Roen Horn -- Photo by Roen Horn
It seemed a wild, impossible dream a year ago when I told my wife and young daughters I was going to drive a bus shaped like a coffin across America to raise life extension issues. A week ago, I just finished the second stage of the tour. Soon I'll begin the third stage from Arizona to Texas, and then across the Bible Belt to Washington DC, where I plan to post a Transhumanist Bill of Rights to the US Capitol building.
If the bus tour seems like a wacky idea--especially for a presidential candidate--it's because it is. Of course, to transhumanists, a more wacky idea is how most of our nation largely accepts death as a way of life. In the 21st Century, with the amazing science and technology this country has, I don't believe death needs to be left unconquered. If, as a nation, we would just apply our ingenuity and resources, we could probably conquer death in a decade's time with modern medicine. That's precisely the reason why I'm running for president and driving the coffin bus around the country; I want to tell people the important news and get them to support radical technology and longevity science.
Of course, along the way, I'm also having a wild adventure. The tour officially began with an Indiegogo campaign which successfully raised $25,000 to buy the bus and start the journey. Once I received the money, I began scouring the internet to buy a bus. Eventually my dad helped me find one, and I purchased the 1978 Bluebird Wanderlodge coach for $10,000. It didn't run at first, but I spent some time and money on the engine and was able to get the bus rolling again. Later -- to the wide-eyed stares of my neighbors -- I drove the bus onto my suburban front yard in Mill Valley, California, where I transformed the coach into a giant coffin through a few weeks of noisy construction.
With journalists Dylan Matthews of Vox and Jamie Bartlett of The Telegraph, two separate film crews, and Transhumanist Party volunteer Roen Horn, our team of so-called modern day Merry Pranksters left off in search of adventure and new ways to promote life extension. I say "Merry Pranksters" because in many ways we are emulating Ken Kesey's legendary bus trip on "Further" which helped start the 1960s. His crew was called the Merry Pranksters. On the Immortality Bus, we are doing the same thing as them, but instead of spreading peace, love, and drugs, we are spreading techno-optimism, transhumanism, and hopefully the possibility of living forever through science.
Yes, it's true. My hipster roommate is now officially on the Immortality Bus....

Posted by Roen Horn on Tuesday, September 8, 2015
After crossing the Golden Gate Bridge and dealing with engine trouble, our first event stop was in Tehachapi, California. We were part of GrindFest, a biohacker haven where transhumanists were doing all sorts of hacks to their bodies. I had come not only to watch, but also to participate. In a short 60 second procedure, I received an RFID NFC implant in my hand. Among other things, if you have the right accessories, the chip is good for starting your car (or bus) without a key. Soon they'll have these implants geared up so you can pay for things, store all your medical information, and even monitor your overall health with them.
The next day we headed off the Las Vegas where my wife and two daughters came to join us. Driving on the Vegas strip for the camera crews in heavy traffic was nerve-racking, but I managed to pull it off, only taking out a curb at The Venetian.
Video of Immortality Bus tour by Roen Horn -- Music created by Zoltan Istvan / 2005
Specifically, I was in Vegas to speak at the 40,000 person CTIA Super Mobility event. I was expecting a big crowd for my talk, but it didn't materialize, even though Mike Tyson was speaking 90 minutes after me. Nonetheless, attending CTIA was amazing. The main exhibit floor was full of cool tech toys to play with. Jamie Bartlett got a flying drone stuck in his frizzy hair. I rode a Sonic electric scooter, which is like a combo between a Segway and a skateboard. And Roen Horn asked a robot about whether it wanted to live forever. In the evening, there was a great party thrown by I Am Digital, where I drank vodka infused with marijuana.
After Vegas we were off to Los Angeles, where I gave an Immortality Bus tour slide show at The Colony clubhouse on Fashion Island in Newport Beach. Put on by friends David Kekich and Dr. Kat Cotter, it was the perfect way to end the first stage of the bus trip by sharing videos and pictures of the journey with the transhumanism and longevity communities.
For information on the Immortality Bus and its next event locations and dates (or even to ride on it), go to: www.immortalitybus.com
Oil Leak on the Immortality Bus -- Video by Roen Horn
Popular in the Community