 WASHINGTON -- Larry Hanley, president of the Amalgamated Transit Union, says he knows a good place to find Americans who are especially vulnerable to voter suppression: the nation's bus and rail stops.
"They rely on public transit. Many of them don't have a license," Hanley told HuffPost. "We want to reach out to that group of people and urge them to vote."
Hanley's union, which represents nearly 200,000 bus drivers, rail operators and transit mechanics, expects soon to launch a voter registration effort concentrated in the swing states of Ohio and Colorado. The union will be training its members in how to help voters get registered, then sending roughly one thousand of them to the targeted cities of Cleveland and Denver.
"We drive the transit system, and if we can drive up the vote in Cleveland and Denver, we can help determine the outcome in both of those states," he said.
In all, Hanley said he expects around 10,000 union members to take part in the registration effort across the country, approaching riders at bus stops and rail stations while off-duty starting in early October.
Republican legislatures in many states have enacted voter identification requirements that critics warn will prevent legitimate voters from casting ballots in this year's elections. While GOP lawmakers have said they're merely trying to prevent voter fraud, there's little evidence that many voters actually misrepresent themselves at the polls. Democrats, meanwhile, note that the requirements will disproportionately burden minorities and senior citizens, many of whom do rely on public transit.
Like other labor unions, the ATU tends to back Democrats. According to the most recent data from the Center for Responsive Politics, the union's PAC has distributed $630,000 to federal candidates this election cycle, with 95 percent of it going to Democrats. But Hanley said the effort will be non-partisan, although members will urge riders to back transit-friendly candidates.
According to Hanley, such candidates aren't easy to find in the House of Representatives these days. The transportation budget put forward by the Republican leadership earlier this year took an axe to public transportation, suggesting a cut in funding by about 25 percent. Even though Republican presidential nominee Mitt Romney rarely speaks about public transit, Hanley says Romney revealed his priorities when he endorsed the budget of Rep. Paul Ryan (R-Wisc.) and made the House budget chairman his running mate.
"Once he supported the Ryan budget, he said he wants to slash the tire of every bus in America," Hanley said.
Hanley cited a recent survey by the National Resources Defense Council showing that two-thirds of Americans would like to see Congress allocate more money to public transportation. Instead, he said, Congress is trying to do the opposite.
"They want to slash and burn and cut and, unfortunately, just like everything else in this country, transit's future has come to a screeching halt," Hanley went on, speaking of the House. "Americans want more transportation choices. They want people to invest in it. From our perspective, this is a matter of national defense. The fact is, if we can get more people out of cars and into buses, we can lessen the need for foreign oil."
Public transit hasn't received much attention in the presidential race, despite the critical role it plays in the economy -- both in the jobs it provides and the role it plays in getting people to work. Hanley pointed out that as budget-strapped local governments have made cuts to public transportation, the municipal belt-tightening has exacerbated the unemployment problem in many communities.
As HuffPost has previously reported, unemployed people who don't own cars have had no way of getting to where the jobs are in areas where bus service has disappeared.
"There are fleets of buses laid up in yards because there's not operating money to run them," Hanley said. "That story has been playing out all over America. It's so short-sighted and so stupid. The first hammer is when they cut the service. The second thing is to raise the fares and make it harder for working people to get around."
"We can't raise taxes even on Warren Buffett," Hanley said, "but we're raising taxes on transit."
Support HuffPost
The Stakes Have Never Been Higher
Before You Go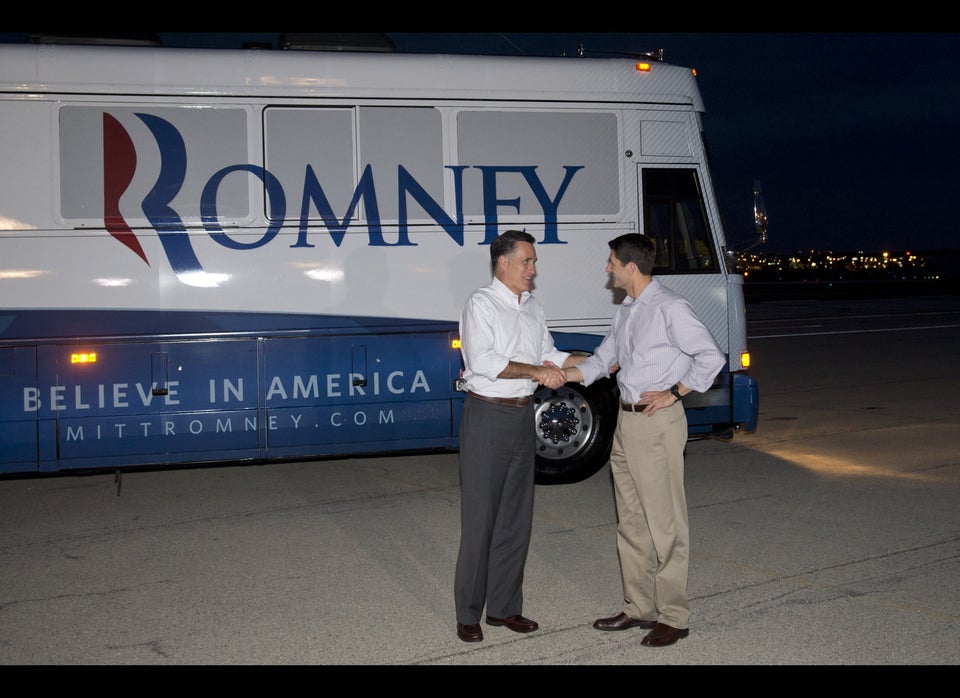 Romney-Ryan 2012 Soundtrack
Popular in the Community