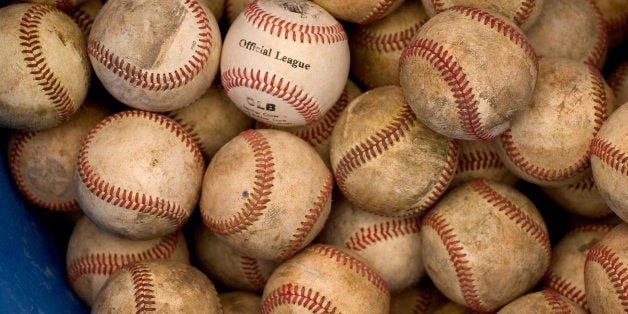 People ask me if I'm going to miss being in the game and on the mound. You know what? I don't think so!
Maybe there will be times when I miss being a professional baseball player, but I don't think I'm going to miss the on-field stuff. I don't think I'm going to miss the stress. I also don't think I'll miss the competition, because I feel like I already did everything I needed to do on the field. I don't have anything left to prove. I doubt I'll watch a game wishing I was out there.
Retirement is still fresh, obviously, so I'm still conscious of just how ready I was, mentally, to be done. Maybe in a year or two I'll miss it a little bit. But I've talked to a few guys who said that they chose their retirement when they knew it was time to go, just the way I did. All of them said that they don't miss the field. They don't miss the stress of a game. They just miss the camaraderie of the game.
I think that I'm going to miss being in the clubhouse with the guys. I'll miss laughing and talking, and I'll miss trying to help guys out. Everybody's different, and I was able to help guys in the game in a lot of different ways. I'll miss that, although opportunities might still arise. I've also got a lot of friends in Spokane, so I've got camaraderie here.
I know I'll miss certain guys in the game. But I'm a relational guy, so I'll keep up with them. Just a text here and there will be good enough at times.
I think that instead of missing the on-field stuff and the clubhouse camaraderie, I'll be learning to make the transition to a different routine. What does my life look like post-career? What am I going to do? What kind of job can I have? What will keep me busy, and bring me joy? It's very important to me to feel like I'm making an impact.
So this transition phase is the most challenging, because I'm used to routine. For so many years, I knew exactly what I was supposed to be doing at any given point in the year, or even the day. I'd be working out for specific purposes. I'd know what day I should start throwing. I knew when it was time to get ready and pack for spring training, and before I knew it, I would be in my spring training routine. All that has changed! Now I'm exploring new options, and trying to create a routine where I feel comfortable and at ease, doing something that I enjoy. It's important to start figuring that out.
Meanwhile, I'll go on challenging myself, and finding new opportunities to be challenged. I'll find new ways to compete. I'll definitely have that in my hobbies of hunting and fishing.
There are so many possibilities! I just have to make sure I choose the right ones. I need to do the right thing for my family and for me so that we remain a team. That is a huge priority for me.
Another one of my priorities is to raise my boys to be servant leaders. I want to raise a whole generation of servant leaders! So one of my new challenges will be cultivating opportunities for public speaking. That is going to be fun! It's going to be fun to learn how to do it well, and also to continuously improve. I'm also finishing my second book, and will publish that this year.
Jeremy Affeldt, pitcher for the three time Baseball World Champion San Francisco Giants and Major League pitcher for 14 years, recently retired. His streak of 22 consecutive scoreless appearances in the post season trails Mariano Rivera's mark by only one. He is an all-time leader in postseason ERA, with a minimum of 30 innings, with an 0.86.
Jeremy is a humanitarian, philanthropist, author, public speaker, and co-founder of Generation Alive. He works to end human trafficking, feed the hungry and end poverty. He is the author of To Stir A Movement, Life, Justice, and Major League Baseball. His second book is expected to be released in 2016. Follow him on twitter, Instagram and Facebook @JeremyAffeldt.
REAL LIFE. REAL NEWS. REAL VOICES.
Help us tell more of the stories that matter from voices that too often remain unheard.