Until just a few years ago, Boeung Kak Lake in the capital city of Phnom Penh was a prime tourist location and home to thousands of Cambodians. Today, it lies under the sand.
In 2007, a company owned by well-connected Cambodians received a lease to develop the land around the lake. Just a year after it took control, the company started pumping the landmark full of sand, making way for a high-end building project. Thousands of people were forcibly evicted in the process.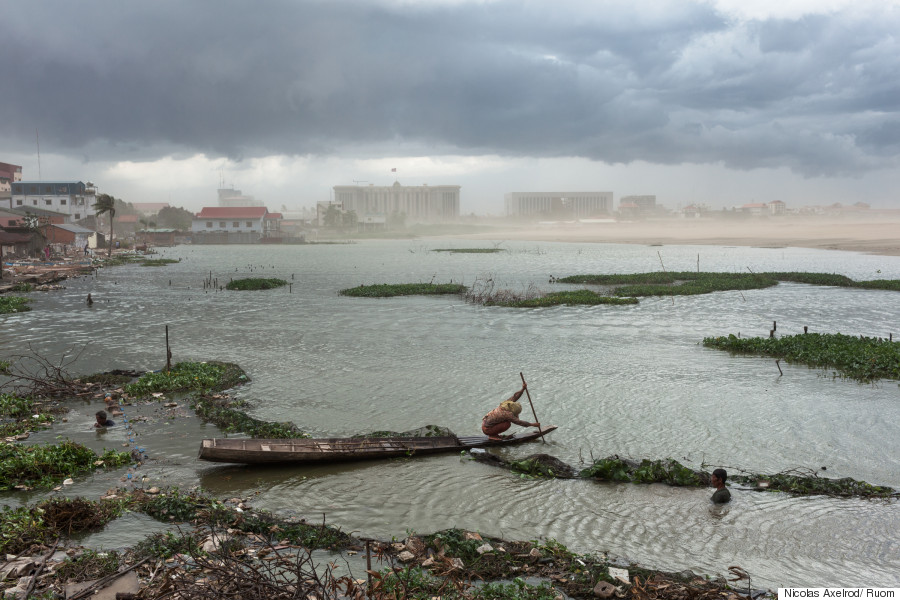 A resident of Boeung Kak rows a wooden boat against a storm moving in over Phnom Penh on July 7, 2011. The new buildings of the Council of Ministers and the office of the prime minister can be seen in the background.
The upheaval in Phnom Penh is one of the subjects of the forthcoming photography book Transitioning Cambodia, a collaboration between photojournalist Nicolas Axelrod, journalist Denise Hruby and designer Fani Llaurado. The book covers modern development in Cambodia and the effects on its society and landscape.
"For the hundreds of families that were violently evicted from their homes in the city center, development meant that they were relocated to barren plots of land. Schools, health-care centers, markets or any income opportunity were out of reach," Hruby writes in an article about the book for the Asian Correspondent. "The ones who fought for their land were violently suppressed, driven out of their homes with tear gas and water canons."
Axelrod has been documenting the rapid pace of development in Cambodia and its impact on the country since 2008. After covering the situation in Boeung Kak, he started photographing other Cambodian communities facing eviction, as well as the emerging middle class who moved in to take their place.
"It's a phase of Cambodia that we will never see again," Axelrod told Voice of America Khmer. "It's impressive how quickly the middle class has grown and there is so much more wealth than before. But what worries me and what I am scared of is that a lot of people have been left out in this change," he said.
Take a look at a selection of Axelrod's work below, and go to the Transitioning Cambodia crowdfunding campaign to support the book.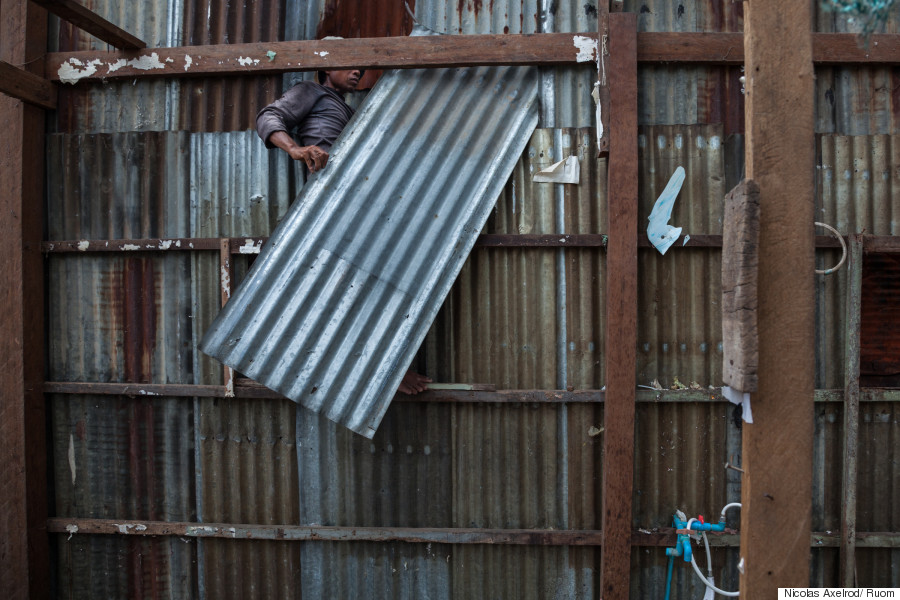 A worker dismantles a house on Boeung Kak, Phnom Penh, on Aug. 23, 2010. Residents had the option of accepting 8,500 dollars in compensation or receive 500 dollars to relocate to housing provided by the developers on the outskirts of the capital.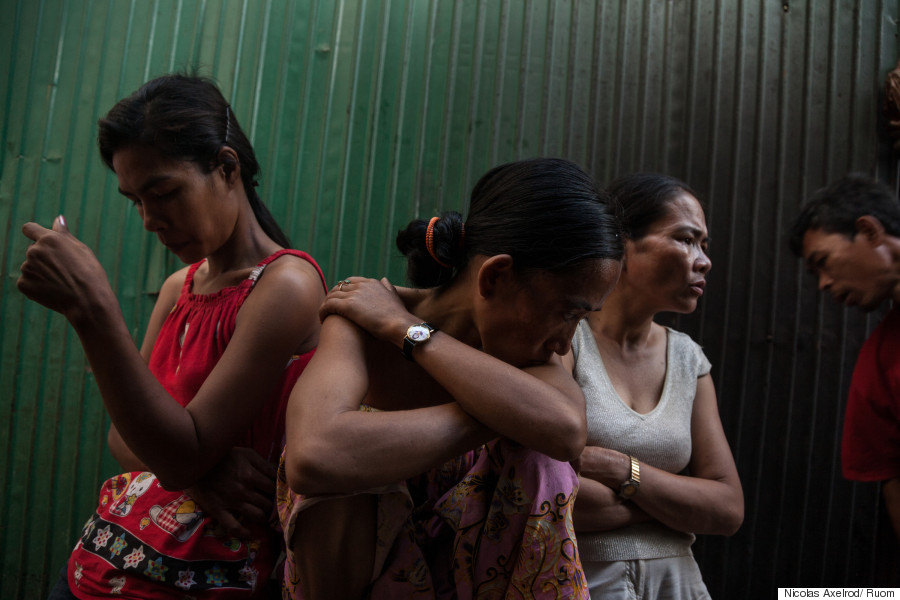 Vin Thy (center) and Chanty (center right) sit in front of their corrugated iron homes in the center of Phnom Penh on March 3, 2009. Their community is slated for a second eviction. The first one saw them move out of their homes in Borei Keila and relocated to a nearby community; their pending eviction will send them to live on the outskirts of the capital.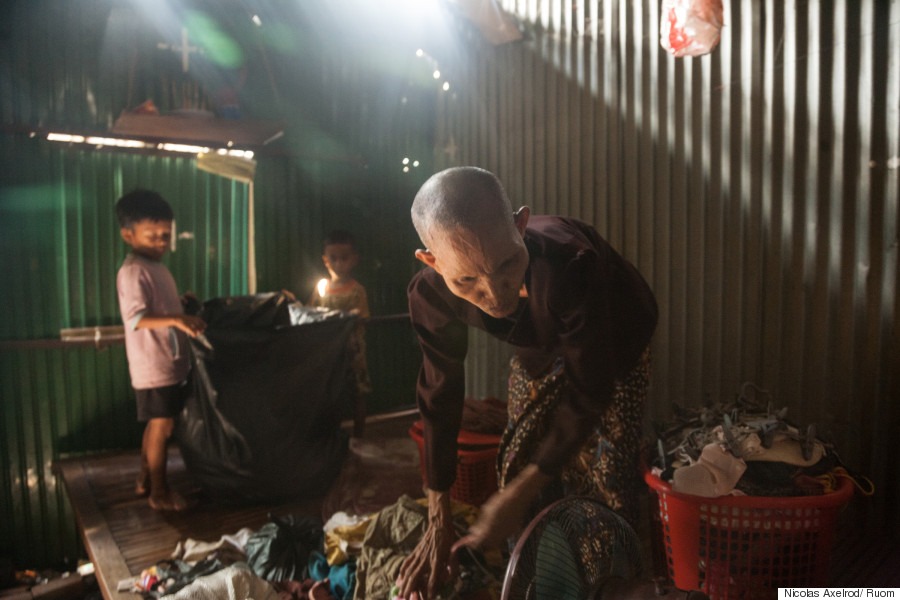 An elderly resident of what is known as the 'Green Buildings' in Phnom Penh packs her family's belongings during an eviction on March 3, 2009. The community, made up mostly of families with at least one member affected by HIV, was relocated to corrugated iron sheds in the outskirts of Phnom Penh, with no access to jobs, running water or adequate health care.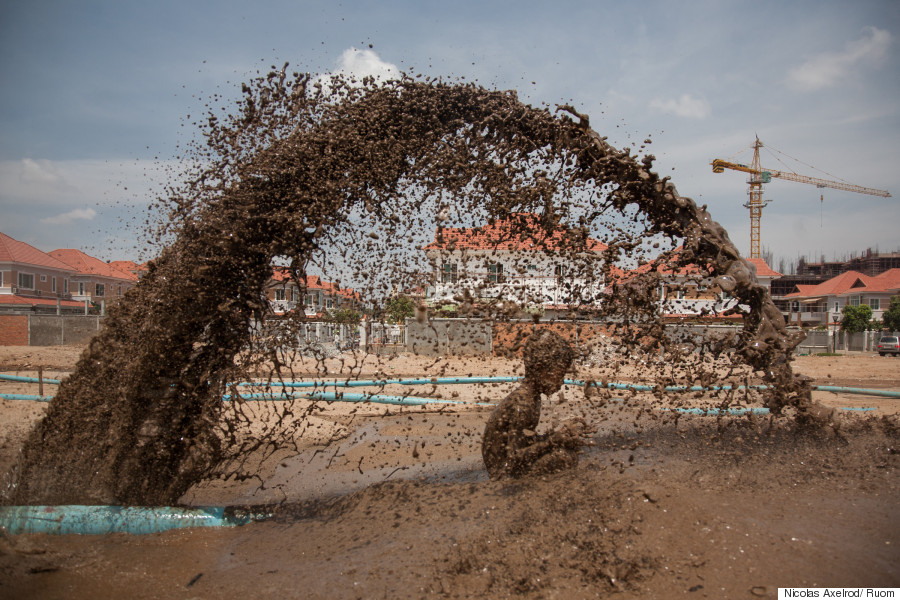 A child plays in muddy water that is spraying out of a broken pipe in Phnom Penh on March 27, 2009. The pipes are pumping sand into a natural lake in Borei Reakreay community. The community was evicted from their homes in mid-2009 to make way for residential complexes.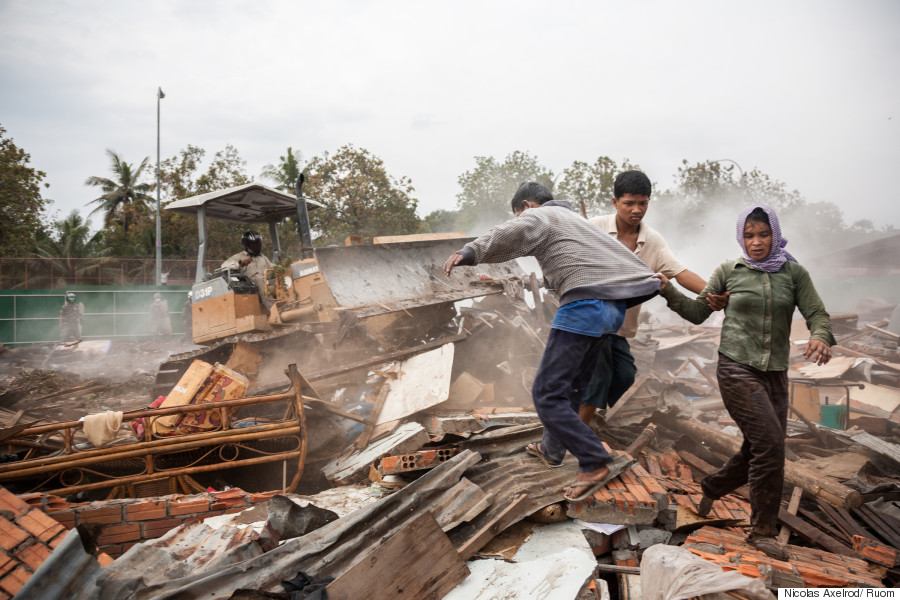 Residents flee a bulldozer as it charges into the rubble of destroyed homes during the forced eviction of Dey Krahorm, Phnom Penh, on Jan. 24, 2009. The community of Dey Krahorm in central Phnom Penh was largely made up of artists and musicians. The eviction saw residents relocated to the outskirts of Phnom Penh.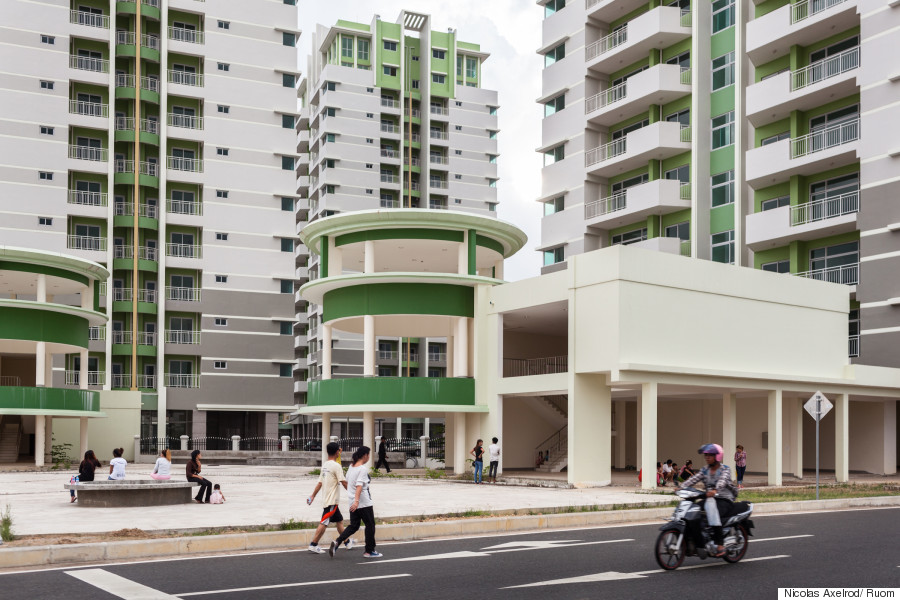 Camko City, an urban development project three kilometers north of central Phnom Penh, pictured on Jul. 27, 2012. The high-rise buildings and town houses in the satellite city were largely built on land reclaimed from natural lakes.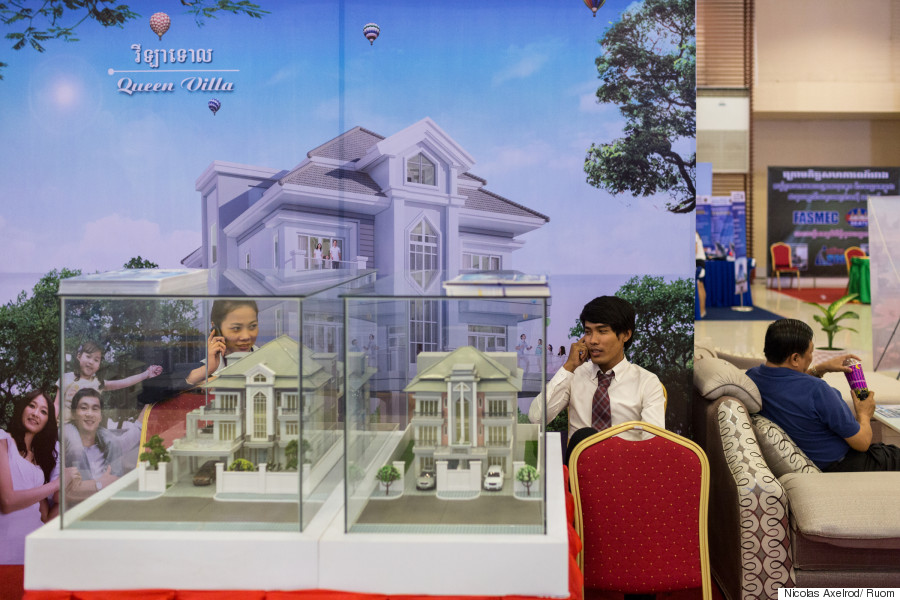 Salespeople talk on the phone during an expo about Cambodia on Koh Pich, or Diamond Island, on March 30, 2014. Satellite cities have been developed all around Phnom Penh, offering kit houses in vast residential complexes. Koh Pich was once home to a community of farmers, called Sambok Chap, who were evicted in 2006.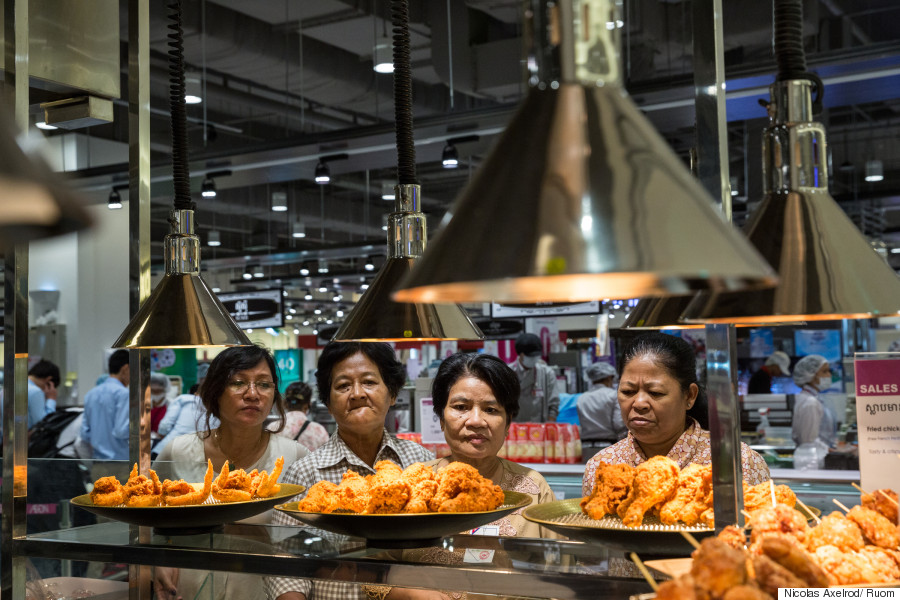 A group of women look at fried chicken on display at Aeon Mall on Jun. 30, 2014. Aeon Mall is Cambodia's first mega-mall. The inauguration was attended by Cambodian Prime Minister Hun Sen and groups of residents from various economic backgrounds were trucked in to attend the event.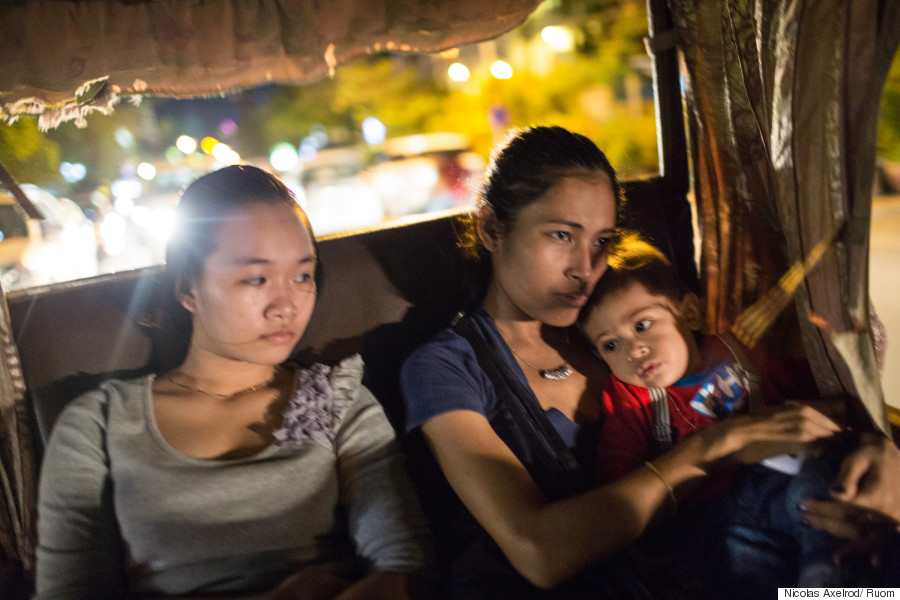 Kunthea and her son Panha (right) travel in a tuk-tuk with her cousin in central Phnom Penh on June 5, 2014. Kunthea is a single mother, working as a cleaner for four different expat families.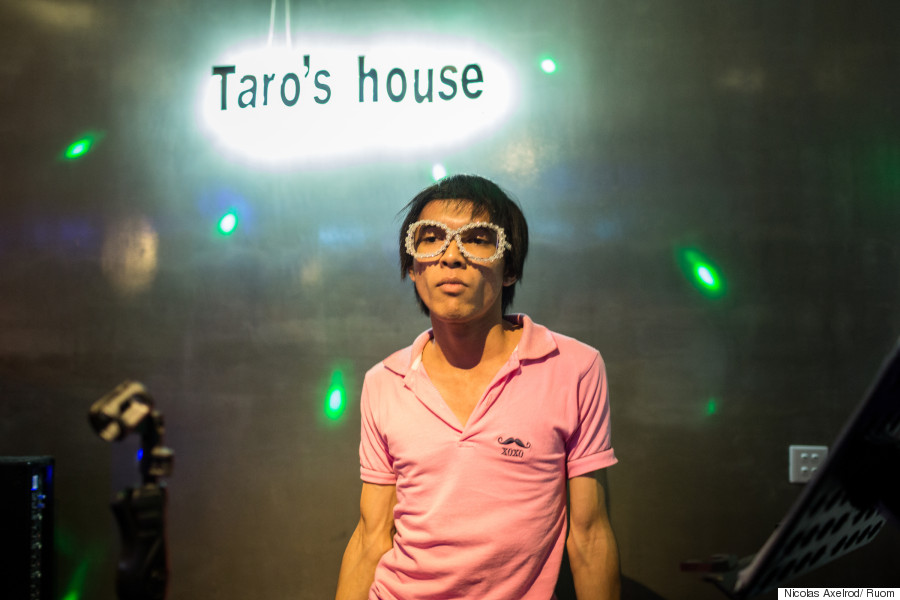 Roza preforms at his friend Sam's birthday party in Phnom Penh on Nov. 30, 2013. Sam is the lead singer of 'No Forever,' the first post-hardcore metal band in Cambodia. Along with her band members, she is pushing alternative music in Cambodia.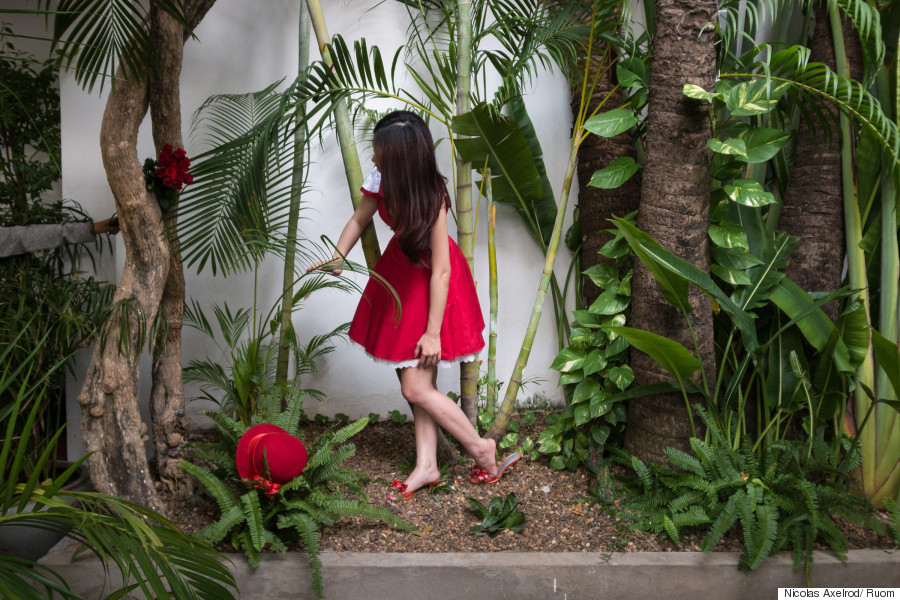 A model poses for a fashion shoot in a boutique hotel in Phnom Penh on Feb. 10, 2012. In 2009, fashion became a trendy investment in Cambodia, with high-end labels starting to become available in the capital. In 2011, Cambodia hosted its first annual fashion week.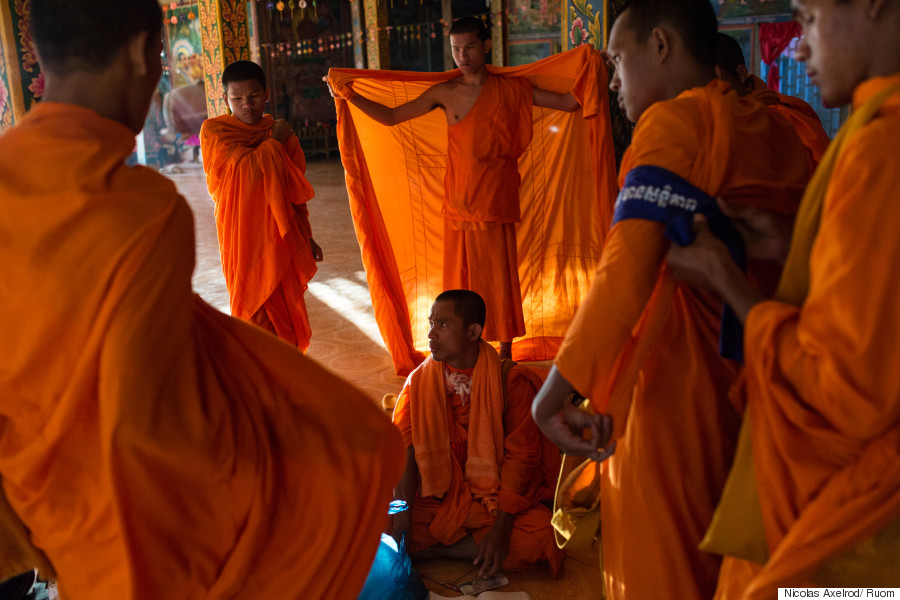 Monks get ready on day four of a 10-day human rights march into Phnom Penh on National Road 6, Kampong Thom, on Dec. 4, 2013. After Cambodia's general elections in July 2013, groups of monks took an active role in politics and promoting human rights.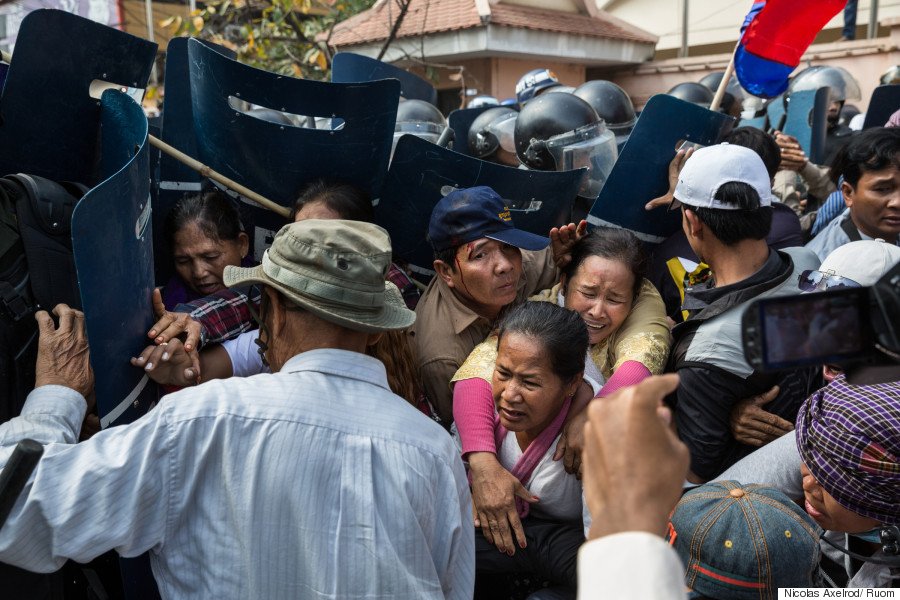 Radio station owner Mam Sonando (not pictured) and his supporters clash with riot police during a demonstration in Phnom Penh on Jan. 27, 2014, demanding the government expand his radio's reach and allow him to open a TV station. Television stations are largely controlled by the state, though foreign newspapers and some radio stations are allowed to operate independently.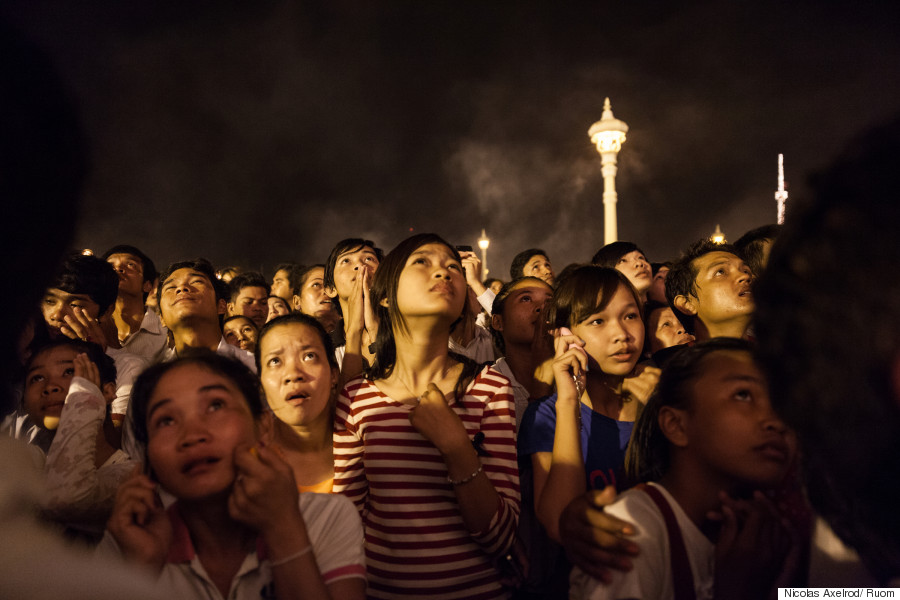 Crowds gather in front of the Royal Palace in Phnom Penh to pay their respects to King Father Norodom Sihanouk on Oct. 21, 2012, after he passed away on Oct. 15. The death of the late King Father marked the turning of an era, as he had overseen Cambodia since the country's independence from France in 1953.
Support HuffPost
The Stakes Have Never Been Higher
Related
Popular in the Community