I transitioned in plain sight...while completing my first feature film, because I thought the most stressful time of my life needed a little excitement.
I always knew I was transgender, but I didn't always have a name for it. Others identified me as someone in a female body attracted to women, but as much as I appreciated the female form, it felt wrong on me. I've always had a relatively masculine body and put on muscle easily, which made it less difficult for me to accept the skin I inhabited even before I seriously considered transitioning. If I'd had a feminine body, my level of discomfort might have propelled me forward sooner. Instead, I started working out in my early twenties.
This may not seem like the most obvious path to becoming a filmmaker. Most likely I chose film-making to save myself, really, from the destructive temptations on the road to authenticity. Clearly, I'm not good at savvy career moves, but I am good at telling a story. I wrote the first draft of my feature film, Alto, quickly and without a whole lot of irony. Like many writers, I didn't know I was writing myself into facing my own fears. I was creating the character I needed in order to move forward with my own journey.
It's hard to remember when I made THE decision to transition because it felt more like a lot of small decisions based on unraveling the somewhat stubborn notion that I couldn't hurt my family and thus couldn't do anything about the discomfort I felt inside. I know, however, that I started to see it as an inevitable reality during pre-production. What I also started to see as an inevitable reality was that I was going to direct a feature film. Over the course of financing, we'd had several different directors attached to direct Alto, but one day, my producer called and said, "Tell me again, why aren't you directing this?" and I no longer had an answer for it. I had the same lack of a response when I asked myself, "Tell me again, why aren't you transitioning?" That's when I knew that I could not have directed my first feature without beginning the process of being honest with people about who I am. When I broke it down, the script resonated with quests for authenticity, and I couldn't give my best unless I were capable of being authentic myself.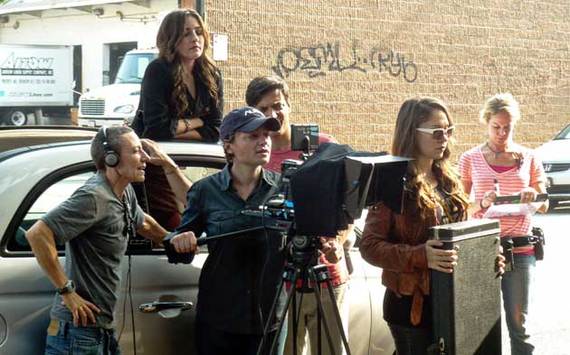 (Mikki pre-testosterone, on Alto film set, with co-stars Diana DeGarmo (American Idol, Season 3) and Natalie Knepp. Photo courtesy of Katy Ostrander.)
During the one and only table read, I'd planned to come out to the cast by playing I Am What I Am, the Gloria Gaynor version of a song written for Broadway's La Cage aux Folles, a great way, or so I thought, to come out as transgender, introduce my script about a musician's quest for authenticity and let people know I was a disco-loving dork, all in one gesture. I think it would've gone over well, but I never did it. The old Mikki still had a lot of self-doubt, but I'm sorry I let that get in the way. By saying yes to being an independent filmmaker and specifically, to directing Alto, I was actually saying yes, I can handle rejection, disappointment, criticism and nay-sayers, and I can do so in a way that brings something valuable to the world. I was saying the same thing when I came out as transgender.
To be honest, being transgender might provide some of the best training out there for surviving as an indie filmmaker. Both require the ability to laugh. People ask whether my directing style changed with my transition. I think they want to know whether I had a more forceful presence on set. Maybe they want to know if I had a shorter fuse. Here's what I know about myself: I care about growing as a human being more than fulfilling any preconceived notion of how I should act. On set, I act like the leader because my job is to be clear on my vision and how to collaborate with others to reach it.
While I was editing the movie, I began weekly, self-administered subcutaneous injections of testosterone. For some reason, I didn't feel a need to document every stage of the process. I may have paid more attention to the transitions if I weren't busy trying to fix the transitions in front of me on the screen.
At some point, I knew we needed to go back in for additional days of shooting. When we found a three-day period that would work, I was only two months into hormone therapy, but already, the change was evident, more to others, apparently, than to myself. One thing I hadn't expected was that my neck widened. That's something the producer and actors noticed right away. My jaw began to square and my hairline changed. I never had a whole lot of body fat, but even that lessened. What mattered to me most was that I felt more like myself; the person I saw in the mirror began to resemble the person I felt inside. I also asked everyone to use male pronouns when referring to me.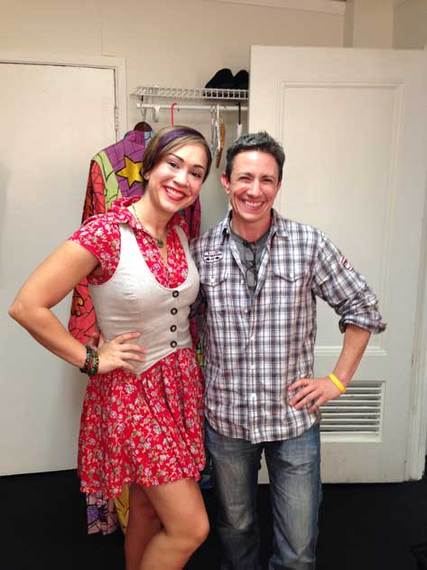 With Diana DeGarmo backstage at Joseph and The Amazing Technicolor Dreamcoat after four months of testosterone. Photo courtesy of Ace Young
Some people have said I'm lucky to have come out in a time when transgender is trendy, but there is still a huge gap between the media trend and the safety and self-acceptance of many transgender people out there. I'm grateful to the film for pushing me to the point of no return. That it happened during a time in which people are learning more about transgender lives means that I can be part of the conversation. Ultimately, the journey of transitioning FTM while making my first feature film wasn't just about overcoming fear. It was about feeling part of the human race, uncovering the truth of who I am for the purpose of being a more fully alive presence in the world.
Related
Popular in the Community