At this point, the footage of 5-year-old Omran Daqneesh, who was rescued from the rubble of Russian airstrikes in Eastern Aleppo, has gone viral. Dazed, traumatized, yet completely silent, the video of Omran, like the picture of Alan Kurdi whose body was found washed upon a Turkish shore, has struck a chord. It has reminded the public that the war in Syria is still raging and that everyone, especially children, is suffering. In the wake of World Humanitarian Day, let's use this outrage and sadness to support civilians still in Syria, Syrian refugees in host countries, and refugees in the United States.
Despite the limitations on humanitarian aid entering Syria, several international non-governmental organizations (INGOs) like Save the Children, Mercy Corps and World Vision are providing goods and services to individuals in Syria and refugees in the surrounding countries and Europe. A list of INGOs and international organizations operating in Syria can be found here.
Syria's Civil Defense group, the White Helmets, have been bravely rescuing individuals from under the rubble and have saved 56,000 lives and counting. They accept donations to continue their work and to assist wounded or killed volunteers and their families.
Helping Syrian Refugees in Host Countries
In addition to the various INGOs in host countries, organizations like IAMYOU and Lighthouse Relief in Greece, Helping Refugees in Jordan and Jusoor in Lebanon are only some of the many non-governmental organizations and local initiatives working to abate the crisis. IAMYOU and Lighthouse Relief operate in several refugee camps in Greece and have established community centers, educational programs, and child-friendly spaces and activities. Helping Refugees in Jordan, a grassroots and volunteer-led initiative, helps meet the needs of local charities and NGOs by collecting, sorting, and distributing essential items and by supporting informal schools and child centers. Jusoor runs educational centers in Lebanon to provide Syrian refugee children with a holistic primary school education. Jusoor also assists Syrian students in securing academic scholarships at universities in the U.S., Canada, and the Middle East.
Because of the widespread use of cell phones by refugees, tech responses have also sprung up to assist refugees in host countries. Urban Refuge, an all-female group of students at Boston University, is creating a phone application aid locator to help urban refugees in Jordan locate and access aid and services. You can support Urban Refuge's Crowdfunding campaign to finish creating and launch the app. A team of Syrian refugees is creating Bureaucrazy to help other refugees navigate bureaucracy in Germany. They are also in the process of Crowdfunding initial funds for a January launch date.
Helping Refugees in the United States
The Obama administration has pledged to accept and resettle 85,000 refugees, 10,000 of whom are Syrian, by the end of September 2016. As of April 2016, only 1,800 Syrian refugees had been resettled. Several organizations, including the International Rescue Committee, Catholic Charities and the International Institute of New England, resettle and assist refugees with finding jobs and adapting to life in the U.S. You can help by donating and volunteering or interning with local resettlement organizations that are often the first to welcome refugees upon arrival. A full list of refugee and immigrant service providers can be accessed here.
You can also write to or call your state representatives showing your support for refugee resettlement. Other ways you can publicly demonstrate your support are organizing your community or social groups to fundraise, assisting refugee families being resettled in your area, and attending rallies or events that call for an end to the violence in Syria and an increased resettlement commitment.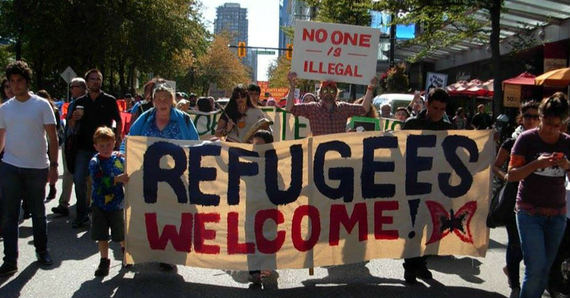 Canadians marching behind the banner "Refugees Welcome" and urging the government to increase Canada's resettlement commitment. Photo courtesy of The Canadian Progressive.
There are many ways to help individuals affected by the Syrian Civil War. Continue to learn about the situation in Syria and help educate others about the reality on the ground, donate to organizations providing aid in Syria and host countries, volunteer with resettlement agencies, and speak up to ensure that outrage and sadness over photos of the children of Syria are translated into action. Thousands of children are still caught in the crossfire of the Syrian conflict, but by joining our efforts and taking action, we can ensure that it doesn't take another photo of a suffering child to stir us into action.
*The organizations mentioned in this article are only a few of the many that are providing life-saving aid to refugees.

Michelle Abou-Raad is a co-founder and member of Urban Refuge, which is creating a mobile aid locator for refugees in Jordan. Other than Urban Refuge, she has no affiliation with any of the aforementioned organizations or groups.
Popular in the Community