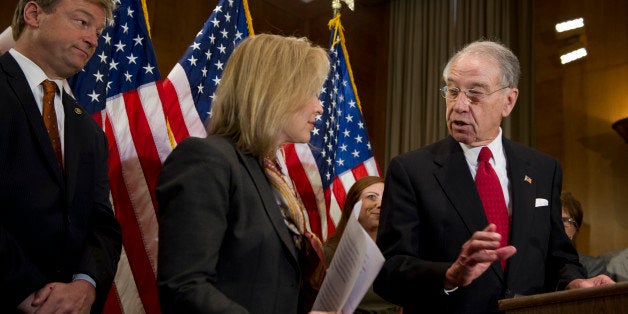 In a letter released Monday, a bipartisan group of senators called on the White House task force on college sexual assault to adopt three reforms aimed at bringing greater transparency to the way schools respond to sexual violence on campus.
The letter, drafted by Sen. Kirsten Gillibrand (D-N.Y.), was originally sent to the White House Task Force to Protect Students from Sexual Assault last week, but Gillibrand's office released it Monday. The task force is due to submit its recommendations Tuesday, and the White House will make a public announcement next week.
Among the recommendations from the senators was requiring colleges to conduct annual, anonymous surveys about sexual violence on campus, something advocates have been urging for at least a year. The senators also recommended that the U.S. Department of Education formally designate one person to oversee national policy governing rape, sexual misconduct and harassment in higher education. (See below for the full text of the senators' recommendations.)
Finally, the senators recommended better disclosure of ongoing federal investigations into colleges for alleged mishandling of sexual violence on campus, as well as the creation of an online, searchable database of complaints, compliance reviews and investigations. Such a database does not currently exist, and in its absence, Rep. Jackie Speier (D-Calif.) compiled a list of recent Title IX and Clery Act investigations by the Education Department in January. The department also does not actively announce ongoing investigations under Title IX, the gender equity statute, and does not disclose when it launches investigations under the Clery Act, the campus crime law.
Gillibrand sent the letter along with Sens. Dean Heller (R-Nev.), Richard Blumenthal (D-Conn.), Barbara Boxer (D-Calif.), Charles Grassley (R-Iowa), Mazie Hirono (D-Hawaii) and Patty Murray (D-Wash.).
The "price of a college education should not include a one-in-five chance of being sexually assaulted," Gillibrand said in a statement. "I urge the White House Task Force to seriously consider our proposals that would immediately address the scourge of sexual assault on our college campuses and help keep our students safe."
The letter comes during a time of heightened Congressional scrutiny to the issue of campus sexual assault, with Gillibrand, Sen. Claire McCaskill (D-Mo.) and other federal lawmakers speaking out about the problem in recent weeks. Some of the recommendations in the letter have been floated by experts, advocates and activists who were in contact with members of Congress this year on the issue.
"The reporting process for sexual assault on college campuses needs to be as well-coordinated as possible in order to fully inform students and parents," Grassley said. "Our recommendations would help make improvements to the current system by working to gather information in an evenhanded way throughout higher education and to establish meaningful transparency with that information."

The Senators' Three Recommendations In Their Letter To The Task Force:
Streamline and Enhance Accountability for Higher Education Crime & Safety within the U.S. Department of Education. Currently, the Secretary of Education has 28 separate offices that directly report to him or an Undersecretary, but there is not a single office solely dedicated to addressing issues of violence prevention, sexual or otherwise, for colleges and universities. Compliance and enforcement of the Clery Act are housed in the Federal Student Aid office which reports to the Undersecretary while the Office for Civil Rights in charge of Title IX enforcement reports directly to the Secretary of Education. To streamline the process, ensure information-sharing, and strengthen enforcement, the Senators called for coordinating both Clery and Title IX violations that involve criminal acts or physical violence under one person within the U.S. Department of Education who would then report directly to the Education Secretary.

Require All Schools to Conduct Standardized, Anonymous Survey of Campus Sexual Assaults. To begin to hold colleges and universities accountable, the Senators recommended requiring all schools to administer a standardized, anonymous survey on campus sexual assaults that would be published annually online, similar to the Department of Defense's own SAPRO survey. Sexual assault remains one of the nation's most underreported crimes and the data under the Clery Act does not provide an accurate picture of safety on campus. There is currently a disincentive for colleges and universities to increase reporting since it puts them at a competitive disadvantage with other schools. This new standard for transparency would incentivize institutions to proactively address the growing crisis of campus sexual assault, encourage victims to report, and give students and parents the tools needed to assess campus safety as a criteria for choosing a college or university.

Create a Searchable Database on All Pending and Resolved Title IX and Clery Act Complaints, Compliance Reviews and Investigations. The lawmakers called on the Department of Education to create a centralized, user-friendly, searchable database that updates and monitors the number of pending investigations, enforcement actions and voluntary resolution agreements for all Title IX and Clery Act complaints and compliance reviews. This valuable data would help arm consumers with information on the number of outstanding complaints and reviews and how those challenges are resolved. The Senators pointed out that these results, along with the annual survey, could help create a "Campus Safety Metric" as part of the Department of Education's College Scorecard, which is used by prospective students and families to make more informed decisions on which institutions to attend.
Related
Popular in the Community