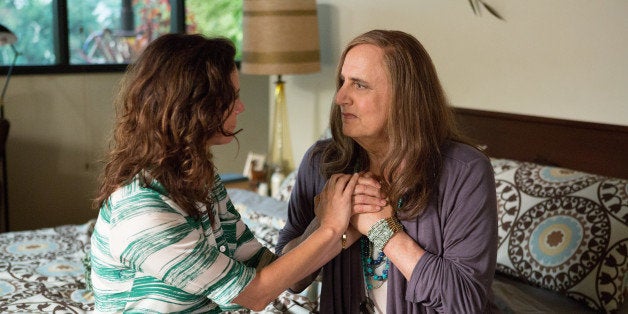 "Transparent," which arrives Friday on Amazon Prime, is not just the best new show of the fall, it's one of the best new shows of the year.
Within the first few episodes, "Transparent" gracefully launches itself into television's top tier, and though Amazon has been dabbling in this realm for some time, it has finally found the program that will put its scripted offerings on the map.
What a lovely heart this show has, and what supple skills "Transparent" uses to explore the questions of identity and connection rolling around inside that wounded, hopeful heart. This is simply a great show.
Like so many bigger, brasher (and often blander) shows on traditional networks, "Transparent" has a hook. The show's not gimmicky per se, but there's an attention-grabbing story about gender that unfolds over the course of the first half-hour, one that you may already have read about.
When viewers first meet Jeffrey Tambor's character, he's Mort Pfefferman, a retired professor and the divorced father of three self-absorbed adult children. The show gradually allows the personalities of the various Pfeffermans (including Mort's ex-wife, Shelley, played by Judith Light) to reveal themselves, and that's one of "Transparent's" chief pleasures. Creator and director Jill Soloway ("Six Feet Under," "Afternoon Delight") has a keen eye for telling moments of human behavior and, thankfully, "Transparent" doesn't hammer points home with exposition and repetition. It observes.
The characters are so multi-layered and their stories so thoroughly tied to each other that "Transparent" achieves a pleasing denseness, but one of its signal achievements is that it breathes. This is the kind of story that can be told by media companies who are unmoored from most traditional commercial constraints: They can make television that feels artisanal, specific and organic in all the best ways.
"Transparent" ambles along, quietly building layers of characterization and gently poking into various layers of the Pfeffermans' relationships, but there is a well-constructed engine pulling the whole thing along. Unknown to the family, Mort has begun transitioning into Maura, and she is both terrified and overjoyed at the thought of re-starting life as the woman she has always felt herself to be.
There are many things to praise about "Transparent": Its pacing is assured and unrushed, and its characters reveal their messy humanity in a variety of ways -- some humorous, some ambiguous, some sad. But the positive response to the show begins with Tambor's performance, because none of "Transparent" works if viewers don't buy everything that Mort and Maura are going through. Handed the role of a lifetime, Tambor gives "Transparent" everything he's got, but he uses such restraint and such delicacy that Maura's hopes and fears might just break your heart.
Tambor is most well known, certainly in recent years, for his comedic roles on shows like "Arrested Development" and "The Larry Sanders Show," and it's fair to wonder if the actor chose to play up the more striking and attention-getting aspects of Maura's emergence. But Tambor is fantastically subtle here, and his ability to carry dramatic moments grew more impressive in each of the first four episodes. (The first season contains 10 episodes.)
Flashbacks show just how difficult it was for Maura to privately acknowledge her truths to herself when the children were young. Decades later, she's no longer tied to her former identities as a breadwinner, husband and educator, but she's still a parent, one who is coming to terms with a legacy that is mixed at best. There is an unfinished quality to the entire Pfefferman clan, and without making the question clumsy and overt, "Transparent" asks whether the secret at the core of the family prevented the Pfefferman kids from fully embracing their own identities as adults.
Critics often describe shows they like as "character-driven," but what does that even mean? It means that a show thinks one individual can be a universe: One person can be deep, contradictory, selfish, grand and surprising in any number of ways. Character-driven shows know that when shaggy, unfinished, evolving people (words that describe all of us) come into contact with each other, the results are unpredictable. As is the case with "Rectify," "Happy Valley," "Orange Is the New Black" and other wonderfully observational dramas that have come down the pike of late, this show is full of people who seem like people, not TV characters. That's not the only way for a show to approach its characters: I like melodramatic stories and outsized people as much as the next "Scandal" fan. But the array of strikingly detailed individuals in "Transparent" make the crop of characters on most of the new broadcast network shows seem even more pallid and forgettable by comparison.
The Pfeffermans are frustratingly myopic, but each has wonderful qualities too. The youngest, Ali (Gaby Hoffmann), can't get her life together at all, but she's the only sibling who pays attention to Ed, Shelley's second husband, who has dementia that prevents him from speaking. Sarah (Amy Landecker) is hypervigilant to the point of exhaustion (at one point, she wipes barbecue sauce off Maura's face, as if she was one of her kids), but she's genuinely and painfully torn about a secret that lies at the heart of her life. Josh (Jay Duplass) at first comes across as a classic Los Angeles hipster douchebro, but slowly, "Transparent" reveals his wounds and makes you wonder just how deep his damage goes.
Here's a character-driven Maura moment: In a flashback, Mort sits in his office and takes a bag from a nice department store from a desk drawer. He takes a colorful blouse from the bag and ponders it. Given what we know about Mort and Maura at that point in the show's narrative, the moment resonates in any number of ways (and the sub-plot's coda resonates even more). Who do we choose to be, what spaces are safe for our most private selves, can people every truthfully see themselves or the people around them? "Transparent" explores these questions with conscious intent and thoughtful energy -- and it's funny too, because life is just ridiculous sometimes, whatever your secrets or sadnesses.
Every single one of the characters in "Transparent" is in transition: They're all confronting truths in their lives -- some of them painful, some of them liberating, many of them both. What's astonishing about the show is how compassionately Soloway treats all of these people while essentially putting them under a microscope. Soloway doesn't handle the Pfeffermans with kid gloves; they're not saints or tragic figures. Those making "Transparent" are simply curious about these people and what they'll do next, and that curiosity is addictive.
One word of caution as you tackle the first season of "Transparent": Don't binge. There's a lot to process and savor here. Like Maura, take it slow.
Season 1 of "Transparent" premieres Friday, Sept. 26, at 9:00 a.m. ET on Amazon Prime.