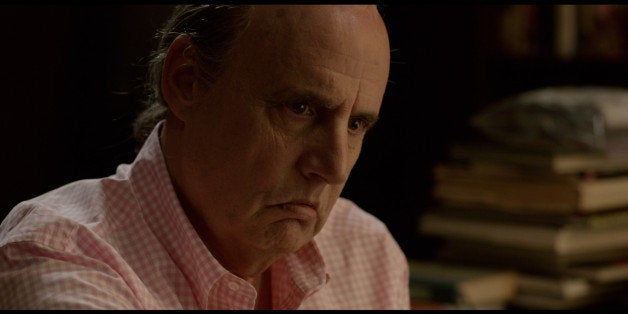 "You can do anything. You should do anything. This needs to be something that people feel like they have to see, so take the risks you want to take."
These are the magical words that every TV writer wants to hear, and though they may not be a direct quote, that's how Jill Soloway summed up the process of working with Amazon, which recently unleashed 10 new pilots on the world.
Soloway's pilot, "Transparent," is a bittersweet and acutely observed half-hour that introduces a Los Angeles family that is close, but maybe less close than they'd like to believe. Though the pilots take place in the same city, "Transparent," which Soloway calls a "dark comedy," couldn't be less different than Chris Carter's "The After," an Amazon pilot that is as apocalyptic as Soloway's is low-key. The good news is, there's room on the Amazon slate for such wildly different projects, along with shows like the detective drama "Bosch," the classical-music expose "Mozart in the Jungle," the sports comedy "The Rebels" and five other shows aimed at kids.
It's not as though the Amazon pilot process is perfect -- I gave my two cents on aspects of it in this non-spoilery review of "The After" -- and I'd add that those leading Amazon's TV foray haven't done an ideal job of publicizing what they've got. But there's certainly reason to celebrate the range of Amazon's offerings, even if their projects haven't garnered Netflix-level buzz yet.
Soloway, who talked at length about "Transparent" and working with Amazon in a new Talking TV podcast, said her main point of contact at Amazon is Joe Lewis, the Amazon executive shepherding original programming.
Lewis had feedback on her pilot script, she said, but it mainly revolved around structure, when reveals would occur and how to encourage binge-watching if the show does get picked up (if that happens, the plan is to make nine additional episodes in the first season). Soloway said that she really only ever dealt with Lewis and one other person in his office, and that is not usually the way that television is made.
Soloway has worked on a number of pilots, cable shows and network programs during her 15-year career, and thus she's used to the process in which multiple layers of executives give various rounds of "notes" or feedback throughout the process. Even when everyone is smart and committed making something good, it's a process that encourages people to give notes as a way of justifying their salaries, and it ends up, as Soloway put it, "shav[ing] off all the really weird shit and all of the really emotional stuff."
"As people weigh in on your work -- and it's nothing mal-intentioned -- it just shifts," Soloway said. "It changes to satisfy each person. Sometimes it can become opinion salad. Sometimes it can become bologna. Sometimes the most exciting moments in a scene -- the sort of pointiest moments -- will affect people. So you'll get notes on those moments: 'It's too much. It's too weird. I felt something during that.'"
Because the pointier aspects tend to get sanded down, it's not unusual for the TV-making process -- especially in the early stages of a show's life -- to steer projects into more recognizable, predictable and safe directions. That doesn't always happen, of course, and it sounds as though it didn't happen with "Transparent." Soloway said that Lewis did have some notes and they had many conversations about the show, but there weren't layers of studio and network executives with multiple layers of (often conflicting) feedback. It all diverged so much from the usual process that Soloway quizzed Lewis about it.
"Did [Amazon CEO Jeff] Bezos sit down with you and say, 'Look, we're going to disrupt the way television is made by allowing our creators to do exactly what they feel is right'?" she recalled asking. "Or are you guys just figuring this out and you have no idea and you're just letting people do whatever they want? Which is it -- is this a real part of your vision, or it's all new to you and you don't have the infrastructure to give 20,000 rounds of notes? And he said something to the effect of, 'It is part of the vision, and no, we've never talked about it.'"
Another novel part of the pilot process, which in many instances can be long and mind-melting: She and the cast won't have to wait long to find out whether Amazon wants to continue with "Transparent." Soloway said that they'll get the yea or nay from Amazon in the first or second week of March. And what's the criteria that Amazon will use for deciding which shows to make? Soloway said that it's "a little bit of everything," including the number and tenor of reviews on the show's Amazon page, as well as social chatter and media buzz, among other factors.
"Gosh, maybe they're also checking to see how many paper towels people buy?" Soloway wondered, only half-joking.
Even if "Transparent" doesn't lead to a spike in sales of paper goods, Soloway speculated that there is a chance that Amazon will just make the pilots it wants to make, with input from viewers as one of several factors that influence their decisions.
"I think that as Amazon is building its brand, if they see a show that can get critical attention, yeah, that could be part of it," Soloway said.
Beyond her experience with Netflix, she sounded generally positive about the arrival and growth of new platforms like Hulu, Amazon, Netflix, YouTube and the like. As she put it, "there's all kinds of money up there [in Silicon Valley], money that's flowing downhill to LA."
"It's a great time for writers and people who create content," added Soloway, who directed the 2013 film "Afternoon Delight." It's "not necessarily that everything that gets created is going to work and is going to find its audience. [But] I do think that people who have voices that sort of are non-traditional, people who might otherwise be considered other -- women, gay people, African-American people, comedians who wouldn't normally fit the mold, stories that aren't the traditional 'King of Queens' [clones] -- they have a way of getting to the audience and having people find out that these things can be a success."
And this greater openness affects the kinds of stories that can be told. As I noted in my end-of-year Top TV lists, there are now dozens of different outlets making many different kinds of scripted programs -- miniseries, TV movies, a varied array of hour-long shows and half-hours of all kinds. And the kinds of characters and stories depicted in those shows is shifting as well, Soloway said.
"Even three or four years ago, I remember going into meetings and being told, 'You need a strong male character in this. You can't have a show just about women,'" she said. "Even that, I think, has changed in the past few years."
[The next part of the story references an event that takes place at the end of the "Transparent" pilot.]
Of course, online platforms aren't the only ones willing to try new paradigms. There's every chance that the more adventurous cable networks would have been willing to make a show that had a trans character at its center. As Soloway noted, "Hit and Miss," a U.K. drama that DirecTV picked up in the U.S., touched on trans themes and gender issues, and there's a terrific trans character in Netflix's "Orange Is the New Black."
But "Transparent" travels into different tonal arenas: As is the case with "OITNB," it mixes subtle observation with dry comedy, and Soloway clearly wants the characters' emotional states to resonate with the viewer. But Tambor's character is central to the show's themes and stories, though the pilot isn't just about the revelation that occurs at the end. It is a big deal that one of his children finds out that the patriarch of the family is transitioning to life as a woman named Moira, but the three siblings, who are played by Gaby Hoffmann, Jay Duplass and Amy Landecker, are going through their own changes. Even before they learned about their dad's new life, they had boundary and maturity issues, and seem as restless as the protagonist of "Afternoon Delight."
One goal is to come at gender issues "comedically, sexually, sensually, with love, with desire, with pain -- and not just [have Moira be an example of] the victim or villain trope." Soloway said she did a great deal of research with trans experts before making the pilot, and as she envisions where the show will go next, her thinking on Tambor's character continues to evolve.
"As we're talking about what a potential season would be, I'm kind of realizing that in some ways, Jeffrey Tambor's character is the straight man or the straight woman" in terms of the show's comedy, Soloway said. "Moira is transitioning, but is actually pretty cool with who she is and pretty clear on where she wants to go. And the three kids are trying to figure out what's next for them."
"One of the organizing principles I've had [regarding the pilot] was the secret was the boundary. Now that the secret is going to leave, where are everyone's boundaries?" Soloway said. "Am I the person my family knows and loves and helped build, or am I somebody new entirely, and what happens when those things come into conflict? It's a great story engine ... One of my big things as a writer is this notion of being seen -- the uncomfortable need that most people have to be seen, how difficult it is to ask people to see you for who you are and to reveal who you really are, and how much more difficult that gets in the context of your family of origin."
Transformation, identity and family complications are themes she got to explore in shows like "Six Feet Under" and "United States of Tara." But as the writer and director of "Transparent," she had both the freedom and the responsibility that comes from being in charge, and that "pushed me to punch above my weight creatively and as an artist, to really say, 'Get it right, Jill, make it work.'"
Did she make it work? She should know in a couple of weeks. It's admittedly unlikely, but perhaps Bezos will assemble the recent crop of Amazon pilot creators in a "Bachelor"-esque mansion.
If they're lucky -- and their pilots are loved by the public -- maybe "Jeff Bezos will give us a rose!" Soloway joked.
Calling all HuffPost superfans!
Sign up for membership to become a founding member and help shape HuffPost's next chapter
BEFORE YOU GO
PHOTO GALLERY
TV Stars' Audition Tapes