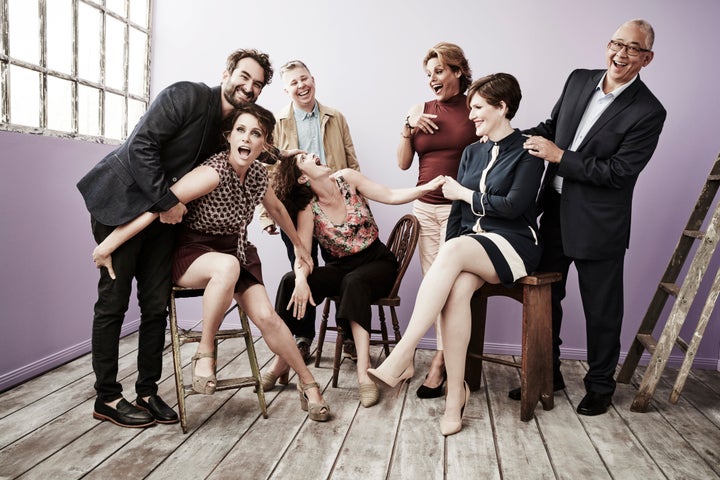 Identity is big on "Transparent," a series that shows various Pfeffermans striving (selfishly) to find their places in family, work and romance. In Season 3, a handful of small moments illuminate the often strong impact of verbal identifiers ― that is, language. Particularly nouns and pronouns.
Early on in Season 3, Maura (Jeffrey Tambor) ends up in a hospital bed. Her family appears at her side and corrects the doctor when he uses male pronouns to update the group on Maura's progress. But still, she's distracted by a chart on the wall, labeling her "M" for "male," which no one changes. Later, at a family dinner, Maura makes an announcement: She no longer wants her children, Sarah (Amy Landecker), Ali (Gaby Hoffmann) and Josh (Jay Duplass), to call her "Moppa," the "Mom" and "Poppa" amalgam they created for her, but rather "Mom."
Amazon's comedy series shows the transgender Maura face-to-face with people either unfamiliar with gender identity ― the idea that someone may identify more closely with a gender not linked to their biological sex ― or unwilling to respect her choice of pronouns, just as transgender and genderqueer people do in real life. Some individuals prefer male or female terms to match their male or female identities, while others prefer the singular "they" as a neutral option. 
It's an issue that series creator Jill Soloway knows a lot about. When people use the wrong terms to refer to her own parent, a transgender woman like Maura, Soloway must decide whether to correct them, she told The Huffington Post.
"I think, for trans people, that's one of the things they encounter on the most shallow level, is people misgendering them," Soloway said.
But "Transparent" doesn't mean to lecture, only remind people to think before they speak. Even the hospital scene, Landecker said, is "not to point blame" at people who don't use the right words.
"I think it's to encourage all of us to be very conscious," the actress told HuffPost. 
Navigating the language of identity can be tricky for English speakers who grew up labeling most grammatical subjects by gender. Although attempts to introduce gender-neutral terms are not new, they've been given fresh purpose by present-day individuals who question whether they see themselves as "men," "women" or neither. 
Series creator Jill Soloway has spoken in favor of a neutral "they" pronoun in the past; in our conversation she called it a "good thought exercise" because speakers occasionally use it without thinking. 
"If I said to you, 'I have to leave in five minutes. My friend is going to be here!' You can say, 'Oh, what time do they get here?' You would be using a non-gendered pronoun," Soloway said. "It wouldn't sound weird to you."
One "Transparent" actor, Jiz Lee, who appears as a professional dominatrix named Pony, prefers the neutral "they" pronoun. 
"I know it means a lot to them to be respected," Landecker said, referring to Lee. 
The genderqueer movement encourages people not to make assumptions about what others want to be called ― "she" or "they," "Moppa" or "Mom" ― and to respect the way they see themselves.
The idea that we can choose our identity has found a champion in Landecker, who admitted that working on Soloway's show helped cement her view. She told HuffPost a story about her 12-year-old daughter, Lola, who decided she wanted to change her name. 
"She had looked up some definition of Lola, a derivative in Latin, and it said 'sorrowful,'" Landecker explained, "And she always felt like that was 'sad.' She had a 'sad name.'"
And so, over the summer, the actress allowed Lola to ask friends, family and classmates to call her "Iris" instead. 
"I feel like there's just a real deep respect, human respect, to allow us all to choose who we want to be and for the rest of us to honor that," Landecker said.
"Transparent" Season 3 is now available on Amazon.
Calling all HuffPost superfans!
Sign up for membership to become a founding member and help shape HuffPost's next chapter
BEFORE YOU GO
PHOTO GALLERY
Feminist TV Guide 2016