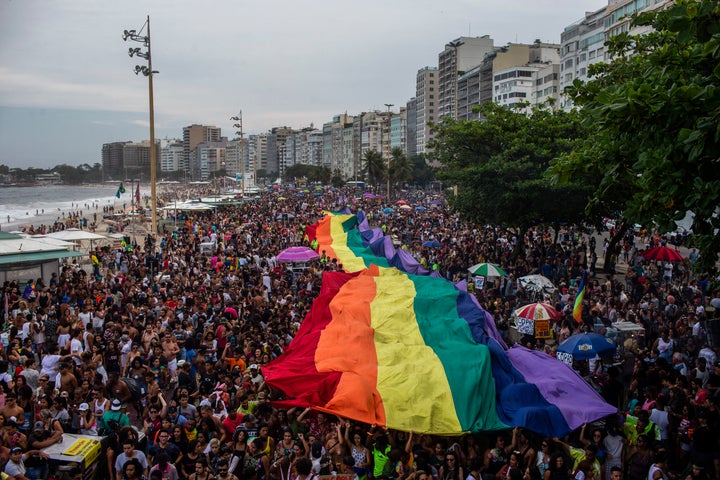 A man in Brazil was arrested Monday in connection with the killing of a trans woman who was found with injuries to her face and a gaping chest wound covered up with the image of a saint, according to a police report.
Caio Santos de Oliveira, 20, confessed to tearing out the heart of Quelly da Silva, 35, and stealing her electronic devices after meeting and having sex with her the previous night, military police said. Oliveira told journalists outside the police precinct this week that Silva was a "demon" and had brought her death upon herself.
Oliveira will face robbery and felony homicide charges for the crime, which took place in Jardim Marisa, in the state of Sao Paulo. He remains in police custody. Silva's body will be buried as soon as it is released by the medical examiner.
Evidence suggests Silva's killing was motivated by transphobia, said Clara Masiero, a doctor of law and member of the Brazilian Institute of Criminal Sciences, a human rights group.
"The cruelty, the fact that the perpetrator referred to the victim as a 'demon,' the religious references — there is a whole level of symbolism that brings us face to face with the reality of transphobia in Brazil," she said.
Brazil is one of the most dangerous places in the world for transgender people. The country consistently leads a global ranking of trans murders published annually by Transgender Europe, a trans advocacy group. According to the group's tally, 125 transgender people in Brazil were killed between January and the end of September 2018, even as a record number of trans candidates were running for office.
"The murder of any trans person sends a message: that we don't deserve to exist," said Keila Simpson, the president of the National Association of Trans People and Transsexuals.
Hallmarks Of A Transphobic Crime
Officers stopped Oliveira on Monday morning because he was exhibiting "suspicious behavior," according to the police report. He had abrasions and scratches on his body, as well as a wound on his head. When questioned, Oliveira confessed to killing Silva and led police to a bar where they discovered her body. Police identified the victim as Genilson José da Silva and confirmed she went by "Quelly."
From the bar, police went to the suspect's home, where they found Silva's heart wrapped in a cloth under a wardrobe.
"This level of cruelty is a relatively common indicator of transphobic hatred," said Paulo Iotti, a lawyer from the Sexual and Gender Diversity Advocacy Group.
"People feel they have the right to attack, discriminate against, and murder LGBT people."
Since Brazil's criminal code makes no mention of transphobia, these types of crimes are often treated as ordinary murders rather than hate crimes, Simpson explained.
The inability of prosecutors to charge people with transphobic or homophobic crimes, Simpson said, contributes to a sense of impunity.
"People feel they have the right to attack, discriminate against, and murder LGBT people," Iotti said. "[Oliveira] said he killed her because he thought she was a demon. This shows the degree to which transphobia is entrenched within the society."
Even when prosecutors attempt to acknowledge the role hatred might have played in a crime, their qualification is often "clumsily formulated or futile," he said.
For example, Masiero explained that Silva's death could be described as femicide if prosecutors could show it wouldn't have happened if the victim weren't a woman.
"This was a murder of a person who identifies as a woman," she said. "We do not know the exact circumstances, but it appears to me that the crime was committed because this person was who she was."
But one of the obstacles to this approach is the language of the law, which defines femicide as a crime against the female "sex," not gender.
"This may lead judges to limit the interpretation and not apply the qualification to transgender people, " she said. A murder classified as femicide is punishable by 12 to 30 years in prison, as opposed to six to 20 years for simple homicide.
Popular in the Community