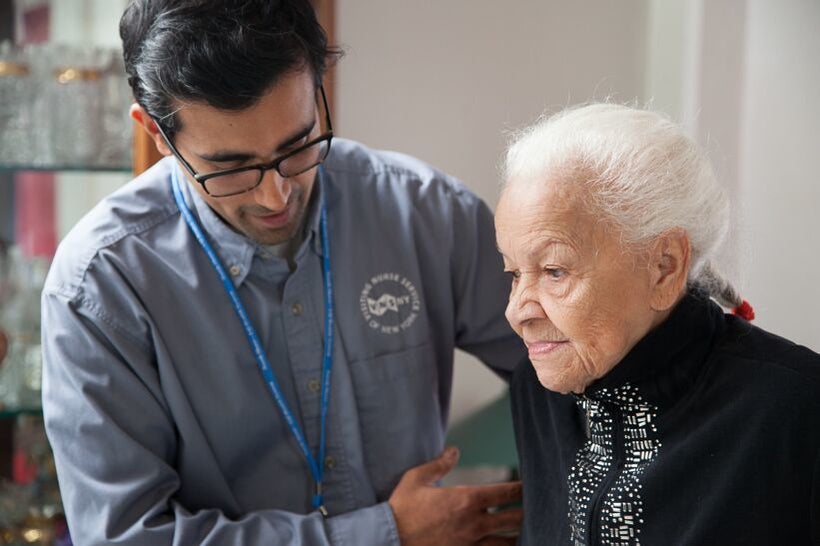 Sometimes, access to a simple car ride can be a life or death matter, especially for the chronically ill and homebound.
Take Mr. Burke*, for example, who has chronic kidney disease and was relying on his daughter to drive him once a week to get essential dialysis treatments. As the sole breadwinner for the family, Mr. Burke's daughter was finding these trips harder and harder to coordinate, and they were starting to jeopardize the family financially and emotionally.
In a similar scenario, Mrs. Nunez*, already bed-ridden with a number of chronic illnesses, sank further into a downward health spiral—developing incontinence, hypertension, and a non-healing wound—when her husband became ill himself and was no longer able to drive her to medical appointments.
Likewise, Mrs. Singh* needed to visit an eye specialist twice a month for treatment following a stroke. Unable to take public transportation because of her health, she was spending 30 to 100 dollars on a car service for each doctor's visit—an untenable burden on her fixed income.
Fortunately, Mr. Burke, Mrs. Nunez and Mrs. Singh are managed long term care plan members. In each case, care coordinators let them know they were eligible for transportation benefits as part of their managed long term care health plan—benefits that included door-to-door service for medical appointments and personal assistance in their travels, if they needed it, at no cost to them. For these vulnerable seniors, and countless more with whom we work every day at VNSNY CHOICE Health Plans, the right transportation at the right time and the right price has made all the difference in their ability to manage their own health and remain independent and safe in the homes and communities they love.
I have written before about how managed long term care (MLTC) health care plans are able to keep even the sickest elderly patients stable and comfortable at home. The plans do this by coordinating all the various elements of an older person's care in a responsive and collaborative fashion, including making sure that doctor's appointments are made and kept. Transportation services that connect homebound or near-homebound seniors to medical care outside their home are a vital part of the benefit.
Our own experience at VNSNY CHOICE has shown that with proper planning and coordination, providing transportation benefits for chronically ill or homebound individuals is a highly effective approach. Working with hundreds of vendors across New York City and New York State, our care coordinators work with members to help them select the most appropriate transportation— car service, ambulette, or ambulance—for any number of medical related visits, including getting to a primary care doctor or specialist, a lab for blood work, or to pick up durable medical equipment or a new prescription, as well as traveling to or from a hospital, nursing home, or adult day center. It is not unusual for a frail older person, living with several chronic illnesses and taking multiple medications to need transportation to two or three doctor's appointments in a single day.
"Transportation is a key factor in helping our members take control of their health," says Sara Shah, who oversees transportation as Manager of Member Experience at VNSNY CHOICE. "If someone is bedridden or can't walk down the stairs, they can't catch a bus or the subway to go to the doctor, which could deprive them of vital medical care. I've had people calling me crying because their health is deteriorating and they can't get to the doctor. When I tell them they can get transportation to appointments through their CHOICE plan, they cry in relief."
Sara has seen older New Yorkers in despair because they were unable to travel to the doctor for follow-up care, prescription reevaluations, or essential treatments like chemotherapy or dialysis. She's also seen what happens when she and her colleagues help members access the transportation benefit that is part of their managed long term care coverage.
For example, one of our new members, Mrs. Li*, already burdened by battling cancer, was overwhelmed by the logistics of getting to her chemotherapy appointments. She had planned to take a city bus to and from chemo, until she learned how exhausting and debilitating the treatment can be. She was delighted to find out that not only did her benefits cover transportation, but she could also create a standing order for ongoing transportation to match her chemotherapy schedule.
Expertise and Care Coordination Are Key
As with every feature of managed long term care, implementing the transportation benefit takes a team effort. First, a nurse care coordinator, who attends to the details of each plan member's daily life, must assess a member's health status, ability to travel, resources at hand, and needed medical appointments. Our call center then connects that member with the right kind of transportation. Older adults who are more independent can travel by car service. Many others need the assistance of an ambulette—a specially equipped van used in non-emergencies to transport people with disabilities or in fragile health. For even less mobile individuals, such as a 600-pound member in one of our health plans who needed to go to the hospital recently for a follow-up visit, an ambulance is required.
Because we maintain close relationships with our transportation vendors, everyone involved in the plan member's care, including his or her driver, is working together. Members may use the same vendor and even the same driver again and again, and develop a preference—which can then be noted on the member's account and accommodated if possible. Drivers become familiar with repeat passengers as well, and will often seek them out when their names come across dispatch. This reassuring connection offers a small measure of control for fragile elders who are in vulnerable health and, as Sara notes, "not too comfortable with change."
The experience of our members suggests that there is enormous value in having health plans like ours manage transportation vendors and hold them accountable. Not only does this direct relationship ensure that everyone is on the same page when the transportation is arranged, it also means that we can be more responsive when something goes wrong, since our care manager, the plan member and the transportation vendor can then all work together to address the problem.
Through this kind of in-house coordination and responsive communication, MLTC plans across the nation can make sure that vulnerable seniors are consistently getting the transportation they need to keep moving forward on the road to better health. As one member told Sara, "'Now that I'm able to get to my doctor's appointments, I no longer feel like a couch potato just waiting for my time to come. I feel independent again." And that is our number one goal.
* Names have been changed to ensure privacy
Calling all HuffPost superfans!
Sign up for membership to become a founding member and help shape HuffPost's next chapter
This post was published on the now-closed HuffPost Contributor platform. Contributors control their own work and posted freely to our site. If you need to flag this entry as abusive,
send us an email
.