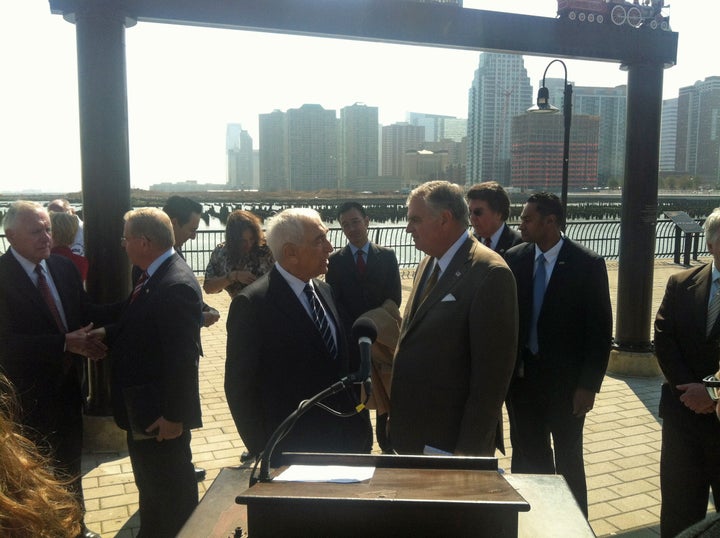 HOBOKEN, N.J. -- Federal and state leaders pleaded Monday with House Speaker John Boehner to take up the Senate's transportation bill, which passed last week, but faces an uncertain future in the House.
"Speaker Boehner, take the Senate bill, which is a bipartisan bill," said Transportation Secretary Ray LaHood at a news conference Monday, joined by New Jersey's two Democratic U.S. senators. "It takes care of highways, and bridges and transit, and takes care of meeting America's transportation needs."
Boehner has yet to announce whether he will push the Senate bill, which passed in the upper chamber by a 74-22 margin, as-is.
Sens. Frank Lautenberg and Robert Menendez were even more emphatic, stressing that in their chamber they'd been able to find common ground with Republicans to pass job creation legislation, and painting conservative House members as obstructionists.
"We stand here today in one of America's greatest public transportation cities to deliver a simple message to Speaker John Boehner and the House Republicans: Stop playing silly games with the need for transportation and investment in our society," said Lautenberg. "Let's not allow the House Tea Party to hold jobs hostage in their political contest to defeat President Obama."
About 56 percent of Hoboken residents, more than any other American city, take public transportation to work according to Mayor Dawn Zimmer, and the briefing's location was meant to highlight the bill's funding support for mass transit in New Jersey.
Lautenberg called on Gov. Chris Christie to appeal to House Republicans to pass the bill given his standing with the conservative wing of the party. "Governor Christie, reach out to your Republican colleagues in the House, tell them how important this is to New Jersey."
Time to pass a new bill before the current transportation law expires on March 31 is running out. That may mean that Congress will be forced to pass a short-term extension of the current law, giving House and Senate leaders a little breathing room to work together on passing a comprehensive measure.
But even if a new law is passed, instead of another extension, there are signs that the Senate bill won't close the yawning transportation investment gap that is leaving more and more roads and rails deficient. Last week, LaHood's office released the results of a report showing that America would need to invest $10 billion more per year to keep maintain highway conditions and performance. The country would also need to spend $4 billion more per year on transit systems to bring them up to a state of good repair.
The Senate bill, however, merely keeps transportation spending level, so it would do little to close investment gaps, or to provide people with transit alternatives to driving at a time of high gas prices. When asked about the gap, LaHood said he hoped the states, "our partners in transportation," could pick up some of the slack -- a tacit acknowledgment that there is little appetite in Washington for infrastructure investment that would add to the federal deficit.
Calling all HuffPost superfans!
Sign up for membership to become a founding member and help shape HuffPost's next chapter
BEFORE YOU GO