The firefighters who I used to raise money for, bring food to and hang out with their families, all disappeared. Our Christian friends with whom we spent nearly every Sunday and Wednesday going on retreats with, asked me not to come to church. I felt alone.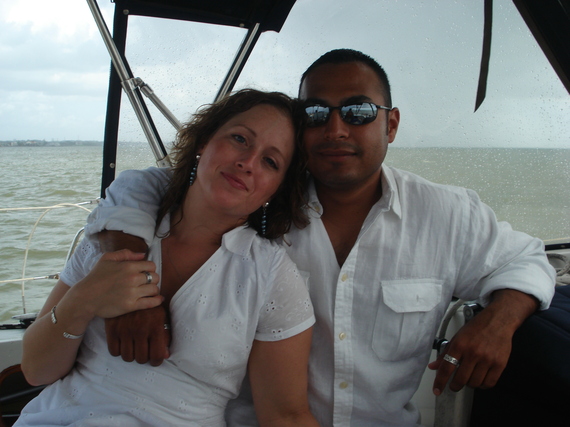 Nikki and Thomas Araguz on a sail yacht when he proposed to her in 2008.
The only organization that didn't seem to shun me was the National Fallen Firefighters Foundation. This organization was founded to support the surviving family members of those killed in the line of fire service duty. In spring 2011, nine months after my husband died I received my first invitation to the annual "Survivors Conference." It's an annual week long conference where all of the family members of fallen firefighters; siblings, parents and spouses come together and discuss grief, as it is related to losing a loved one in the line of fire duty. The wives join other wives; the mothers join other mothers and so on.
This event happened to be in San Antonio, just a few short hours away from where my husband was killed and at the time I was a major news story and rarely able to find a private moment or people that I could trust and grieve alongside. This was the exception. When I arrived the first thing the NFFF staff said to me was, "You don't have to tell anyone anything you don't want to." I felt protected. I spent the next week beginning to process what had happened. It was the beginning of my healing process. Up until that point, my marriage had been voided and all opportunity to grieve as a widow had been stolen from me by pettiness, false stories and fair weather friends.
The other women, whom had walked or were walking the same path of widowhood circled around me and reminded me that not only was I like them, they were like me. You see, because I was the "transgender widow," I thought that I was the only one having to fight off money hungry relatives, defend my relationship or was being ignored by our husband's beloved department. What I learned was, our sisterhood is full with stories of denial, blame and greed filled court battles. Many of us were "forgotten" when our husbands died. It seems that many departments and firefighters struggle with how to handle the wives and families of those who didn't come home. I wonder if it's the challenge of dealing with their own mortality or just to avoid the responsibility that comes with committing to a widow and her children. Either way, the NFFF is filled with thousands of committed men and women who volunteer their time and hearts to pick up the slack of those who chose to not continue the support in memory of the fallen.
Each year, the fallen heroes are honored and their families are flown to the National Fallen Firefighters Foundation memorial in Emmetsburg, Maryland. Typically, the year following the death, the firefighter is acknowledged and the nearest living relative is recognized, receiving a flag flown over the nations capitol and a special badge with your loved ones name on it is presented in front of thousands of the countries firefighters and their families. In 2011, Thomas was honored. I was not.
An hour before the ceremony began the NFF foundations chief executive, Ron Siarnicki, called me into his office and informed me that because my marriage had been voided and the lawyers fighting to restrict me from receiving benefits were threatening to sue the foundation, I would not be able to receive the flag in honor of my husband. This meant that while all of my friends, the other wives, would be walking up and receiving the honor as the widow of their fallen hero, I, the "transgender widow" would not be receiving the same recognition. I was angry, hurt and felt betrayed by the one organization that had provided me so much comfort and support. But, that day, the foundations leaders Ron Siarnicki and Pat Stonaker, made a promise to me, that they would make it up to me, reminding me that our marriage and I mattered, and in spite of the intense media scrutiny and disregard by so many, I was a part of the "survivor family."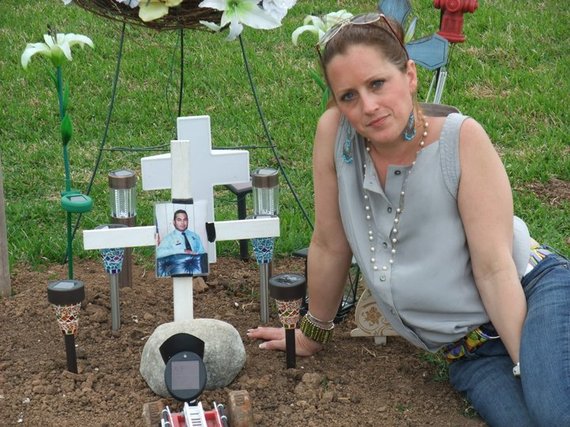 Nikki at Thomas graveside, 2011, Wharton, Tx.

As the years went by, one survivor conference and memorial weekend after another, I began to wonder if they remembered that promise. My fight continued in the courts, did the promise? Was I still part of the family? After all, I remarried. And then in September the Texas Supreme Court ruled in my favor, denying an appeal by my late husband's ex-wife and opposing counsel, sending the message loud and clear to the courts of Texas and the NFFF that yes, my marriage did count. So Ron, being the honorable, stand up man he is, called me up and reminded me that neither had he forgotten that promise he made to me nearly 5 years ago, unexpectedly answering his call, Ron said " So let's talk about memorial weekend and bringing you back, we owe you a do-over." I cried.
October 1 2015, my "new" husband, William Loyd, and I flew to Maryland. When we landed and debarked the plane, three firefighters were waiting to escort us to the hotel. I cried. The weekend was filled with all of the same activities I had previously participated in, we made memorial luminaries decorated with our fallen heroes photos and words describing them, we signed a remembrance banner, we met in groups to process what had happened, it was like "Groundhog Day" where all of the worst events happen over again, with most of the same people, except this time we had a different ending. Instead of me being refused the flag, ignored and chastised by the media, I was honored, respected and received the flag from none other than the President of the United States Barack Obama. The only President to ever even say the word "transgender," much less appointing multiple transgender people, like Amanda Simpson, to high level positions. I even had the chance to tell him, "I am the only transgender person to be acknowledged by this organization, my marriage was voided a month after my husband died and I have fought 6 years for this, thank you for what you have done for my community, but I need your help!" And then I walked away without giving him an opportunity to respond, receiving an American flag that had flown over the capitol and a badge in honor of Thomas, with feelings of relief and recognition washing over me.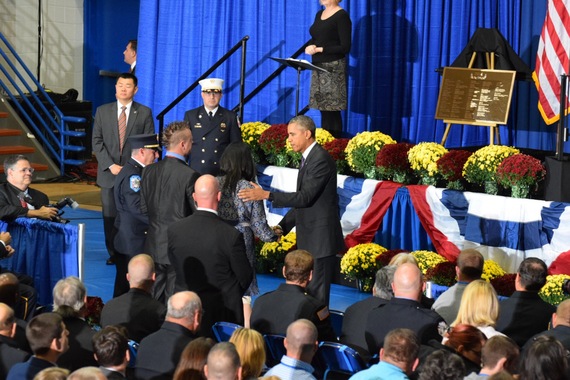 President Obama greets and honors widow Nikki Araguz Loyd escorted by her husband, American contemporary artist, William Loyd.
A six yearlong battle is coming to an end. I feel the veil of struggle and torment being lifted, like even the "transgender widow" gets to be treated equally, that a new day is coming, where all of us are acknowledged and important.
I couldn't be more proud; for sometimes we walk through tragedy only to find our selves and help others achieve triumph.
Popular in the Community