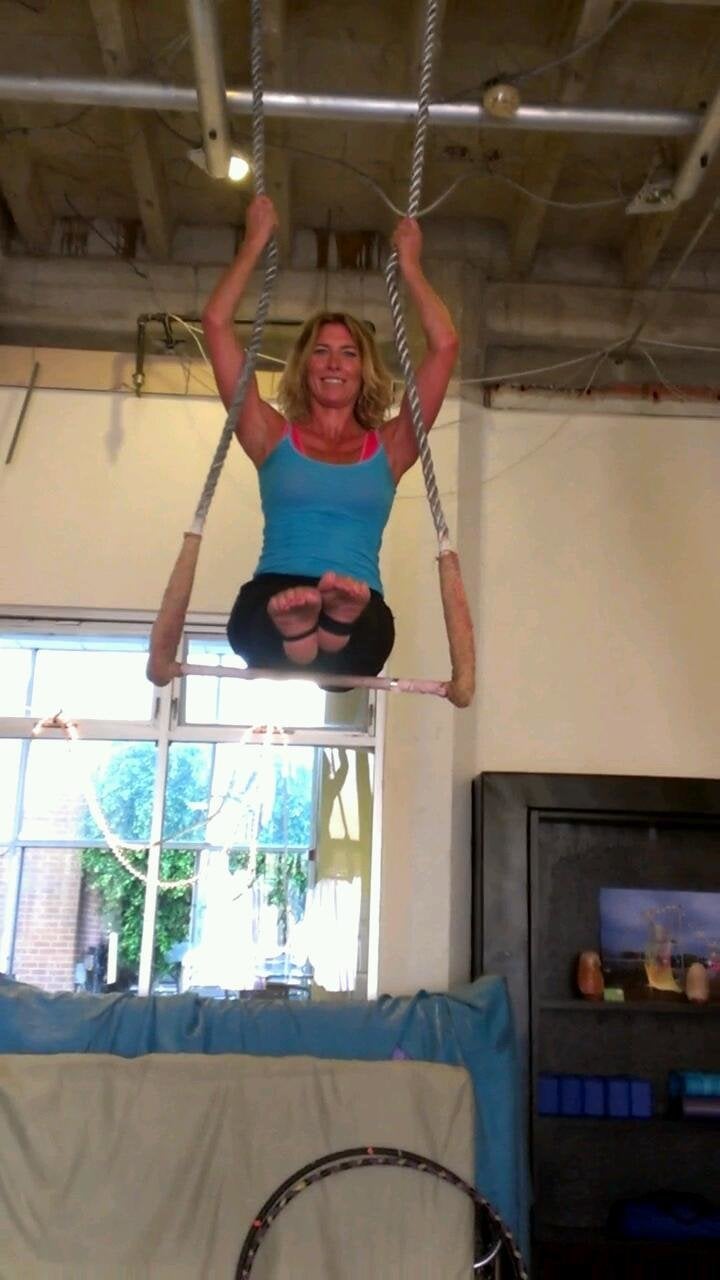 Trapeze workouts are soaring in popularity, pardon the pun. And for mid-lifers, it may be the one form of exercise that doesn't kill your knees or cause your feet to howl. But for 47-year-old Heidi Kleis, who took up the trapeze in April and has since lost 40 pounds and developed arms that stop traffic, it's been way more than a a fitness measure: It's been a confidence-building, fear-busting, life-affirming change that shook her free of the post-divorce blues.
Kleis, a 6th grade teacher, was married for almost 20 years before her divorce two years ago. When her marriage ended, she found herself bereft of the routines that had sustained her. She loved to cook, but with "no one left to cook for," not even her passion for cooking had an outlet. She was just plain depressed, she said, feeling cut off and spending "way too much time" alone.
"I didn't have anything," Kleis recalled. "I went through a phase of not knowing what my purpose on the planet was. Six months after my divorce, I was still sitting around doing nothing; I had no hobbies, no interests, nothing." Kleis said she knew she needed to get out again, but couldn't figure out how to jumpstart the process.
Enter the flying trapeze. "It was one of those times when the universe speaks to you and you really just have to listen," is how she explains it. She had spoken to a man she had just met through Match.com who was a performer and used aerialists in his show; then two teachers in the school lunchroom -- independent of one another -- both mentioned how they had just read or heard about trapeze as a fitness craze. "Three mentions in a 24-hour period was a sign of something, right?
"I got excited and thought, 'I want to do this!'" she said. One of her teacher-friends initially agreed to take a class at Aerial Studio 1 in Santa Monica with her, but cancelled at the last minute. Kleis "bravely went alone," she said. Why "bravely?" Because at the heart of the trapeze is this: Overcoming your fears. Kleis had fears about everything -- fears about taking chances, a fear of trusting herself, a fear of putting herself out there, and yes, a fear of heights.
"Life had become a bit terrifying to me. I was really afraid of the world, afraid of being alone, afraid of having no purpose or meaning. To use the metaphor of the trapeze, I was in a freefall," Kleis said. "For whatever reason, doing these things [on the trapeze] that are a little frightening to me has made me feel more confident."
The first time she stood on top of the bar, she recalled, the height got to her. "I almost threw up." Now she's up there hanging on to the ropes, able to support her weight with her upper body and pull her feet up over her head. She practices static trapeze and works with silks, hitting the studio three times a week. She's performed twice before an audience, another fear she successfully conquered.
And as for the workout, the results are pretty apparent. She is stronger, more fit both physically and emotionally, and excited about the possibilities of pushing her growth even further. Kleis has been working out with a hula hoop and is considering doing fire-hoops. Seriously?
"I think there is something very positive to be gained from testing yourself and pushing yourself outside your comfort zone," she said. "I trust my physical strength now." Trapeze develops upper body and core strength, which is why her arms are the show-stoppers they are today. Strangers regularly approach her in restaurants and at the beach to ask what kind of workout she does to have arms like hers, she said.
And while she loves the attention her newfound body draws, it really isn't why she's "joined the circus," as she likes to say. "It's about confronting the fears that hold you back. There are times I'm up there that I'm shaking from fear -- literally. But there's a mental discipline you learn about how to calm your mind down and put the fear aside."
It's the perfect workout for mid-lifers, she said, because "people our age are transitioning." Often couples who have stayed together "for the kids" split up once their children leave. And even without the context of divorce, Kleis said, children leave for college and a lot of women find that the roles they played are no longer there for them. "It's frightening to be thrust outside your comfort zone."
"But just because it's uncomfortable doesn't mean it's not good," she added.
PHOTO GALLERY
Heidi Kleis: Before And After
REAL LIFE. REAL NEWS. REAL VOICES.
Help us tell more of the stories that matter from voices that too often remain unheard.