Mary Nyalipe Yoac has lived through five famines and four wars. Her brown eyes, now fading into a bluish grey with age, have witnessed more brutality and suffering than most can comprehend. Tragically, the last 10 months were no different, her community devoured by fighting and all that she owned destroyed or looted.
She now lives with her two children on coal-grey cotton soil underneath tarp and timber in a squalid displacement camp on a UN base in Bentiu, the capital of Unity State and one of the most contested cities in South Sudan's civil war.
Concern Worldwide and our humanitarian partners at the camp are struggling to improve living conditions for Mary and thousands of others but constant insecurity, restricted access, and unrelenting rains are making it impossible, endangering thousands of lives.
"I came here because there is nowhere to go," she says, gesturing towards a rusty tricycle in the corner. "My wheelchair is broken. Now it is very hard... Even if there is a problem, I can't go anywhere."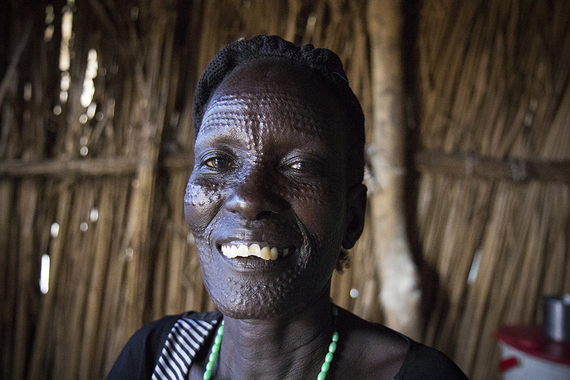 Born with a disability, Mary is unable to walk and moves around using her arms and hands, her pin-thin legs folded under her torso. Maneuvering the congested camp of 47,000 people was already extremely difficult for Mary, but heavy rains soon made it impossible.
Situated on swampland that was never intended to house people, the camp in Bentiu has largely been underwater since July, when monsoon rains unleashed heavy flooding that left residents knee and sometimes waist-deep in water.
"People were trying to get the water out of the their homes using buckets, but there was no place for the water to go," says Emma Flaherty, Concern Worldwide's area coordinator in Bentiu. "People were sleeping standing up with their children in their arms."
Nearly 200 latrines have collapsed in the flooding, leaving people with few options but to defecate in the open. "We are trying to build toilets wherever there is space, but the floods have left us with little land to work with," says Subodh Vijapure, Concern's water, sanitation, and hygiene manager who has been based in Bentiu since February.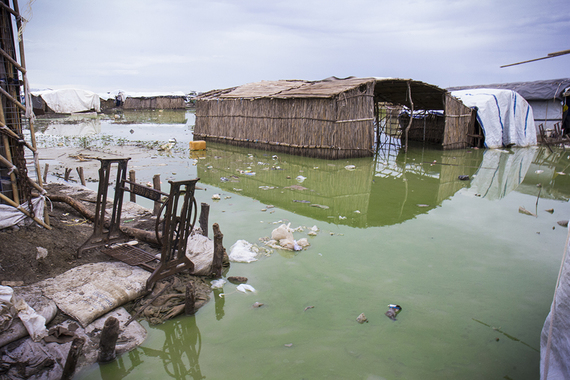 With fighting for control of Bentiu still continuing sporadically outside the walls of the base, relocating people to higher ground is not an option. This means that dry land has to be created on the base itself, as supplies have to be flown into Bentiu because the rains have made road travel impossible.
Concern Worldwide, together with Danish Refugee Council and Doctors Without Borders (MSF), dug a 2.2-kilometer-long canal in a desperate attempt to drain the water. "The trench lowered the water significantly, perhaps by 25 percent," says Vijapure. "But it is still inadequate. People are living in sub-human conditions here."
The Impact on the Most Vulnerable
The flooding posed a particular challenge for Mary and others with physical disabilities. "The water came in from all sides," she says. "We scooped water through the night...We couldn't even sit [on the floor]."
James Gatchang, 20, who was born with a similar disability as Mary, has to cross a makeshift bridge over a stream of feces, urine, and garbage everyday on his hands to get to and from home. He puts flip-flops on his hands, but the bridge, made of sticks and sandbags, sags and his hands dip into the putrid water. When the flooding was at its worse, his mother, Nyadom Machar Raynek, 48, and his aunt had to carry him.
"The problem here is the water," says Nyadom, sitting on a woven mat on the floor of the shelter that she shares with nine people. "It makes us sick. [When it rains], it comes in from every corner. My sister and I put James and the youngest children on the bed and the rest of us work through the night to get the water out."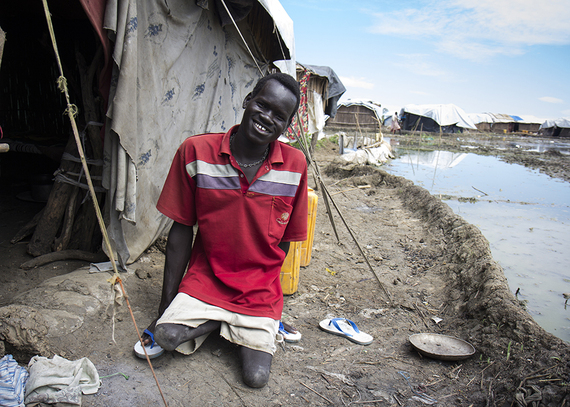 Despite the flooding and health hazards that come with it, people living in the camp in Bentiu say that they have to stay because they could be killed if they moved outside. With four ceasefires broken and peace talks in Addis Ababa at a standstill, it seems unlikely that people will have the security they need to return to their homes anytime soon.
Because of this, Concern and other humanitarian organizations working in the camp need to get immediately to work when the rains end in November so that this year's nightmare is not repeated. Concern is currently installing water pumps and organizing sand, timber, and other supplies to rebuild and elevate homes. For very vulnerable families, like Mary and Nyadom, Concern is working with community leaders to build dikes and raise their homes for them.
"It is still better here than in the bush," says Nyadom, referring to the three months the family spent living in the open after their homes were attacked in early January. "There was no food there and a lot of sickness. We lived in fear of being attacked."
Concern Worldwide is an international non-governmental organization dedicated to reducing extreme poverty through emergency response, recovery and development programs. For information, please visit concernusa.org or follow us on Twitter (@Concern).
REAL LIFE. REAL NEWS. REAL VOICES.
Help us tell more of the stories that matter from voices that too often remain unheard.