"My name is Philippe Bogaert. I am a hostage in Qatar. This is my Twitter SOS."
Belgian national Philippe Bogaert has posted this message to the social networking site regularly since May. Bogaert alleges that he has been held hostage since last October in exchange for the debts of his former employer worth $4.4 million.
"It's modern slavery," said Bogaert during an interview in the wealthy Persian Gulf state's capital of Doha. "Your freedom (lies) in the hands of one company, or by extension one person."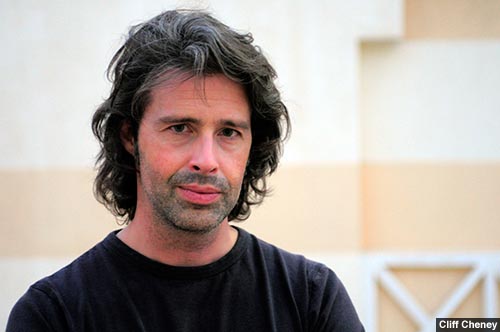 Bogaert's story is a warning for those contemplating working in the Gulf. Attracted by the prospect of a generous, tax-free salary, what many do not know is that they are entering a confusing labor system where even the wealthiest can suddenly find themselves trapped.
Like thousands from all over the world, Bogaert came to work in oil-rich Qatar, where foreign workers make up 70 percent of the country's 855,000 residents, according to the Gulf Cooperative Council.
In Qatar, as in other Gulf states, foreign workers require a sponsor to receive a work visa, a policy known as the Kefalah system.
Critics of Kefalah claim it allows human rights abuses because it places too much power in the hands of sponsors, who are always nationals. They often dictate where people can live, withhold pay and refuse exit visas with no recourse for the worker.
Many foreigners within Qatar asked about their experiences with the Kefalah system often said they knew many people who had problems. But out of fear, none wanted to speak to a reporter.
"There are many kinds of these issues cropping up, not just in the Gulf states," said Professor Ray Jureidini, Director of the Center for Migration Studies at The American University in Cairo. "There are no numbers because no one is registering these complaints on a systematic basis."
A professional broadcast manager, Bogaert left his family in Belgium when he moved to Qatar in 2008. He saw the opportunity as a "dream job" working for a company named Dialogic Qatar, a subsidiary of the Belgian media consulting company Dialogic SA.
The company's sole client was the Qatar Marine Festival Committee (QMFC), which, according to its website, "ventures to revive and celebrate all elements of Qatari ancestral way of life ... through a variety of cultural, social, educational, entertainment and sports events and activities."
Bogaert says he was unaware of any problems with Dialogic Qatar or its relationship with QMFC when he arrived in April. But when the company's managing director was fired, he said he took an offer to replace him July 11 in "order to try and save the contract and the company." He later called this the worst decision of his life.
Assuming leadership of the company, Bogaert said, he discovered payments from the QMFC were behind and that there was "no proper accountancy." He initiated an audit on his first day and said there were problems, but that no criminal issues were found after two months of examination by a Qatari accounting firm.
According to a notice from QMFC, their decision to cancel the contract with Dialogic Qatar ten days after Bogaert took the management position was because it "was not delivering up to their standards."
The company's Belgian shareholders voted not to collect the outstanding payments from QMFC, worth $7.3 Million, and to liquidate all assets.
It was during the liquidation process when Bogaert began experiencing problems with his Qatari sponsor, Farukh Mohammad U K Azad. Azad is a Qatari of Pakistani decent who received his citizenship in 2006 under new immigration laws. Azad holds 51 percent share in Dialogic Qatar in exchange for his sponsorship of the company.
According to Bogaert, Azad blocked the corporate liquidation process by refusing to participate, as he would be held liable for Dialogic's remaining debts under Qatari law. Azad also canceled Philippe's exit visa the day after he signed on as the new head of Dialogic Qatar.
When Bogaert saw that there was nothing he could do to get Farukh Azad to participate in the liquidation process, he sent a letter of resignation to the CEO of the Belgian parent company in October 2008 and it was accepted. But Azad refused to recognize Bogaert's resignation and has denied all his requests for an exit visa.
Bogaert remains in limbo. He cannot leave Qatar. He cannot work for another company in Qatar without permission from his sponsor. He is unemployed and without housing, which is usually provided by sponsors as part of most employment packages in Qatar. He has not been paid since last June.
Bogaert alleged Azad then began numerous criminal and civil prosecutions to try and pass the blame for the company's failure onto him, though the losses occurred before he took the Managing Director position.
The primary case is a civil case seeking compensation for Dialogic's debts, equaling $4.4 million. The judge suspended the case when Azad failed to appear three times in court.
Multiple attempts to contact Farukh Azad for comment by phone were unsuccessful.
The case remains dormant on the docket until Azad reopens or cancels. Bogaert cannot get the Ministry of the Interior to override Azad's blockage of his exit visa while there is a pending legal case.
"When charges are brought against someone who wants to leave, whether it is true or not, it takes time to go to court," Jureidini said. "It's a long process that is very much in favor of nationals."
Phillip was also convicted June 22 for bounced Dialogic checks he signed as managing director that he explained were covered when he signed them. "But they weren't at the moment that they tried to cash it," he said. "I paid from my own money that I borrowed from my father as a guarantee for company debts in order for to have my travel ban lifted for that."
The conviction carries a three-year prison term with hard labor.
Bogaert said he is still free within Qatar while he tries to raise money for the required Qatari lawyer for his appeal. Even if he loses his appeal Philippe will most likely not serve time in jail. He said he will just lose the guarantee money.
Bogaert has received refuge and has been provided a room at the Belgian Ambassador's personal residence. He said he currently plays piano in bars for tips to make money at night.
Bogaert continues to promote his case online on Twitter (@hostageinqatar ), his blog (http://hostageinqatar.com) and on Facebook.
Clifford Cheney is currently pursuing a Masters in Photojournalism at The University of Texas and working as a freelance photojournalist in the Central Texas area. His photos have appeared in USA Today, The Dallas Morning News, and Sports Illustrated.
Calling all HuffPost superfans!
Sign up for membership to become a founding member and help shape HuffPost's next chapter