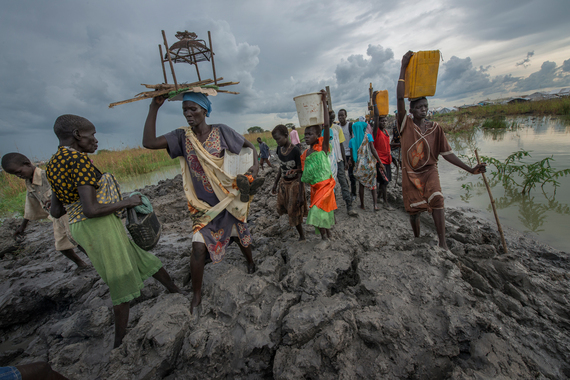 Nearly 50,000 people fleeing violence live in appalling living conditions in the UN base in Bentiu. Photo: Peter Biro / IRC.
Bentiu Camp, South Sudan -- "This is a prison," says Peter Malek, pointing to the razor-wire topped mud barrier which marks the perimeter of the camp that has been his home since he was forced to flee his home village nine months ago.
"If I go outside those walls, I could easily be killed."
This is Bentiu camp, a miserable settlement of makeshift huts and tents sitting in a mosquito-infested swamp in Unity State in the north of the country. Almost 50,000 people displaced by fighting in the region have taken refuge here amid sewage and human waste.
Aid groups describe living conditions at the camp as "incompatible with human dignity." On the far side of the camp, separated by a gate and guarded by an armored personnel-carrier, is the encampment of a United Nations peacekeeping force. Assigned to protect the camp from attack, they stay apart from its desperate residents.
The muddy main path that runs through the camp is packed with people carrying food rations, worn-out suitcases and water buckets. The smells of rotting garbage and cooking fires mix with those of generator diesel fumes. A group of men sell hunks of goat meat, swarming with flies, to passersby, for one dollar a piece.
South Sudan has been in turmoil since December 2013, when a power struggle between President Salva Kiir and his ex-deputy, Vice President Riek Machar, exploded into widespread violence. The fighting quickly took on a vicious ethnic dimension, with the Dinka tribe of President Kiir battling the rebel leader Machar's ethnic Nuer tribe, for control of the country.
The fighting has killed thousands and forced nearly two million people from their homes. More than 455,000 people have fled South Sudan for neighboring countries.
In recent days, fighting erupted in the nearby town of Bentiu, a center of South Sudan's oil industry, and elsewhere in the country, after a lull in the conflict during the rainy season. The fighting came only days after a ceasefire deal had been agreed to by government and anti-government forces. Previous ceasefire agreements signed by the two sides have also collapsed.
Aid agencies warn that if the fighting escalates South Sudan faces a humanitarian catastrophe, including possible famine, by early next year. The fighting throughout 2014 has already disrupted planting and harvests and pushed up food prices. A renewal of widespread fighting after the end of the rains could push the country over the edge.
"The situation is desperate," says Wendy Taeuber, the director of the International Rescue Committee's (IRC) programs in South Sudan.
"People are scavenging in forests seeking berries, twigs and bark. People are wading into chest-high water to gather water lilies, which contain no nutritional value, as their only source of food. The lives of tens of thousands of children under five are at risk due to malnutrition. Without more assistance and a cessation of violence, the food crisis can only get worse."
Most people in the Bentiu camp don't care about politics or which side started the fighting, says Peter Malek, who fled his village empty-handed and spent three weeks hiding in the bush before eventually reaching the U.N. base in February. Since then he has been under a flimsy tent canvas with five family members and half a dozen other people.
"We just want to return home and live in peace," he says. "But the country is caught up in an evil cycle where one group keeps blaming the other."
The town of Bentiu, a 10-minute drive from the camp, has switched from government to rebel control several times. All but a ghost town, government soldiers roam the streets on foot or in pickup trucks fitted with heavy machine guns. In April, hundreds of civilians were murdered in Bentiu when the town's hospital, mosque and Catholic Church were overrun by rebels. The killings prompted a reprisal attack by Dinka fighters on a U.N. base in the town of Bor. Fifty-eight people were killed, including two IRC aid workers.
Civilians in Bentiu rely on humanitarian airlifts, but the supplies are not enough, Malek says. Moreover, flights are often cancelled and planes unable to land due to the fighting. In late August, a U.N. helicopter returning to Bentiu was shot down near the town, killing three crew members.
The lack of food is forcing people to risk their lives by venturing out of the camp in search of anything edible. Women are especially at risk, says Patricia Gray, who oversees the IRC's women's protection programs in Bentiu camp.
"They simply have to go out to find food or collect firewood. And when they do, they risk being raped, murdered or kidnapped. There's simply no rule of law outside these walls."
The camp's unsanitary living conditions breed disease. Two IRC clinics in the camp treat a steady stream of patients suffering from diarrhea, malaria and other illnesses. Cholera is a constant threat.
"The overcrowding and the lack of food makes people even more susceptible to disease," says IRC nurse Edna Mokaya.
As the sun sets over Bentiu, the frogs that colonize the swamp start their cacophony of croaking and the camp's inhabitants huddle in the darkness of their shelters. Malek wades across the flooded camp to his tent.
"This is no life," he says, shaking his head. "It is misery."
REAL LIFE. REAL NEWS. REAL VOICES.
Help us tell more of the stories that matter from voices that too often remain unheard.