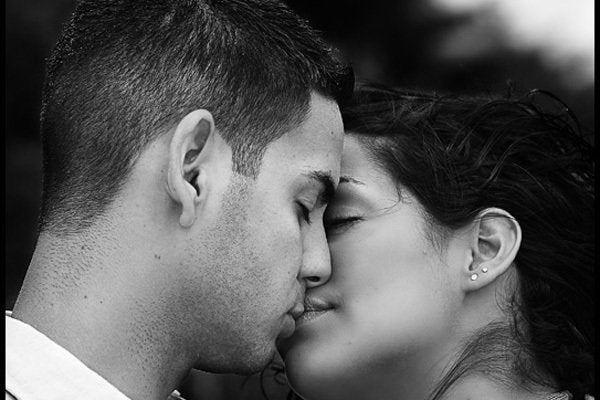 At Eric's 40th birthday party, just as he was blowing out the candles on his cake, one of my friends asked, "What do you think he's wishing?"
I blurted out, "That every night be trash night."
She howled. She knows the history of trash night in our home....
A year or so ago, I got fed up with my mate's constant begging for sex, so one night I asked him point blank, "What is the minimal number of times a week that you need sex in order to be satisfied?"
"Twice. Absolute minimum."
"Fine," I said. "You get Monday and Thursday. If you don't beg any other night."
It then occurred to me that Monday and Thursday evenings were trash night. We drag out all of our rubbish and recyclables from the last few days and leave the stuff on the curb ... to be picked up at 5 a.m. the next day, when the trash truck compressors will try to wake up our slumbering kids.
Yes, trash night is sex night in our household. Clearly a "Seinfeld" episode in the making.
This concept ... of a scheduled sex session ... was so intriguing to the other birthday guests that trash talk dominated the entire conversation for the rest of the evening.
"What about bulk pick up?" one asked.
"And what if you miss a day?" asked another.
"Eric's lucky," said the guy crossing his legs. "Our trash is only picked up once a month."
"This, right here, could very well replace trash night," said my friend with a spoonful of chocolate mousse in her mouth.
The next morning, as I was thinking over everyone's comments, I began to wonder, "Why is sex so much more desirable for men than it is for women? What happened to the days before kids when the begging was mutual?"
In the study of nearly 2,000 women, aged 45 to 80 years old, 43 percent reported at least moderate sexual desire, and 60 percent had been sexually active in the previous three months.
Half of all sexually active participants described their overall sexual satisfaction as moderate to high. More than one quarter of women aged 65 years or older remained moderately or highly interested in sex, and more than one third of women in this age group had been sexually active in the past three months.

Among sexually inactive women in the entire group, the most common reason was lack of interest in sex (39 percent), followed by lack of a partner (36 percent), physical problem of partner (23 percent) and lack of interest by partner (11 percent).
In their book, "What Wives Wish Their Husbands Knew about Sex," coauthors Ryan Howes, Richard Rupp, and Stephen W. Simpson try to help couples communicate better about sex so they can free the experience to be the life-giving and nurturing activity it should be to a relationship. They write:
The reality is that women and men actually wish for the same thing. We both wish for intimacy, lifelong love, trust, respect, fun, and romance. We both want hot, mind-blowing sex. The only challenge is that we approach these wishes from different angles.
Maybe trash night, for me, is just the beginning of an attempt to figure out this male species I live with. Maybe it's a twice weekly opportunity to express my commitment, love, and devotion in a language that he speaks.
Or maybe it's simply a way to do away with all the begging.
What about you? Do you have trash night?
Related