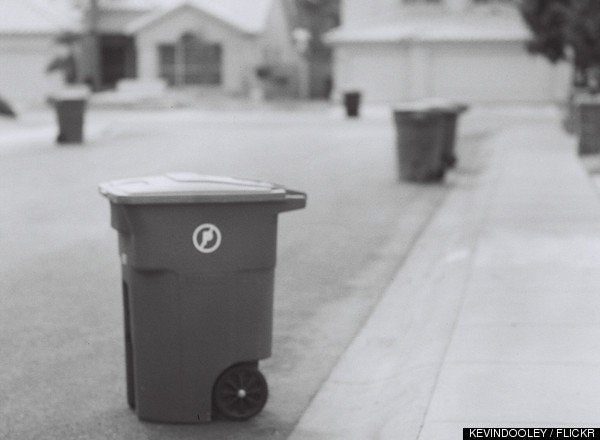 WASHINGTON -- First, conservative activists went after "ObamaCare." Now they're going after... "TrashCare."
Tea Party organizations are turning their focus to local issues lately, with a group in Fountain Hills, Ariz. rallying against what it views as a pernicious change in the way that trash is collected in the community.
According to The Arizona Republic, the controversy began when the Fountain Hills Town Council proposed hiring a single trash hauler and starting a curbside recycling program. On Thursday, a divided council approved the changes -- currently there's no mandatory recycling program and residents can choose from five haulers -- but not before the local Tea Party activists loudly objected to what they viewed as, essentially, a step toward socialism.
Fountain Hills Mayor Jay Schlum said he wasn't that surprised by the strong opposition and attributed it to the fact that debate happened shortly before the election and the vote just two days after.
"Of course our vote was two days after the national election, so there was quite a bit of angst already nationally," Schlum told The Huffington Post. "So I wasn't completely surprised. I think some of the tone was a little louder because of the fact that our discussion was on both sides of the national election, but I wouldn't say I was surprised by it."
In a bulletin entitled "Trash Talk," the Fountain Hills Tea Party wrote on its website: "On Thursday, November 4 the Fountain Hills Town Council decided, by a 4-3 vote, to take away your ability to choose your own trash hauler. Councilmembers Brown, Dickey, and Leger, along with Mayor Schlum, voted for this action. Councilmembers Contino, Elkie, and Hansen voted to preserve your freedom. Once more, government is trying to restrict free market economics. If you don't like it, stay tuned." The Fountain Hills Tea Party did not respond to an inquiry from The Huffington Post.
Arizona's Campaign for Liberty (C4L), an offshoot of a national organization founded by Rep. Ron Paul (R-Tex.), also put up an action alert about the issue on its website, accompanied by a menacing-looking man smoking a cigar in front of a Fountain Hills backdrop:
Opponents of the free-market would have a hard time arguing with the fact that only capitalism could create a situation where companies fight for the honor to haul away and dispose of your least wanted stuff: your family's garbage and waste.

With multiple companies fighting for the compensation associated with this unpleasant task, one would naturally assume that - as with any competitive industry - standards of service remain high and prices stay low.

Unfortunately for the taxpayers of Fountain Hills, that system may soon be dead.
C4L further argued that the change is being pushed by "[l]arge multinational corporations" that are "unscrupulously restricting smaller companies from participating in the [bid] process." "When the government creates the winners, everyone else loses," the group added.
According to The Arizona Republic, some opponents had taken to calling the controversy TrashCare, as a comparison to the heated opposition to health care reform. Additionally, a flier was circulated with an "ominous icon" and the phrase, "The Hills Will Have Eyes." It claimed the "Fountain Hills Green Police" were checking residents' garbage and recyclables.
The Huffington Post spoke with Fountain Hills Town Manager Rick Davis, who confirmed seeing the flier and said the effort against the trash collection change appeared to be very "organized" and "orchestrated." He said that although there were some loud voices speaking out, he received a considerable amount of backing for the proposal -- including from people who were self-proclaimed Tea Party supporters.
"What Tea Party people believe in is lower cost for municipal services, governmental services, and this certainly fit the bill," he noted.
There are actually two different Tea Party groups in Fountain Hills, who don't usually work together. The Tea Party Patriots in the town do not appear to have anything on their site about the trash collection issue.
Davis also disputed the claims of the "Hills" flier, saying that all companies -- including local ones -- were allowed to bid to be the single hauler. The company that received the contract, Allied Waste, submitted a bid that was significantly lower than the others. Schlum said that the process to change the trash collection issue began in 2005 and involved significant public input.
"The main issue -- we have five haulers on our street, so if you're on a residential street, there's a good chance you're going to have five different trash companies, five different trash bins on your street throughout the week, with pick-ups two-three times per week by each individual hauler," said Schlum, adding that the town was looking for a way to ensure that trash collection was less noisy and resulted in less wear and tear on the streets (which costs taxpayers more money to repair).
Fountain Hills isn't the first community to deal with Tea Party protests to trash collection. Over the summer, a local FreedomWorks chapter Gwinnett County, Georgia protested mandatory trash collection.
A report by local news station ABC15 also noted that Sheriff Joe Arpaio, known nationally for his harsh stance on undocumented immigration, is a Fountain Hills resident and objected to the trash changes.
UPDATE, 5:15 p.m.: The Huffington Post spoke with Fountain Hills Tea Party member Shawn Dow, who said that the main reason they're opposing the trash collection changes is that they "violate the principles of the free market." "They're kicking four businesses that are here locally out of town -- there are going to be layoffs for those businesses -- so they can choose to go with just Allied Waste," he said, adding that the other local companies were forced out of the bidding process because they didn't meet the town's strict requirements.
Dow argued that the new plan won't save taxpayers money because for people who want trash collection more than once a week, it will be more expensive than with the other companies. Additionally, recycling was available under the other plans, but it was optional. Dow said that they are objecting to the fact that it is now mandatory, and therefore the plans are more expensive.
He stated that the Fountain Hills Tea Party was not behind the "Hills" flyer; it appeared to be created by individuals rather than an organization.
UPDATE, 7:14 p.m.: Jeff Cohen, chairman of the "Committee for Fair Representation" and an opponent of the trash changes, wrote in:
1. The TEA Party is a movement on a local level to affect local issues. They have not just moved to local issues. Trash hauling effects everyone in Fountain Hills, which is a diverse town with residents who have different needs for municipal services.

2. Street repairs - The Town's roads are NOT in disrepair, nor does the town spend enough money on road repairs to make this a cost cutting measure. Furthermore all trash haulers pay road taxes within the state and the majority of road repair dollars come direct from the state.

3. The move towards socialism was a remark made by one gentleman at a town council meeting. The problem that residents have with this measure is that it creates a system of hefty fines for simple sorting mistakes, such as misplacing a plastic bag. $3,000 fines are possible for a repeated offense, which will be observed by garbage men with cameras. That is akin to citizen spying and is not a value Fountain Hills resident want to uphold.

4. The bid process in this case was rigged and Waste Management was the only company up for the contract. They wrote the proposal and lobbied the Town Council. The recycle provider is locked into a contract with Allied and could not (by contract) quote their services allowing for a competitive bid process. There was no real competition for who would gain the monopoly over trash collection and now all competition for this service is gone. The big losers are the residents who will see their collection fees rise every year, which is mandated in the contract.
Schlum responded and said he respected the views of Cohen but disagreed on several points, noting that a report from the Town Council's staff indicated many arterial and collector streets need "extensive repairs" and the "annual residential street maintenance program spending will need to be stepped up considerably to catch up."
He also insisted that the measure doesn't create hefty fines. "We addressed the Town Code in depth and agreed that the way things have been working over the past many years should continue," he said. Regarding the procurement process, he said that the Fountain Hills "request for proposal" (RFP) was modeled on what was done in a local community, adding that the town received bids from "many haulers serving the community."
UPDATE, 11:12 p.m.: The article originally said Fountain Hills has no recycling program. It was updated to clarify that there's no mandatory recycling program.
HuffPost reader MAB, who is a Fountain Hills resident, wrote in to say that she opposes the change not because of free market principles like the Tea Party is promoting, but because of the switch from "from twice-per-week to city-mandated once-per-week garbage pickup." "Why do residents object to this? Because we will have to keep smelly, rotting garbage in bins during summer time, when temps are consistently above 100 degrees (often reaching 115). Imagine the odor!" (City officials told The Huffington Post that twice-per-week collection is still an option, but it will cost more.)
Popular in the Community