Instead of preserving their wedding gowns and stowing them in the back of their closets, many adventurous brides are choosing to destroy their dresses (using water, paint or even cake) for increasingly popular "Trash the Dress" photo shoots. But one recent Trash the Dress shoot has some wondering if the trend has gone too far.
After Natasha Samuel and Daniel Yakcobi married on a beach in Israel in May, Samuel and photographer Eric Simantov staged a Trash the Dress shoot in which Samuel put on her gown, doused the back in flammable liquid and set it on fire, the Daily Mail reported Tuesday. Simantov quickly took the photo before Samuel ran into the ocean to put out the flames.
Simantov told Yahoo! Shine Wednesday that he and Samuel saw a similar photo done with Photoshop, so he talked to a firefighter about how to safely do it with real flames.
We asked two wedding photographers who are both experienced in Trash the Dress shoots, Ryan Brenizer and del Sol Photography's Matt Adcock, what they thought of Simantov's photo. Both agreed that actually setting a bride on fire does take the trend too far. In fact, one of the first Trash the Dress photos, taken by photographer John Michael Cooper in 2006, was of a bride on fire, but it was done using Photoshop -- and they said that's how all photographers should do it.
Adcock said that he once refused a bride's request to set her dress on fire, and Brenizer said he doesn't even let his brides walk quickly across cobblestones in heels.
"I'm always out to get as dynamic photos as possible, but safety always comes first," Brenizer said. "We aren't photojournalists; the best way to light a bride on fire is to do it the way John did it in the first TTD photo, [with] a healthy dose of Photoshop. Otherwise, only if everyone involved is a professional in that sort of stage trickery."
Click through the slideshow below to see some of del Sol Photography's "Adam and Eve" photos, a sensual take on Trash the Dress.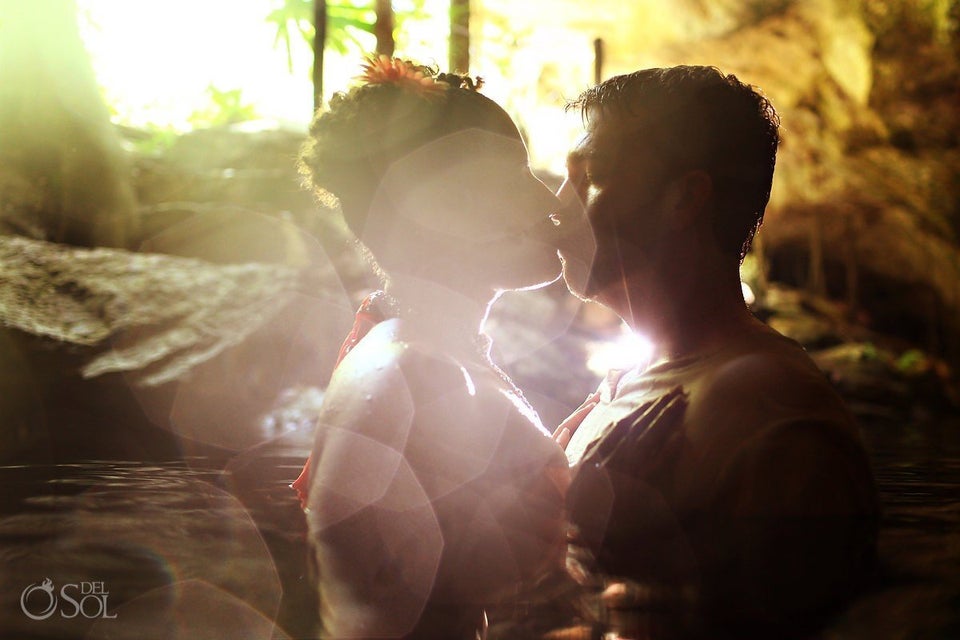 Adam And Eve Photos
Support HuffPost
A No-B.S. Guide To Life
Related
Popular in the Community