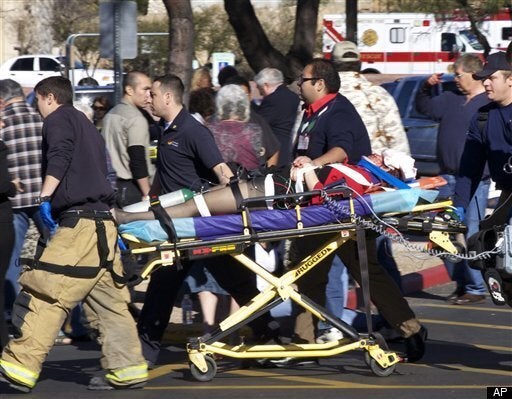 The tragedy in Arizona was a perfect illustration of how our emergency trauma system works in the United States. Everyone marveled at the speed at which Congresswoman Giffords was treated. It took only 38 minutes from transport to the operating room (OR) of a Level I Trauma Center at University of Arizona. This, in no small part, has probably contributed to her amazing progress that we hear about daily in the news. But this intricate coordination that was so eloquently described this past weekend by Dr. Peter Rhee, Director of the Trauma Center at University Medical Center was not a chance happening. It was a perfectly executed mass casualty disaster plan that has been practiced and drilled to ensure it runs smoothly when needed.
According to the Centers for Disease Control and Prevention (CDC) about 116 million patients seek emergency care every year in the United States with almost 27 million visits attributed to injury-related trauma. Trauma is the leading cause of death for younger people under the age of 45 and it is the fourth leading cause of death for all ages. Studies have found that you can reduce mortality by 25 percent if severely injured trauma patients are quickly seen and cared for at Level I trauma centers.
Trauma centers are classified as Level I, II, III or IV according to the resources and equipment available to care for trauma patients. A Level I Trauma Center is the highest designation from the American College of Surgeons (ACS) indicating that the emergency department trauma center has the full range of specialists and all the necessary equipment to take care of the most severely traumatized patients. These centers are staffed by emergency physicians and trauma surgeons as well as on-call specialists in anesthesiology, orthopedic surgery, neurosurgery, plastic surgery, radiology, oral and maxillofacial surgery, obstetrics and gynecology and critical care medicine, all of whom are on duty 24 hours a day at the hospital. A trauma center is actually designated by state or local authority, but verified by the ACS. Higher-level trauma centers are part of trauma system supported by their state government and local agencies that coordinate trauma care with pre-hospital EMS triage protocols for transport via ambulance and/or helicopter.
Historically, the concept of a trauma center began at University of Maryland, Baltimore in the early 1960s by a heart surgeon and pioneer shock researcher named Dr. R Adam Cowley. The trauma center there, University of Maryland Shock Trauma Center, was named after him.
Hearing about the precision of how the care was executed for these victims in Arizona seems extraordinary. However, in actuality it is very ordinary, in the sense that everyday this type of coordinated care is going on in emergency trauma centers around the country by extraordinary doctors and nurses and other health care professionals who work with them. That's what makes our emergency medical system one of the best in the world. Without a doubt these emergency trauma centers play a critical role in mass casualty situations such as the one in Tucson as well as an integral part of our homeland security.
All of us take for granted that if we become the unfortunate victim of a tragic accident or terrorist attack that this type of care will be available to us. However, there are issues that threaten trauma care in the United States today. According to the National Foundation for Trauma Care less than 10 percent of hospitals have trauma centers and a report they published in 2004 talked about a looming crisis trauma centers faced in the ensuing years. That report predicted closure of almost 20 percent of them.
In fact the American College of Emergency Physicians (ACEP) reports today that at least 21 trauma centers have closed this past decade, including St Vincent's in Manhattan, which took care of 848 trauma patients on September 11th as the closest Level I center to the World Trade towers. The CDC estimates that about 45 million Americans do not have access within an hour of being injured to a Level I or II trauma center. That is akin to the combined populations of Arizona, New Mexico, Texas, Louisiana, Mississippi and Alabama!
A big issue trauma centers face is financing and unstable funding. According to the Agency for Health Care Research and Quality (AHRQ) in the Department of Health and Human Services, trauma is the second most costly "health condition" in the country costing about 72 billions dollars a year. The National Safety Council and the CDC estimate the total cost of unintentional injuries to society each year, taking into account both medical costs and loss of productivity is somewhere between 400-600 billion dollars.
Trauma care similar to all emergency care is under the mandate of the Emergency Medical Treatment and Labor Act (EMTALA). This is a federal mandate to provide emergency care for everyone, but there is no mandate as to who will pay for that care. This contributes to our nation's ERs and trauma centers being overcrowded, under-funded and stretched to the limit. Much of the burden of uninsured care falls on these trauma centers as it also does for all our nation's emergency departments. The nature of trauma itself attracts a disproportionate share of young, predominately males of lower socioeconomic class who often do not have health insurance. This is especially true in inner-city trauma centers that treat a good deal of penetrating trauma such as gunshot wounds and stab wounds. But studies have shown that even with blunt trauma seen in motor vehicle accidents (MVAs), while auto insurance covers the vehicles adequately the same cannot be said for the injured people. An Arizona study found that while MVAs accounted for 70 percent of their trauma patients seen, only 7 percent of the trauma center related revenues were covered by auto insurance. In addition when trauma patients do have insurance the reimbursement for their care is often under compensated not taking into account the very complicated frequently protracted post-op critical care or the complicated care and resuscitation prior to the surgical procedure.
Another issue facing trauma centers is a workforce shortage. According to the ACS the number of surgeons needed to meet population demands falls short by at least 30 percent with many trauma centers reporting increasing problems in the last few years finding trauma surgeons to take on-call duty. This has been corroborated by a recent ACEP survey of emergency department medical directors, which found 75 percent of them reporting difficulty finding on-call specialists to cover consults in their emergency rooms. The Association of American Medical Colleges (AAMC) is predicating by 2020 we may see a shortage of about 100,000 physicians or more. Medical school enrollment has been flat for the last 25 years and one-third of active physicians are over the age of 55 and supposed to retire by 2020. Even while the AAMC is increasing enrollments for medical schools now, it takes more that a decade to train and produce practicing surgeons so it will take many decades to catch up. Add to that, the grueling lifestyle of constant trauma on-call duty and dedication it takes to be a trauma specialist, many analysts feel the younger generation of doctors is not as likely to make that commitment.
The malpractice climate and sky-rocketing malpractice insurance costs are other big barriers in access to trauma centers and care. Very ill, critically injured patients, who are at risk for bad outcomes makes the emergency trauma environment inherently litigious. In fact in some states such as Nevada had to enact legislation to reopen its Las Vegas Level I trauma center after malpractice issues drove many of the specialists out of state. Many malpractice carriers offer discounts to physicians if they limit or eliminate emergency and trauma care, while some even refuse to cover it.
All of this is threatening emergency and trauma care in the United States and leaving gaping holes in our nation's health care safety net. The events in Tucson should serve as a clear reminder, of how a simple town hall meeting or trip to the grocery store could turn tragic in a second. It could happen to anyone of us. And we all need to ask: Will there be trauma care when we need it? With our growing deficit and talk of expected budget cuts as well as another heated debate on health care looming in Washington, we need to remind our legislators to remember how critical and indispensable our emergency medical system is for all of us.
Related
Popular in the Community