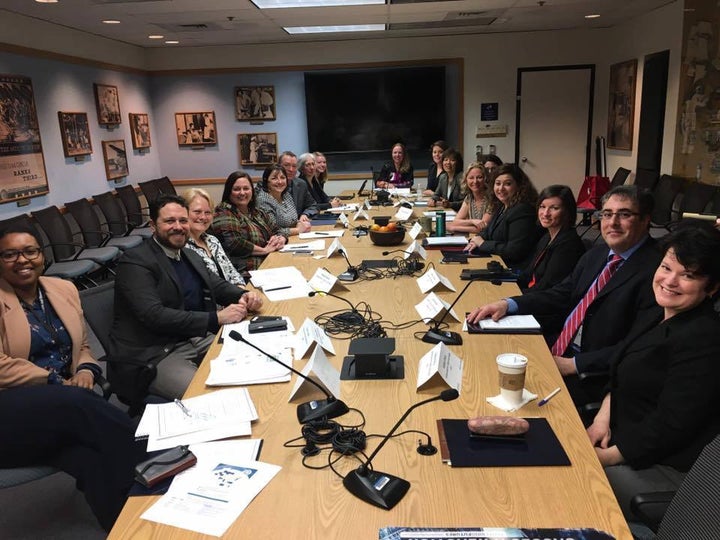 Tonette Walker, First Lady of Wisconsin, is an unexpected leader in the movement to transform healthcare and our communities to become trauma informed, and she has been paving the path for others to join in. Ms. Walker describes how she came to take on this issue with such passion – noting that at the orientation retreat for gubernatorial spouses, everyone was asked to take on an issue they care deeply about. For First Lady Walker that would be trauma informed care and she began her work to transform the state through Fostering Futures.
"The benefits of trauma informed care reach far beyond the person affected, extending to the family, community, state, and even the nation," said First Lady Walker. Nearly every county in the state of Wisconsin now has trauma informed initiatives and programs underway, which is tracked on the WI Office of Children's Mental Health website. Her vision, "Everyone needs to be trauma informed and understand what that means -- from the bus driver, to the lunch aide, to the school administrator, and even the governor."
First Lady of Illinois, Diana Rauner, has also seen the value in understanding trauma and how it affects children. She is an advocate for children and President of the Ounce of Prevention Fund. She recently supported a bill that requires schools to provide social and emotional screenings for kids starting school for the first time. Her husband, Illinois Governor Bruce Rauner, signed the bill in January, providing schools with important insights into the needs of children and how best to support a healthy school climate.
Then there is First Lady of Tennessee, Crissy Haslam, who helped to organize a summit in her state around adverse childhood experiences (also known as ACEs) and how best to work on reducing the number of children needing foster care. The effort served to educate state leaders about the science of toxic stress and how this can affect a person across their lifespan.
Gubernatorial First Ladies aren't the only ones using their leadership to advance trauma informed initiatives. First Lady of New York City Chirlane McCray who has taken on the city's mental health and substance misuse concerns as her key issue announced in December that a new program called Trauma Smart would be integrated into the city's social-emotional learning initiative called ThriveNYC. First Lady McCray believes "By incorporating ThriveNYC, our comprehensive mental health plan, into our Pre-K and Early Learn Centers, we're giving parents, caregivers and educators the tools to help children build healthy relationships, handle conflict, and make good choices. We're also providing parents with information and skills that can make it easier to connect with their child. We want all children to grow up healthy."
Chiara de Blasio, daughter of First Lady McCray, joined her parents at the Substance Abuse and Mental Health Services Administration's (SAMHSA) 2014 National Children's Mental Health Awareness Day event as Honorary Chairperson. Chiara received the SAMHSA Special Recognition Award because she created a video about her recovery from substance use and depression in order to help other youth and young adults. This was part of what inspired her mother to focus on these issues.
First Lady Walker is expanding her work and focus beyond the state of Wisconsin. She recently came to Washington, DC with Elizabeth Hudson, Director of the Wisconsin Office of Children's Mental Health, to meet with leadership at the U.S. Department of Health and Human Services (HHS) and with policymakers on Capitol Hill. Ms. Hudson noted that through the MARC project, Wisconsin is broadening trauma informed collaboration nationwide by working with other states, including AK, IL, MT, and WA, and in cities like Philadelphia, Tarpon Springs, and Kansas City. First Lady Walker stated, "Trauma informed care can be the 'glue' that brings agencies and states together."
Her sights are much bigger than that though. She noted "If First Lady Trump decides to pursue her interest in bullying prevention, trauma informed care will resonate. I'd like to talk with her about it."
First Lady Walker also noted that this is a nonpartisan issue that everyone should support – in her words "It doesn't matter where you sit - this is bigger than that."
Helga Luest currently works for a government contractor and manages a number of federal projects related to behavioral health, trauma, and violence prevention. In 2016 she was appointed to the Maryland Governor's Family Violence Council and she also has served on the U.S. Congressional Victims' Rights Caucus Advisory Group for many years. In 2010 she was awarded the Congressional Unsung Hero Award for her effective advocacy work on violence prevention and response. In her free time, Helga facilitates two social media groups called Trauma Informed - Facebook & LinkedIn - where advocates, survivors, researchers, and other contribute content and commentary on issues related to trauma, prevention, and resilience.
REAL LIFE. REAL NEWS. REAL VOICES.
Help us tell more of the stories that matter from voices that too often remain unheard.