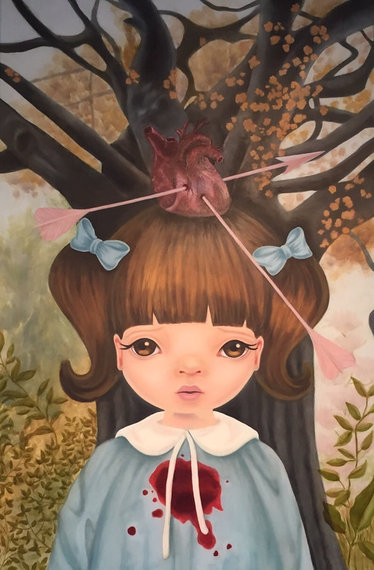 Artist: Loretta Gonzalez, Heart ache
When we read about sexual abuse and assault incidents in the news, what is often missing is information about the long-term impact of those experiences, particularly trauma.
A new global study from the U.S. Centers for Disease Control and Prevention found that one in four women and one in 10 men experienced sexual abuse as a child. It also found that high levels of sexual abuse compounded with low levels of support could cause long-term trauma and negative outcomes. Further, the National Center for PTSD (NCPTSD) reports that five out of 10 women experience a traumatic event in their lifetime and the most common trauma for women is sexual assault or child sexual abuse.
As a clinical social worker for 14 years, I have regularly witnessed the heaviness and darkness that girls and women who have been sexually molested, abused, and/or assaulted live with every day. While everyone's experience and response to trauma is different, depression, substance use, self-harm, and fear are common.
What I have observed is that at the core, a survivor may feel like their heart has been ripped out of their chest, leaving a gaping hole -- feeling empty inside. I also see people believe the lie that they are their abuse and internalize the negative things the perpetrator(s) said about them. They come to believe that they deserved to be treated with abuse, disrespect, and contempt. Or even believe that the abuse is love.
Healing from these deep wounds require a network of nourishing approaches, occurring the most fruitfully in the vessel of self-discovery. This is because trauma makes us reject or never connect with parts of ourselves, like our bodies, intelligence, talents, emotions, and spirit. But empowerment through self-discovery allows us to regain and integrate these parts of ourselves and be authentic. I recommend that, when possible, it occur with the support of a professional specializing in trauma care because bringing up painful memories and reactions can be overwhelming to process alone.
Practices for self-discovery are varied and can include: affirmations of strengths, daily successes, gratitude, introspective questioning, journaling, writing (songs, poetry, free association, letters), visualizations, meditation, yoga, spiritual and psychological readings, prayer, music, dancing, artistic expression, sensory exploration, play, humor, honest conversations, grounding techniques, self-soothing, and more.
I have seen self-discovery work. For example, a female client who had experienced multiple accounts of sexual violence and emotional neglect throughout her life experienced depression, anxiety, and suicidal ideation for numerous years. We worked through her trauma in the context of it being a journey of self-discovery and finding her true self. She bravely delved into facing realities and distressing emotions, with constant practicing of safety, grounding, affirmations, and compassion.
She came to understand that the labels of her diagnosis and the abuse and neglect she endured did not occur because there was something wrong with her or that she did something wrong. She learned to separate and see more clearly who she was as an individual and began to see her creativity, humor, care for others, intelligence, thoughtfulness, and interests as a true reflection of her identity. She found confidence, stability, security, and love in who she was, instead of self-loathing for who she thought she was.
An exploratory study of adult female survivors of incest demonstrated that the process of self-discovery contributed to healthy management of their trauma, and that, "The capacity to protect the integrity of the self appeared central to the adult developmental process of integrating the incest experience."
Through traumatic experiences, many choices are taken away, but evolving through self-discovery is the choice to embrace your personal power and control. John Briere, Ph.D. states "By facilitating self-exploration and self-reference, abuse-focused therapy potentially allows the survivor to gain a greater sense of personal identity".
Engaging in self-discovery can be scary because it is real, but the power and wisdom that comes from knowing, accepting, and loving one's self is worth it. Believing and trusting you are the essence of love and loveable is a constant and stable source of security and connection. It releases the need for external attachments to be the source of these things. Vulnerability is also reduced because the process requires awareness, accountability, and action.
Self-discovery is not about ego, it's about authenticity. Having the courage to be genuinely you. Being empowered to liberate your true self. To honor your spirit.
Finding the love that is within oneself is what I have seen give people back their heart. This is how I have seen pain transform into healthy pleasure. For many of my clients, the freedom from trauma has come from learning to live their life with respect and dignity as their whole and authentic self.
To survivors of sexual abuse and trauma, I encourage you to consider the path of self-discovery as a way to heal. From my heart to yours I say:
Your power is in who you are. The innate good and capacity in you. You are in control of defining yourself. Find the courage to be authentic.
Note: Information in client scenarios have been modified to protect client confidentiality and privacy