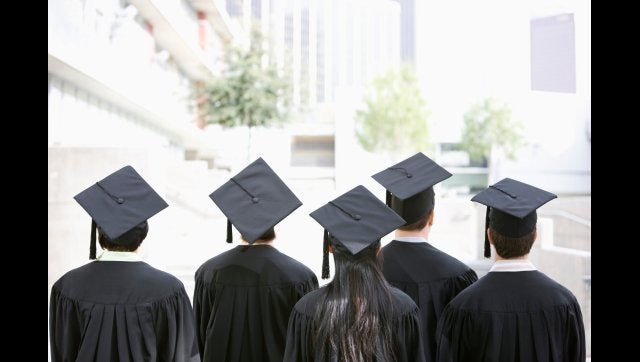 Take a short walk on the dark side of our public education system, and you learn some disturbing lessons about school punishment.
First. U.S. schools suspend millions of kids -- 3,328,750, to be exact. Since the 1970s, says a National Education Policy Center report published in October 2011, the suspension rate's nearly doubled for white kids, to nearly 6 percent. It's more than doubled for Hispanics to 7 percent, and to a stunning 15 percent for blacks. For Native Americans, it's almost tripled, from 3 percent to 8 percent.
Second. If you think all these suspensions are for weapons and drugs, recalibrate. There's been a kind of "zero-tolerance creep" since schools adopted "zero-tolerance" policies. Only 5 percent of all out-of-school suspensions were for weapons or drugs, said the NEPC report, citing a 2006 study. The other 95 percent were categorized as "disruptive behavior" and "other", which includes violation of dress code, being "defiant" and, in at least one case, farting.
Third. They don't work for the kids who get kicked out. In fact, these "throw-away" kids get shunted off a track to college or vocational school and onto the dead-end spur of juvenile hall and prison. One suspension triples the likelihood of a child becoming involved with the juvenile justice system, and doubles the likelihood of a child repeating a grade. And those suspensions begin early.
In Pierce County, Washington, a study of nearly 2,000 children who were on probation, 85 percent were suspended before they reached high school. A heartbreaking one-third of these students experienced their first suspension between 5 years old and 9 years old.
When you hear information like that, you've got to consider that it's not the kids who are failing the system -- the system is failing the kids.
That's what Sal Terrasi, director of pupil personnel services for the Brockton Public Schools, had been thinking for years. Now he had empirical evidence -- the CDC's ACE Study, the neurobiological research that definitely showed that traumatized kids cannot learn when they are over-stressed, and Helping Traumatized Children Learn, the book that Susan Cole, director of the Trauma and Learning Policy Initiative (TLPI) at Harvard Law School and Massachusetts Advocates for Children, co-authored.
With all that in hand, he said, metaphorically, "Enough already." What he really said was: "I saw the data as providing us with powerful support for change."
He called a community-wide meeting. Each of the district's 23 schools sent a four-member team. Representatives from the district attorney's office showed up. So did local police (in a learning capacity), as well as the departments of children and families, youth services, and mental health. Local counseling agencies sent folks. They spent a whole day working with TLPI and talking about trauma and learning.
The response has been nothing short of amazing: an entire community figuring out ways to turn the system from a blame-shame-punishment approach to one of taking care of kids so that they can learn.
· Many of the district's 23 schools have adopted trauma-informed improvement plans. Suspensions and expulsions have plummeted. Arnone Elementary, for example, which has 826 students from kindergarten through 5 grade, 86 percent of which are minorities, has seen a 40 percent drop in suspensions.
· Three hundred of the district's 1400 teachers have taken a course about teaching traumatized children that TLPI developed with the district and educators at Lesley University.
· The attention to child trauma doesn't stop at the schoolyard fence. Local police alert school personnel of any arrest or visit to an address. Counselors identify children who live at that address so that, "at the very least, the school is aware that a second or third-grader is carrying something around that is a big deal," says Terrasi.
So many schools in Massachusetts are interested in adopting a trauma-informed approach that the state legislature is considering a bill -- House Bill 1962 -- requiring schools to develop an action plan to develop "safe and supportive schools." (Apparently, that's a little more positive wording than "trauma-sensitive.")
It's all well and good to advise schools to do everything through a trauma-informed lens, but when you get down to classrooms and students, what exactly does that mean?
The U.S. Department of Education-sponsored program acknowledges that punishment, "including reprimands, loss of privileges, office referrals, suspensions, and expulsions," is ineffective, according to a description of the program that appears on its website, "especially when it is used inconsistently and in the absence of other positive strategies". Instead, "teaching behavioral expectations and rewarding students for following them is a much more positive approach than waiting for misbehavior to occur before responding."
These expectations include teaching children how to "show respect, responsibility, safety and kindness," says Peri Jacoubs, Arnone's assistant principal. Teachers use a system of rewards for good behavior, as well as positive reinforcement, such as telling a child who's walking in the hallway "I really like the way you're walking," instead of waiting for, or only saying or yelling, "Stop running", if a child starts running.
In Washington State, six elementary schools in the Spokane Public School District are becoming trauma-informed. After the successful adoption in Lincoln High School (see Part I of this series, as well as a longer story about how Lincoln High School changed its system), the Walla Walla Public Schools plan to figure out how to integrate the approach in its other schools.
It began with juvenile justice and public health, but it soon became clear that "no treatment system was large enough or versatile enough to respond" to the challenge, says Chris Blodgett, AHEC director. The answer was to engage "universal" systems -- the ones that touch children every single day. That means schools. They adapted the ARC model developed at the Trauma Center at Justice Resource Institute, as well as the "Flexible Framework" found in Helping Traumatized Children Learn.
Even though each state started down different paths, they've arrived at the same conclusions.
· To be successful, this transition requires the participation of all schools in a district.
· It takes an entire community to support the changes.
· It takes more than one school district to have a long-term impact on a state.
· And there's no such thing as a cookie-cutter approach. The training, the goals, the strategy -- all have "to be tailored to culture of community," says Susan Cole. One school, like Lincoln, might have most of its students grappling with severe and chronic trauma, while another might have a small percentage, but one that needs attention.
Or, as AHEC assistant director Natalie Turner, who does much of the training in Washington State schools, says: "If you've seen one school, you've seen one school."
"Understanding trauma is such a missing piece to school reform," says Cole. The changes that have taken place at schools such as Arnone in Brockton, MA, and Lincoln in Walla Walla, WA, are just the beginning, but they should be the norm, not the exception, she believes.
"There is much work ahead at the policy level," she explains. "Helping educators understand that trauma is playing a key role in many of the problems they are seeing at school is going to require a movement."
This is a second in a two-part post. Read part one here.
Related
Popular in the Community