The revised travel ban took effect at 8 p.m. Eastern time Thursday.

Citizens from six countries targeted in the ban will be awarded entry into the U.S. if they can prove they have a "bona fide relationship" with an entity, or certain family members in the country. For example, parents and step-siblings are allowed, but grandparents and siblings-in-law are not.

Resettlement agencies do not count as an entity, meaning that refugees could face an uphill battle in being able to seek safety in the U.S.

Those who already have visas will not have an issue entering.
WASHINGTON ― The Trump administration's ban on travel and immigration from six majority-Muslim countries went into effect at 8 p.m. Eastern time on Thursday, three days after the Supreme Court decided to partially reinstate the ban this week.
Multiple federal courts have halted President Donald Trump's executive order that constituted the ban, ruling that it unlawfully discriminated against Muslims. But in an unsigned decision, the Supreme Court said Monday that the ban could be implemented except in the case of individuals "who have a credible claim of a bona fide relationship with a person or entity in the United States." The justices agreed to hear the case when their next term begins in October.
The State Department released guidance late Wednesday indicating travelers from the six countries must have a close U.S. family relationship or formal ties to a U.S. entity to be admitted, The Associated Press first reported. Having familial ties "does not include grandparents, grandchildren, aunts, uncles, nieces, nephews, cousins, brothers-in-law and sisters-in-law, fiancés, and any other 'extended' family members," according to the State Department's cable. The State Department clarified on Thursday evening that would qualify as close family after all.
Consular officers have received detailed instructions to make case-by-case determinations as to whether individuals qualify under the new guidance, senior administration officials told reporters on a call on Thursday.
They specified that previously scheduled visa application appointments will not be canceled, but visa applicants will be subject to traditional screening and vetting processes. Travelers with student, family or employment-based visas would not be affected by the ban, the State Department said.
Of particular concern is what this will mean for refugees in the resettlement pipeline or who are already working with resettlement agencies to travel to the U.S. Officials said Thursday that a refugee's relationship with a resettlement agency is not sufficient to prove a "bona fide" tie to the U.S. They said they could not be more specific about what would constitute a bona fide tie because of how the Supreme Court's announcement was worded.
"Clearly, the administration wants to dismantle the refugee resettlement program. I just can't see how the relationships that refugees have with agencies wouldn't be recognized."
Refugee resettlement agencies said they're frustrated to not be considered a sufficient entity that proves a refugee has a bona fide relationship with the U.S.
There's a "clear as day relationship on paper" that exists between a refugee being resettled in the U.S. and their resettlement agency, said Jen Smyers, associate director of immigration and refugee policy at Church World Service.
"It's essentially the same thing as a student being signed up for a course at a university or an employer bringing in an employee," she told HuffPost.
"Clearly, the administration wants to dismantle the refugee resettlement program," Smyers added. "I just can't see how the relationships that refugees have with agencies wouldn't be recognized."
Resettlement agencies said they're waiting for further guidance from the administration. So far, all they know is that refugees who have travel booked will be able to get resettled without any issues through July 6. But many agencies have booked travel for refugees throughout the month of July and beyond.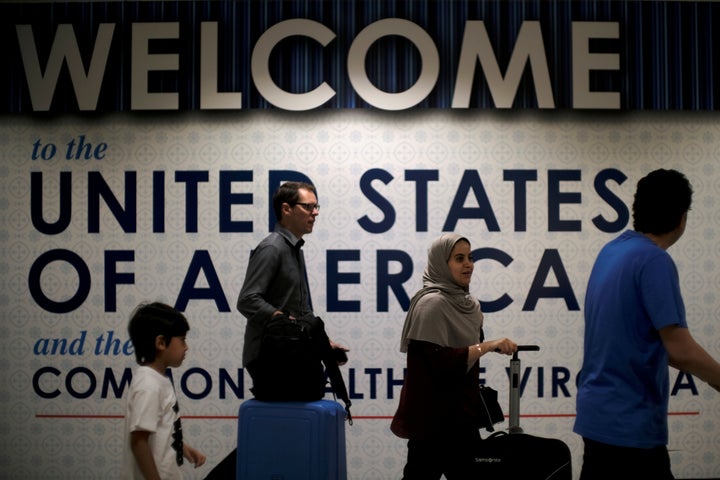 In a separate opinion arguing that the ban should be implemented "in full," three of the court's conservative justices anticipated that questions about what constitutes a "bona fide relationship" would "invite a flood of litigation until this case is finally resolved on the merits," as Justice Clarence Thomas wrote.
The original travel ban implemented in January created widespread confusion, as White House officials drafted the plan without consulting the Departments of State, Homeland Security or Justice.
Authorities said they hope the latest rollout will be orderly. People who show up at ports of entry with visas will be allowed to enter the U.S., officials said, unless there's another reason for them not to be allowed into the country.
Before You Go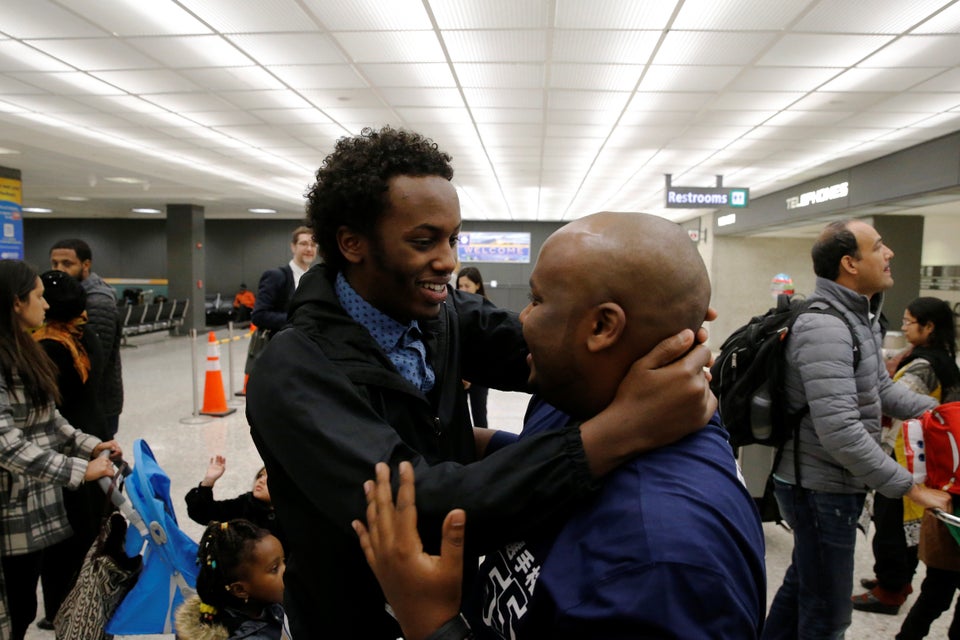 Families Reunited After Travel Ban Lifted
Popular in the Community