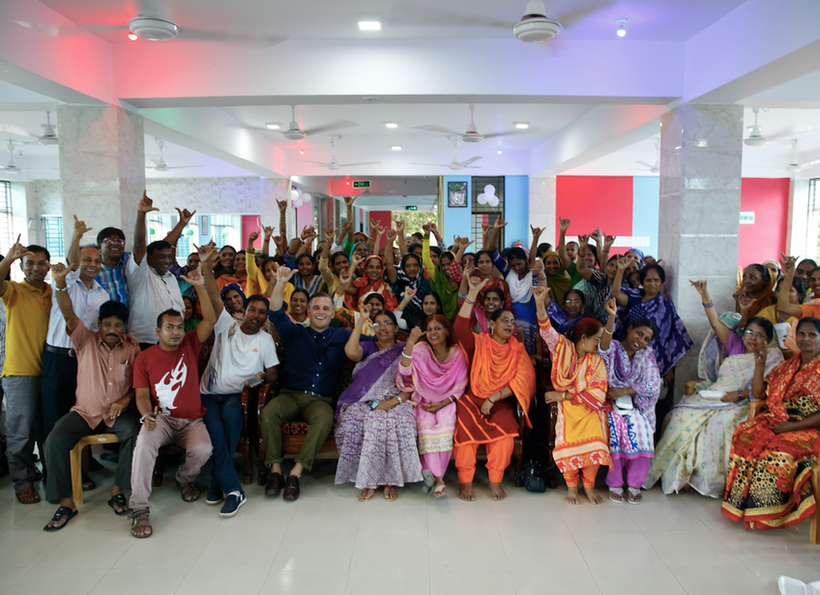 Today we continued documenting Saidpur Enterprises, the Bangladeshi factory which makes Apolis' market bags. Ayon, the local cinematographer accompanying me on this trip, pointed something out to me that really blew my mind: when moms come into work at the Saidpur factory, they take off their burkhas—even though there are men around. The factory manager, Ghayasuddin, has fostered a safe environment where women can work in the presence of men without feeling judged or threatened. When they leave work and go back out into the city, the burkha goes back on. It is incredible to think what a freeing experience it must be for these women to be able to shed their head-to-toe covering, even though that is culturally taboo in this primarily Muslim culture—a culture where it's also taboo for women to work at all.
This detail and many others make the environment at Saidpur Enterprises beautifully unique in comparison to other garment and textile factories in Bangladesh. The entire factory reflects the work of one man in particular: Ghayasuddin, the General Manager. His uplifting story is worth noting here: his father and mother died when he was young, and at age 17, he faced a choice: either be a victim of circumstances, or seek to make the most of tomorrow. He chose that second route, despite the challenges that came along with it.
While working for a variety of charitable organizations, Ghayasuddin gained valuable experience, but he also noticed a sobering fact: the majority of those charities dried up once their donors moved on. Ghayasuddin realized that business could actually be used as a sustainable, powerful force for good if managed with great stewardship. And that is exactly what Saidpur Enterprises is all about: providing an opportunity for people in the local community to take ownership of their craft and seek to improve their lives. Now, at age 61, Ghayasuddin refers to his work at Saidpur Enterprises as "my first and last job."
In 2015, Saidpur Enterprises moved from a rental studio (as seen in our first Bangladesh video) to the present facility. Ghayasuddin sees this factory's goal as employing as many people as possible, with the hope of eventually establishing a community center for the mothers employed by Saidpur Enterprises. At six floors and 4,000 square feet, the Saidpur factory is bigger than anything in the local community and already creates more jobs than any other garment and textile organization in the area. I'm so encouraged by Ghayasuddin's perseverance, integrity, and desire to use business to make a positive impact.
At Apolis, we are so thankful that there is global demand for the market bag, because that enables us to be Saidpur Enterprises' number one buying partner. Since our partnership started seven years ago, Saidpur has seen less than 5% employee turnover—which just points to the fact that the women who work here love it. It's been incredible to see how many women line up for work every day, and it's humbling to realize that the market bag is such a big piece of this story. The number one thing every mother told me today was: "Give us bigger orders." They weren't asking for donations; they just wanted to work. It was really beautiful to see their sense of ownership and desire for opportunity. And everyone who's ever bought an Apolis market bag has directly contributed to this effort.
During our visit today, the moms of Saidur Enterprises hosted a welcoming party which brought tears to my eyes. There were flowers galore, along with music, a meal, and even a playful skit where six moms came onto the stage with market bags and pretended to convince their deadbeat husbands (ladies dressed up as men, complete with fake cigarettes) to let them come work as a means of helping their families. All the male coworkers were extremely entertained.
After the party, I naively asked if someone could teach me how to handcraft a market bag from beginning to end. I figured the process would take just a few steps and last an hour, tops. But in actuality, it took me six hours of working through a ten-step process before I finally finished my market bag—which ended up looking pretty pitiful. The Quality Control Inspector, Ruskhsana, mercilessly failed my end-product; all I can say in my defense is that I think my wife would have liked it (but only because she loves me). Making a market bag is harder than it looks!
We'll learn more tomorrow about the individuals who make these bags, and I'm excited to share their stories—so stay tuned as we continue our Bangladesh updates over the coming week! You can catch live broadcasts on the Apolis Instagram, as well as daily updates with photos on the Apolis Journal. Thanks for reading.
REAL LIFE. REAL NEWS. REAL VOICES.
Help us tell more of the stories that matter from voices that too often remain unheard.
This post was published on the now-closed HuffPost Contributor platform. Contributors control their own work and posted freely to our site. If you need to flag this entry as abusive,
send us an email
.