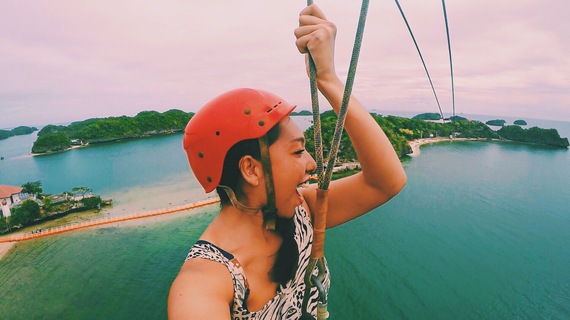 My favorite travel quote? To be honest, it's complicated.
As each travel story births its own lessons, so each experience merits its own inspiration. As much as I love travel quotes (those who follow TMWY's Pinterest can attest to this guilty obsession) choosing a single travel quote to represent my entire wanderlusting passion is like choosing one type of dark chocolate to eat for the rest on my life.
So I asked some of my fellow travel bloggers to share their all time favorite travel quotes that inspire their adventures, and why these travel quotes inspire them.
At the moment, my favorite travel quote is "If I rise on the wings of the dawn, if I settle on the far side of the sea, even there your hand will guide me, your right hand will hold me fast," from Psalm 139. Though amazing and awe-inspiring, travel isn't always pretty. I've been scared and felt very alone in what felt like the far reaches of the earth. It's a comfort to know that even when I am far from all I know, my Savior is still with me and guiding my every step.
Ask me tomorrow, and I may have another favorite travel quote. For now, let these globetrotting bloggers' favorite travel quotes inspire your wanderlust.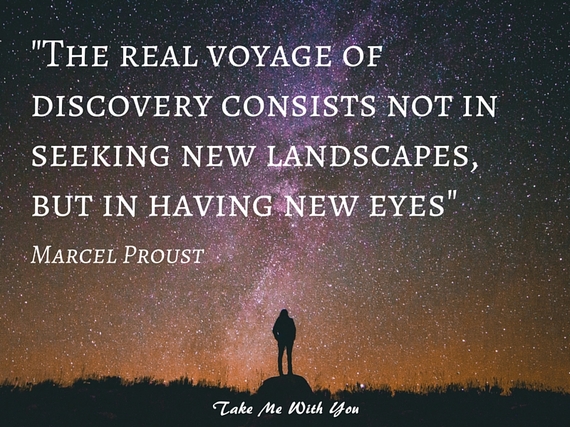 "The real voyage of discovery consists not in seeking new landscapes, but in having new eyes" by Marcel Proust
I make it a big aim in life to travel as much as I can for personal development. There is no greater feeling than leaving a place a better human than when I first arrived. I didn't quite realize how much of an impact travelling would have on me and I can safely say that since I started, I have evolved and grown in so many ways. This travel quote describes my travel philosophy perfectly. I can't wait to see what my next adventure reveals about myself!
- Tess from A Life Full of Serendipity
"Travel as much as you can, as far as you can, for as long as you can. Life is not meant to be lived in one place."
This quote means so much to me because I have been lucky enough to live and work across 6 countries on 3 continents over the past 8 years, and have traveled to 106 cities in 33 countries. Travel teaches you patience, awareness, and cultural understanding and I couldn't imagine living my life without getting out there to experience our amazing world.
- Vicki from Make Time to See the World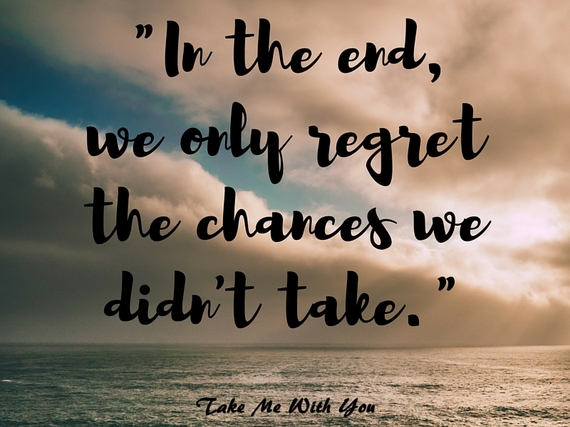 "In the end, we only regret the chances we didn't take."
I was seventeen years old and about to graduate high school when I first saw these words in an article. From the moment I read them, their significance slipped into my bloodstream and stayed with me forever. These are the words that echo in my mind whenever I fear or doubt myself. These are the words that make me push past my comfort zones and keep me growing, keep me learning, keep me exploring. These are the words that have led me to adventures of a lifetime, to meeting wonderful new friends whom I never would have encountered if I were too busy fretting about the future, external opinions, or financial outcomes, instead of living in the moment and staying true to myself. Just take the chance. There's always a way to save, to cut costs, to compromise. Say yes to every opportunity that knocks. Wander down unexplored roads and witness infinite new opportunities open up. Take the chance, because in the end, we only regret the chances we didn't take.
- Melissa from Illumelation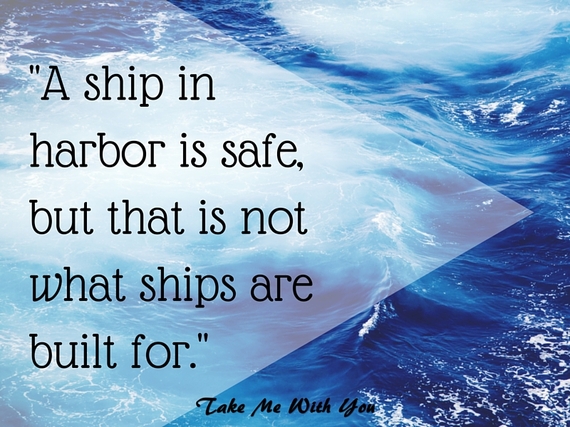 "A ship in harbor is safe, but that is not what ships are built for."
As I left for my 18 month sabbatical from teaching to travel, so many colleagues said something along the lines of, I can't believe what you are doing. So many people talk about it but don't actually do it. I think this quote is a solid response to the waiting for it to happen attitude, if travel is your bag (or backpack!) you need to stop saying no, get out of the armchair, and to the airport.
- Gemma from Two Scots Abroad
"All things considered there are only two kinds of men in the world - those who stay at home and those who do not. The second are the more interesting" by Rudyard Kipling
This travel quote is a favorite of mine as it's quite straightforward and adds a different slant to the well-worn 'travel broadens the mind' phrase, it assumes quite ingeniously that the more interesting folk have already been and seen! Needless to say it has certainly encouraged me to get out there and experience as much of the world as possible; has it made me any more interesting? Not sure, but I'd like to think it's made me a better person.
- Ben Zabulis from Chartered Territory
"Travel is the only thing you buy that makes you richer."
This is my favorite travel quote because it matches my idea that I never feel sorry when I spend my money on traveling. I feel that I'm investing in memories and by travelling I learn about history and culture of the places I've traveled to.
- Dora from Trip Experiences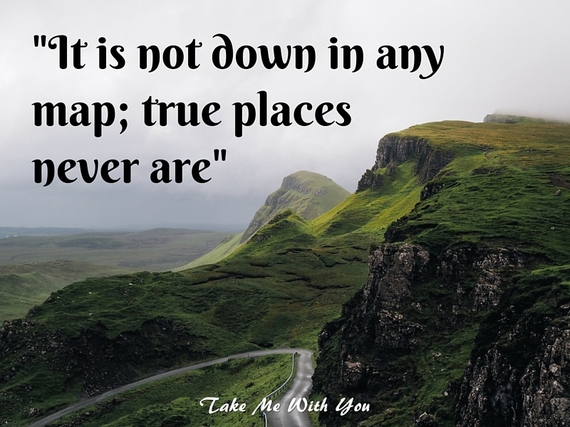 "It is not down in any map; true places never are" by Herman Melville
The restless traveler inside me whispers, Go one more mile . . . And I ask why and it says, Because no one has ever told you about it, no one you know has ever seen it. After a fight I relent to the voice and take those heavy and tired steps, almost giving up at times. When I cover that extra mile I feel liberated because my eyes get to watch that wonder for the first time and my heart feels a rush that overwhelms my senses. The vagabondish traveler is at peace for a bit. And as I soak in to the heavens, a restless traveler inside me whispers again, Go one more mile. . .
- Sarita from Boho Traveller
"Pack a pillow and blanket and see as much of the world as you can. You will not regret it" by Jhumpa Lahiri
This travel quote is one of my favorites. If you have to choose between travelling and anything else, always chose travelling because you will never regret it. I live by this mantra. To me it doesn't mean quit your job, pack your bags and travel. In fact I have been travelling marvelously while holding a full time job. To me, pack a pillow and blanket means simplicity. See as much of the world as you can means face the challenges of life. You will not regret it means your experiences will never let you down.
- Sharmistha from That Girl's Life Stories
"You will never be completely at home again, because part of your heart will always be elsewhere. That is the price you pay for the richness of loving and knowing people in more than one place" by Miriam Adeney
It's a bittersweet thing but it's really true; it's what travel can do to you . . . and it's not a bad thing at all. I definitely don't regret this way of life and I'm more than glad to continue traveling as I scatter my 'heart' everywhere. Besides, I love leaving a mark - may it be big or small - with the people that I meet, fleetingly or permanently; because in return, they leave a mark on me too that I'll forever cherish.
- Aileen from I Am Aileen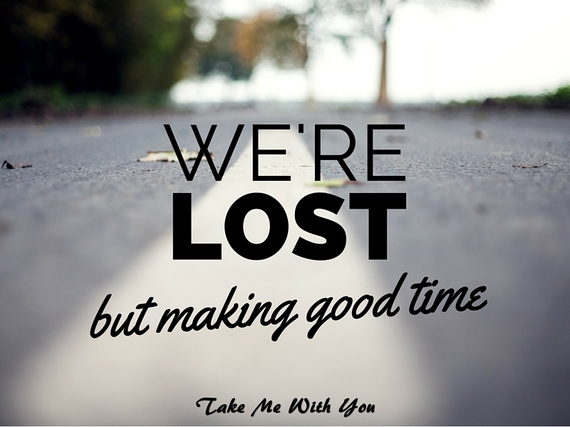 "We're lost but making good time" by Yogi Berra
My favorite travel memories inevitably have been and will continue to be created from serendipitous moments. That is, no matter how much trip planning I do, I am most excited by free explorations with no set itinerary. This quote perfectly represents my travel philosophy of being in the moment without a care of what the next step is, where I will spend the night, how long until I find the next restaurant, and so on.
- Charles from McCool Travel
"Twenty years from now you will be more disappointed by the things you didn't do than by the ones you did do. So throw off the bowlines. Sail away from the safe harbor. Catch the trade winds in your sails. Explore. Dream. Discover" by Mark Twain
Travel, adventure and living abroad has been a big part of my husband and I's lives. We both traveled extensively solo and then I had to move all the way from Germany to San Diego to run into him and make him fall in love with me :) Now we love exploring and traveling the world together and without a sense of adventure and a big pinch of wanderlust, we probably wouldn't have met in the first place. Traveling and exploring plays and important role in our lives and we use every opportunity to discover new places near and far. So when we got married in Germany with both our families, we decided to use a travel theme for our wedding and as a motto, we used Mark Twain's quote. We wanted to show that sometimes, you have to take a chance in life and follow your heart to where you belong in the world. Letting go can give you freedom and taking risks can bring you happiness.
- Maria from Maria Abroad
"Real life starts where fear ends."
I've always wanted to travel more adventurously, you know, Asia, Africa, hitchhiking, sleeping in the wild, do extreme sports. But there was always some kind of fear stuck in my head that stopped me from acting. One day I've read this quote somewhere and it literally changed my life! I still have this fear in my head but every time it tries to stop me I remind myself that real life starts where fear ends and just act. And you know what? I have never regretted my decisions about overcoming my fears. I've traveled solo in Sri Lanka for couple of weeks, lived in the Middle East, left my full time job for remote freelancing and soon I'm going round the world. Now it's my everyday motto. :)
- Hanna from Hanna Travels
"Do not insult the mother alligator until after you have crossed the river." (Old Haitian Proverb)
This might be a bit odd, but I love the sentiment and try to keep it in mind when I roam the globe. It can be super easy to jump to conclusions and pigeon-hole a destination with your first impressions. But until you've really been there and experienced something for a long time, you can't fully understand it. I work hard to stay humble, keep my ears open and always know I'm a guest in a new place as a privilege, not a right. The quote also does make me want to see how other people live in a respectful way - through storytelling that celebrates the other cultures with appreciation.
- Eileen from Crooked Flight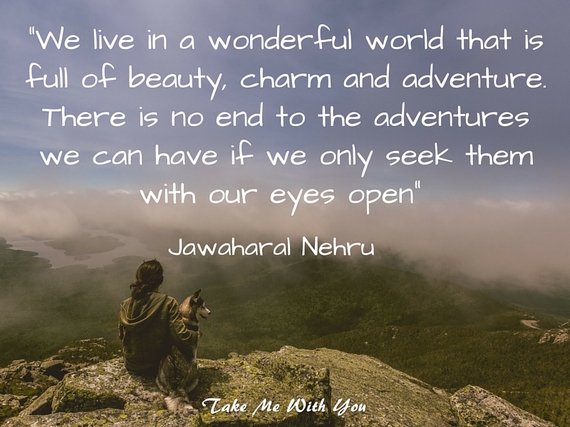 "We live in a wonderful world that is full of beauty, charm and adventure. There is no end to the adventures we can have if we only seek them with our eyes open" by Jawaharal Nehru
This quote inspires me to live my life the way I want to. Traveling is a big part of that, especially now that I run my travel blog. Sometimes, we are afraid to live life the way we want, because it's not traditional, or we worry about what people will think, or we're just afraid to make that leap. This quote helps me to get past all those fears when I need that little push. It also reminds me to travel with an open mind. I've learnt so much from people who are so completely different from me. Different by our cultures or the way we live. I learn continually from my travels that we are all humans when it comes down to it. It's okay to keep an open mind about things that are different from us. By keeping an open mind on my travels I always come home more grateful and humble for my life.
- Amber from The World Beneath My Feet
"Not all those who wander are lost" by J.R.R. Tolkien
I am a huge Lord of the Rings fan. While I was still in university, I would have a LOTR marathon at least once a year. I even have a t-shirt with the quote printed on it. It's become quite a cliché - or at least a very popular quote - that many travelers are familiar with. To me it not only reminds me of my dorky love of elves and hobbits, it resonates with my internal struggles. I feel so utterly lost on so many occasions, but this quote reminds me that just because I wander, just because I travel and have no solid roots does not necessarily mean I am "lost." I am lost on purpose; I am lost because I want to experience life.
- Kristina from I Left Home
"As soon as I saw you, I knew adventure was going to happen" by Winnie the Pooh
This quote has so much meaning in our family of travelers. Our adventures began when my wife and I first met. I had never traveled and she introduced me to the world outside my door and beyond. As each of our children was born our lust for adventure has only grown and we start each week with a talk about what adventures we will be having in the coming days.
- Kevin from Wandering Wagars
"Stuff your eyes with wonder, live as if you'd drop dead in ten seconds. See the world. It's more fantastic than any dream made or paid for in factories" by Ray Bradbury
This is one of many travel quotes I love because traveling gives you so much more back than anything else, and you'll never know when it's all over. So we want to see as much as we can and do as much as we dream of before that day. Traveling is more rewarding than buying new stuff, and as a quote by Matthew Karsten says, Investment in travel is an investment in yourself, is spot on! I have grown so much during the years we've traveled together.
- Monica from We Travel Together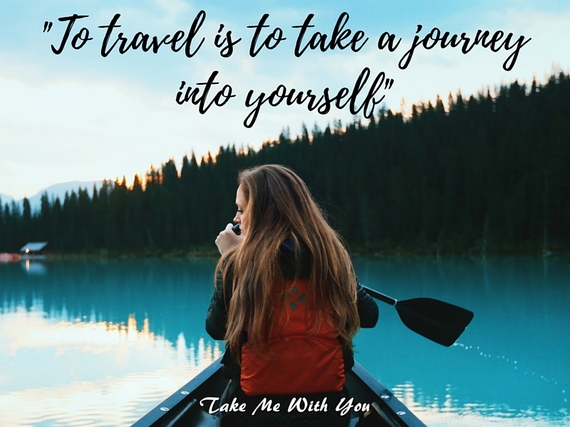 "To travel is to take a journey into yourself" by Danny Kaye
Travel is more than simply journeying to a destination. Whether exploring the surroundings, trying the food, experiencing new customs or meeting locals, you discover just as much about yourself as you do about your destination. What interests you? What scares you? Who are you when no one knows you and has no preconceived ideas of how you will behave?
- Matilda from The Travel Sisters
"Twenty years from now you will be more disappointed by the things that you didn't do, than by the ones you did. So throw off the bowlines. Sail away from the safe harbor. Catch the trade winds in your sails. Explore. Dream. Discover" by Mark Twain
It took me a long time to leave and go travelling.I was scared to leave everything behind and go off on my own. The past three years travelling has been the most amazing experience and I wouldn't change a thing. This travel quote reminds me why I chose to travel in the first place and inspires me to keep searching for new adventures. When I am old and grey I am sure that I will regret the places I didn't see, or things I didn't do; rather than my adventures around the world.
- Lauren from Last Fiasco Run
"The trick is to enjoy life. Don't wish away your days waiting for better ones ahead" by Marjorie Pay Hinckley
I think in the last year especially, this travel quote has rung true for me. As a travel consultant, I often come across clients who have worked hard all their lives to be able to travel in their retirement only to be struck down by illness and disease. I know it may seem like a cliché, but life is way too short not to enjoy yourself everyday and travel as often as possible!
- Sally from Safe Travels By Sally
What quote inspires you to travel? Let me know @tweetTMWY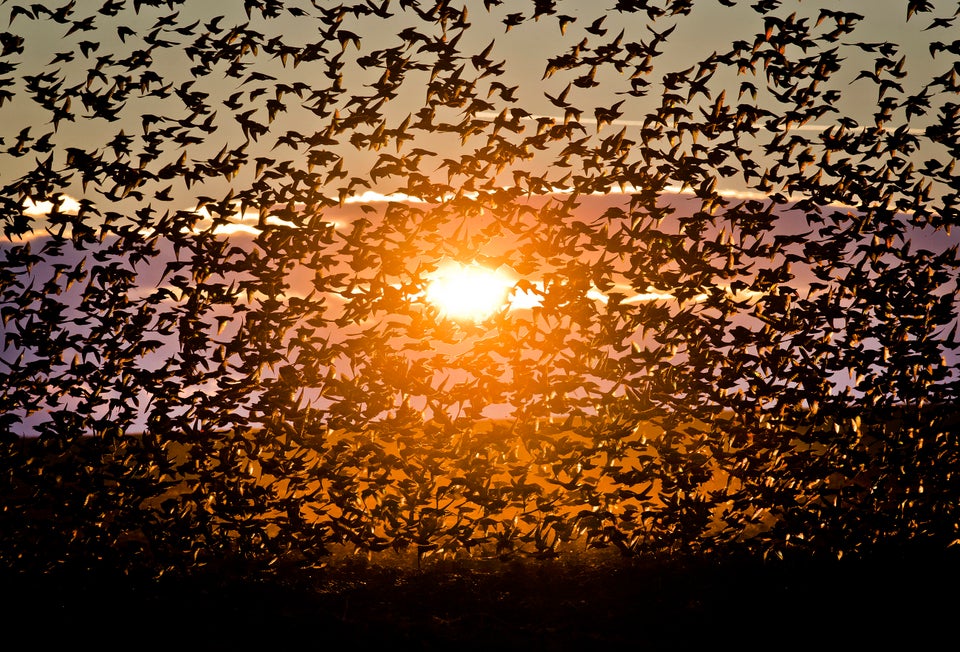 Stunning Images From Around The World