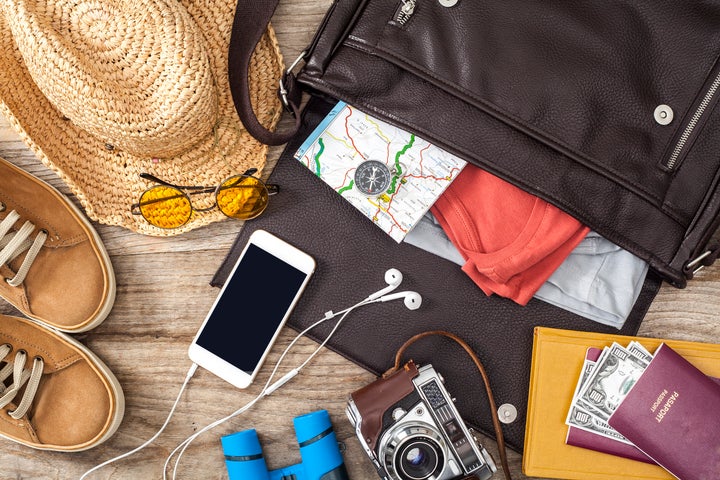 From overweight suitcases to oozing shampoo bottles, packing mishaps are common for many travelers. Whether you're commuting for business, pleasure or both, a well-packed suitcase is an achievable goal.
Wherever 2017 takes you, try these travel tips to arrive organized, well-stocked and looking great.
1. Pack a special bag. A simple canvas tote can make travel a lot easier. Stash it in a zippered compartment and let it live in your suitcase. It will bridge the gap between your purse and your luggage when you arrive at your destination. You'll always have convenient storage to carry items when sightseeing, or visiting a beach or museum. It can also serve as an extra carry-on item on the way home if you pick up souvenirs from the trip.
2. Use plastic bags. Yes, even a grocery store sack will work in a pinch. Store your shoes to keep them separate from the rest of your wardrobe. Bring a couple extra for dirty clothes, stinky gym socks or for wrapping purchases. Their usefulness is limitless and they take up very little space in your suitcase.
3. Prepare a pouch with travel sized toiletries. If you're a frequent traveler, whether it's for work or last-minute weekend getaways, you'll save time and hassle by keeping a handy bag of supplies in travel-friendly sizes. Arrange your belongings in a clear, plastic zip-shut bag (shampoo, conditioner, hairbrush, styling product, deodorant, contact lens solution and a spare case, basic make-up, a razor, toothbrush, toothpaste and floss).
When packing for a trip, simply grab your toiletry bag and go. Whether you carry-on or check your luggage, you'll make it through security and have everything you need for several days.
4. Choose versatile separates. With the exception of an outfit for a special occasion, every item you bring should give you plenty of mileage. Aim for tops that match multiple bottoms and avoid varieties of prints and colors that have limited use.
5. Bring a scarf. An oversized scarf is the ultimate travel accessory, providing a multitude of uses. It can accessorize an outfit, serve as a wrap for cool evenings or as a swimsuit cover-up when tied around your waist. It can also double as a blanket for chilly airplanes.
6. Consider buying a luggage scale. Overweight suitcase fees are entirely avoidable. If you regularly test the limits of airline baggage policies, a handheld luggage scale can save you money in the long run.
7. Take an e-reader. You have enough to carry without adding heavy books and magazines to your bag. E-readers are an affordable indulgence. Not only can you carry dozens of titles with you wherever you roam, you can also check out E-books through your local library. With Wi-Fi access, they're also a convenient way to look up restaurants, activities and other information when you reach your destination.
8. Dedicate a special bag to your chargers. With a designated pouch for your cords, you'll be less stressed knowing they're all in one spot so you can easily access what you need at a moment's notice.
9. Prepare in advance. Create a checklist customized for every destination. Think strategically about what you'll need, depending on weather conditions and length of stay. Waiting until the last-minute leads to a frenzy, causing you to throw in unnecessary items you'll most likely not wear or use. In a bind, you can always purchase what you need when you arrive.
Popular in the Community