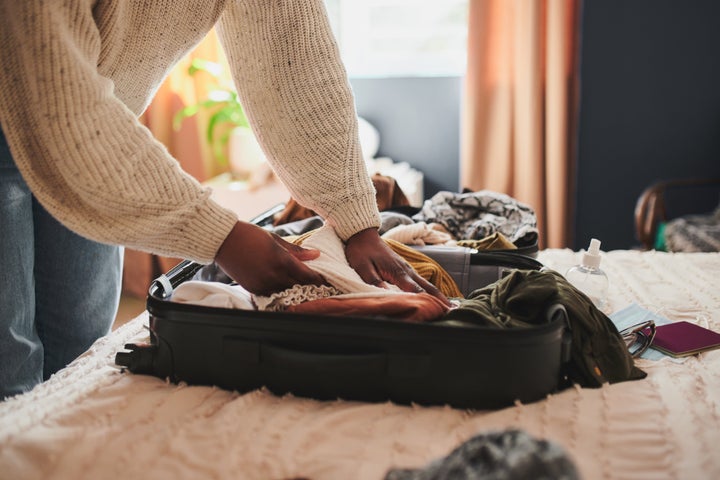 Every type of travel calls for a different packing strategy. What you put in your suitcase for a beach vacation is likely not the same as what you pack for a ski trip or business conference.
Still, there are certain things that can come in handy no matter where you go and might even be a lifesaver in a variety of situations.
HuffPost asked people who work in the travel industry to share the one item they're always sure to take when they go on a trip. Here are their picks:
Scarf
"One thing I always make sure to bring with me, no matter the destination or flight time, is a scarf. The right scarf can be a top, a head wrap, a blanket, a neck pillow, an eye mask and so many more things. It always comes in handy on long flights, and I always regret it if I forget it." ― Gabby Beckford, travel expert and founder of Packs Light.
Turkish Towel
"My Turkish towel has served multiple purposes during my travels ― from a blanket on a chilly bus to a towel at the beach, and even as a pillow when I'm camping. It has saved me countless times and I never travel without it." ― Sean Lau, travel blogger.
Protein Bars
"Always pack snacks ― you may not have time to grab something before it's time to start boarding, especially if lines for food and drink are long. Protein bars or meal replacement bars don't take up much space, and they are a simple, healthy way to prevent hunger while on the go." ― Nick Motlagh, Delta Air Lines pilot.
Photocopy Of Passport
"I have a printed copy of my passport that I keep in my carry-on bag, but not in my wallet. If for some reason my wallet gets stolen, I have backup ID to present. Some people keep photos of their IDs on their phones as well, but if your phone should die or get stolen, at least you have that paper copy as a backup." ― Katy Nastro, spokesperson for the flight alert service Going.
Carry-On Amenities Kit
"I always pack a travel kit that includes a mini toothbrush, makeup items, makeup wipes (these are great to clean your face before you go to sleep on a long flight) and sheet masks for extra moisture. You never know when you might need one of these items, and its easier to grab this from your carry-on." ― Diane Martin, Delta Air Lines flight attendant.
Rain Jacket
"I pack my rain jacket on every trip I take, and it has saved me on numerous occasions. I recommend purchasing a lightweight rain jacket with a hood. Make sure it has deep pockets with a zipper so you can safely store all of your valuables. Even if rain is not on the forecast, I pack it anyway because I have found forecasts are often inaccurate!" ― Phil Dengler, co-founder of The Vacationer.
Portable Charger
"Airports are so crowded, and everybody is trying to charge their phones. Having a power bank means I don't have to sit in crowded areas just for my phone to charge." ― Jessica van Dop DeJesus, founder and editor at The Dining Traveler.
"Cordless smartphone chargers that plug directly into your device are my new favorite travel accessory. No more tangled wires to deal with inside your carry-on or purse." ― Laura Motta, digital editorial director at Lonely Planet.
Medications
"One essential item I always make sure to pack when I travel is my medications. These medications are crucial for my health, and unlike toiletries or clothes, they cannot be easily replaced during a trip. It's essential to have them on hand to ensure a safe and comfortable journey." ― Elie Michaels, vice president of operations at Advantage Rent a Car.
Microfiber Towel
"I always bring a microfiber towel because you just never know when you might need one. For spills, for a towel on the beach, or a hike. I also always bring a reusable bag or tote that I can just pack away because it can be so helpful when you need something to carry groceries in, or your new souvenirs or simply when you need a beach bag in a pinch." ― Esther Susag, travel blogger.
Travel Adapter
"If I have to check my luggage, I always pack at least a day or two of fresh clothes, any necessary medication, a converter and my makeup in my carry-on. If my luggage is misplaced for a day or two, it's not the end of the world and I can still enjoy my time because don't spend the first part of my trip scurrying around stores trying to find the basics. The converter is important because even if you just have a layover in another country, you want to be able to charge your phone and other electronics for the next leg of your journey." ― Melissa DaSilva, president of Trafalgar, North America.
Support HuffPost
A No-B.S. Guide To Life
Popular in the Community