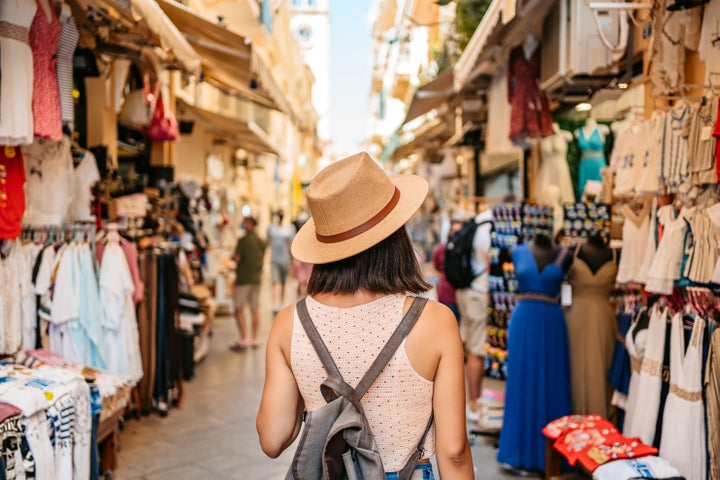 Love it or hate it, souvenir shopping is a big part of many travelers' itineraries.
It's natural to want to bring home a special memento from your vacation to commemorate the experience and perhaps inject a piece of that travel magic into your day-to-day life. But whether you're buying for yourself or searching for a gift for loved ones back home, the vast souvenir offerings at tourist shops can feel overwhelming and inauthentic.
To avoid filling your house with random knickknacks devoid of meaning, consider taking a more mindful approach and selecting items that will be used or otherwise appreciated.
To inspire your choices, HuffPost asked people who work in the travel industry to share the one souvenir they're always sure to bring home when they go on a trip. Here are their picks:
An Article Of Clothing
"I usually buy clothes as a souvenir when I travel! Clothes are functional and practical. And, because I can wear the clothes all the time, they serve as a constant reminder of the trip, helping the memories and lessons of the trip live on in my mind even when I'm at home." ― Gabby Beckford, travel expert and founder of Packs Light
Local Grocery Items
"I love going to local supermarkets and outdoor markets and getting condiments, chocolates and wines. When I visited Greece, I fell in love with Greek honey and bought several jars. In Spain, I love bringing back tinned seafood like mussels and octopus. When I travel back home to Puerto Rico, I buy copious amounts of locally produced coffee. I also find my friends prefer receiving food and beverage items more than a mug or T-shirt!" ― Jessica van Dop DeJesus, founder and editor at The Dining Traveler
"If I'm buying gifts for family and friends who love to eat, I tend to go to a local grocery store to find different and unique items we wouldn't be able to find at home. For example, during my last trip to France, I bought every flavor of chips you can't typically find at home. Poulet rôti, or roast chicken, was a huge hit!" ― Katy Nastro, spokesperson for the flight alert service Going
A Postcard
"I always buy a postcard and then write my favorite memories on the back. I try to find one or two that resonate with me from the trip. Whether it's a photo of a place I went to or just a beautiful post card that reminds me of the destination. It's a really nice way for me to look back and remember the small things that made me appreciate each trip." ― Esther Susag, travel blogger
A Piece Of Art
"To me, the best souvenirs are those that capture the spirit of a place. That's why I always look for local artisanal crafts. They not only support the local economy but also provide a tangible connection to the culture and traditions of the destination. I particularly like items that represent traditional art forms such as pottery, hand-painted tiles, weaving or wood carving. These are things that often have a story and remind me of my travels in the place." ― Sean Lau, travel blogger
"The best souvenirs tend to be ones that simply can't be found back home or easily ordered online. Think handmade items that can only be found in your destination. I love choosing art by local artists."― Laura Motta, digital editorial director at Lonely Planet
A Magnet
"I always buy magnets when traveling. This includes magnets of states, cities, national parks and even countries. It's a fairly cheap souvenir, and it is a great reminder of my many vacations every time I open my refrigerator. While I have also purchased souvenir cups and shot glasses, magnets are the much better choice in my opinion. One of my favorites is my Yosemite National Park magnet, which showcases Half Dome. I did the over 15-mile hike a few years back, and looking at the magnet always brings me back to that awesome experience." ― Phil Dengler, co-founder of The Vacationer
"Beyond finding beautiful crafts at local markets, one of my favorite travel souvenirs is a magnet. It fits perfectly in your personal item, every destination has one, it's affordable and each time you open your refrigerator to grab a snack, you're reminded of all of the incredible places you've been. The fridge is the Louvre of the home, after all." ― Melissa DaSilva, president of Trafalgar, North America
A Snow Globe
"I always make it a point to collect snow globes when I travel. They have this charming way of encapsulating the essence of the places I visit, making for perfect mementos of my adventures." ― Elie Michaels, vice president of operations at Advantage Rent a Car
Local Jewelry
"If it's a souvenir for myself, I try to buy jewelry from a local boutique. Earrings or a necklace are easily packable, and finding something from a local artisan not only makes the piece more special but also contributes to the local economy in a more purposeful way." ― Nastro
Support HuffPost
A No-B.S. Guide To Life
Popular in the Community