Video credit: "Rhinos Without Borders," by Great Plains Conservation and Beyond)
The most life-altering travel experience of my life was a two-week African safari to Kenya and Tanzania, mostly in Tanzania. It was a complete departure from my "normal" American city life: Animals before people, rural areas of a country with very different values and a very different language, no traffic, none of the usual appearance or clothing-related issues, completely different vistas, stories and histories....
Photos from that amazing journey keep my perspective every day years later still, adorning my living room walls. I can still see those majestic giraffes, zebras, elephants, lions, cheetahs, and gazelles, prancing and undulating across the African plains barely 200 feet from me. A lioness was so close I could have touched her if I rolled down my van window (not allowed, of course, for safety). The vibrant hues of the birds took my eyes by surprise...the sounds were new to my ears... I was awestruck by the miracles of Mother Nature and these amazing people who live such different lives from my own and inspired me to see a very different perspective....
We stayed in a "permanent tent camp" in a Tanzania park at one point, in rather large canvass tents with "regular" porcelain bathrooms attached - this city girl's idea of camping! I heard, felt and smelled the elephants walking by my tent at night, yet never felt threatened by them or any other animals.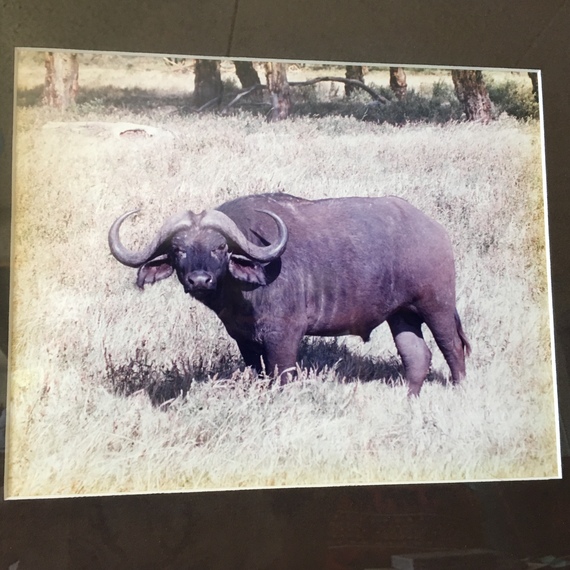 Photo credit: Joan Michelson
When I opened the door to my cabin in Ngorongoro Crater to leave, a massive Cape Buffalo was staring at me, barely 150 feet away. I waved hello and was grateful my local guide was beside me. I imagine this regal beast was accustomed to seeing us humans in her space. And then there were the remarkable Maasai people!
Is This Trip "Eco-Tourism"?
The memories of that trip came into fresh focus at the recent eco-tourism event at National Geographic, where I met a variety of hospitality industry professionals from around the globe, from Mongolia to Costa Rica to Africa, who are deeply committed environmentalists and conservationists. Travel is especially high on our agenda at Green Connections because, Green Connections Radio™ was chosen by USA Today as one of the top six podcasts for business travelers.
"Eco-tourism" is travel that actively preserves the environment and wildlife, while also contributing to the local community. Practices include hotels/lodges that are solar-powered, use water conservation and composting techniques, local foods and products, and that also serve their local communities.). The Global Sustainable Tourism Council (GSTC) defines ecotourism as: "to protect and sustain the world's natural and cultural resources while ensuring tourism meets its potential as a tool for poverty alleviation."
Ecotourism can be done on any budget. Clearly, campers and those who stay in hostels are having a smaller environmental impact than travelers who spend much more, but it doesn't have to be that way. Cindy Ortega, Senior Vice President and Chief Sustainability Officer of MGM Resorts International told us on my acclaimed radio show-podcast series Green Connections Radio™ that there's no trade-off between luxury and sustainability (also on iTunes).
What You as a Traveler Can Do
If you love to travel and explore new cultures yet also respect the planet and local communities, there are specific steps you can take (these tips below assume you must fly, so it's best to buy carbon offsets, if possible).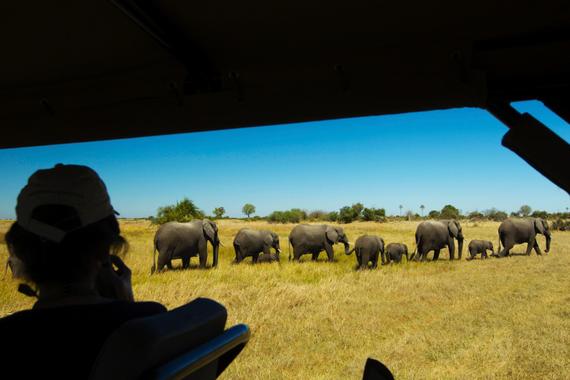 (Photo credit; Jouberts, Zarafa Lodge)
• Choose places to stay that have sustainability practices, such as renewable power, recycling, water conservation, composting and energy-efficient lighting. For help, you can go to the National Geographic Unique Lodges of the World site or TripAdvisor has a GreenLeaders program that rates places. Also, the Global Sustainable Tourism Council (GSTC), endorsed by the United Nations, has sustainable tourism criteria and information, including a list of destinations, as does The International Ecotourism Society (TIES).
• Ask the hotel/lodge management about their sustainability practices and policies. Do they actively monitor, measure and reduce energy, carbon emissions, water and waste? How specifically? Can you see their report?
• Eat local - after all, you're traveling to a distant land to experience their culture and support the local economy. And eat at least a mostly vegetarian diet (it's also generally safer), since raising animals for consumption adds to the ozone level, as food security expert Dr. Molly Brown told us on Green Connections Radio and in her book.
• Bring reusable water bottles.
• Take public transportation as much as possible. Trains in many parts of the world are great and you'll experience the local culture much more that way too. If you truly need a vehicle, drive one that's fuel-efficient (and leave the S.U.V.s in the lot).
• Walk and/or bike the area - you'll see more this way too.
• Bring your own sundries so you don't have to use those in the hotel (less plastic, transportation and waste).
• You're making a statement and driving business trends with how you spend your hard-earned collars, so be aware of how you spend, so buy local and carefully. The GSTC says, "Before purchasing goods, ask about their origin. Avoid buying products made from threatened natural resources and report poaching and other illegal activities to the local authorities.." And...
• Visit countries, cities and towns that practice conservation and that treat their local communities with dignity, fair wages and, if possible, training opportunities, such as the Lapa Rios Eco Lodge in Costa Rica, one of the National Geographic Lodges.
One lodge that takes the conservation ethic particularly seriously is the Zarafa Camp run by Great Plains Conservation, owned by National Geographic Explorers-in-Residence Dereck and Beverly Joubert. The Jouberts "recently helped engineer the largest rhino airlift in history, funded in part by proceeds from the lodge," according to National Geographic's website, and you can watch - and feel - their journey of bringing endangered rhinos to Botswana for their own safety in the video at the top of this blog. The ol' Donyo Lodge in Kenya even offers financial incentives to locals who provide helpful information about local poachers.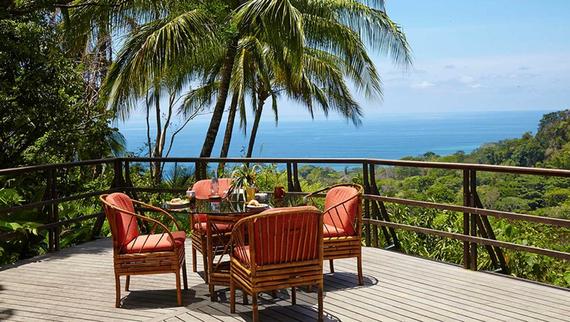 (Photo credit: Lapa Rios Resort)
• Don't bring plastic packaging with you - toss the packaging for your new toothbrush or sunscreen at home where you can recycle it easily (you'll save suitcase space too).
• Don't leave trash ANYWHERE - that includes any batteries you may be disposing of. Carry them until you can recycle them properly (the hotel folks may be able to help).
• Don't use plastic bottles, if at all possible. If you do, recycle them, even if you have to carry them around until you find a place to recycle (that goes for trash too).
• Don't spend your dollars at resorts that mistreat animals or the local community.
• Don't bargain too much. Remember these folks live meagerly, especially compared to the average Western lifestyle, and a dollar in their wallet will help them much more than it will you.
• Don't eat raw vegetables if the water source is at all questionable.
• Avoid changing planes a lot, if possible (uses more fuel, causes more CO2).
• Don't bring soaps and shampoos etc. filled with chemicals, because they will pollute the local water.
• Don't leave appliances like a hair dryer plugged in when you leave your room (it uses energy).
• Avoid using a lot of paper and plastic cups; ask for a glass or a mug, if possible. (Be careful with their septic systems too.)
• Don't use housekeeping every day; reuse your towels from day-to-day to save energy, water and water pollution (from cleaning products).
National Geographic puts the locations in their Lodges program through a rigorous evaluation process, including site visits, to determine the quality of the location. experience and sustainable practices, so they provide good best-case practices to look for in the places you check. For example, Bushman's Kloof in South Africa lists their practices here.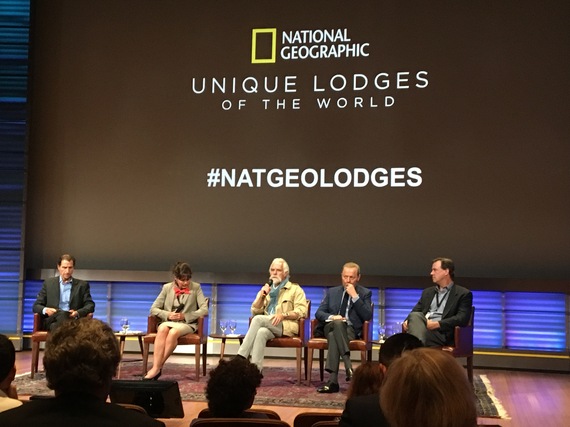 (Photo credit: Joan Michelson)
Us travelers need to remember that there's no guarantee that these breathtaking, life-altering and enriching cultural and environmental spaces will be there for our grandchildren and generations to come.
As Costas Christ, the Editor-at-Large at National Geographic wrote me, the key is "Raising awareness among travelers and travel agents that their travel choice makes a difference," is key, "and that by booking with tour companies and hotels that are committed to sustainable tourism practices, they are helping to advance a new vision of tourism based upon care for people and the planet, while also having a great holiday."
When in Doubt, ASK! If You See Something, Say Something
If you want more information on the hotel/lodge's sustainability practices, then ask. If you don't see recycling, or want cups instead of plastic cups, or want public transportation, then ask for them. If you see wasteful practices, point them out too (a leaking faucet, a running toilet, plastic bottles or packaging, e.g.). Don't just go post it on TripAdvisor, but tell the destination folks so they can do something about it.
The more travelers that ask for this stuff, the more hospitality folks will offer it - and that's good for all of us.

Bon Voyage!