 I'm not so sure. I've been on both sides of the divide, first writing guidebooks for Frommer's and Lonely Planet and now publishing the kinds of travel-planning websites that are supposed to replace guidebooks: croatiatraveller.com and frenchrivieratraveller.com. While a growing percentage of my visitors are accessing my websites through mobile devices, the overwhelming majority still consult my websites from their laptop or PC before leaving home.
I'm happy to provide digital content and certainly gobble it up when I plan a trip. I research online, download the relevant apps on my smartphone and put a free ebook or two on my tablet. For a weekend getaway, that's usually enough. If I can do without a guidebook, I will. But, for a first-time visit to a foreign country, you can bet that a dead-tree guidebook will be part of the mix. Here's why:
No Data Connection Necessary
More hotels are finally offering free wifi. Great! But the connection is not always speedy in all parts of the hotel. So, I point my device around like a dowser, watching the bars on my screen until I find the sweet spot where the connection is strong enough to get online, which is usually in the lobby.
Away from wifi, a smartphone requires a data connection which is where matters get complicated. First the phone must be "unlocked" if possible (it may now be illegal in America). Then, how many megabytes do I need on a prepaid SIM card with a data plan? 150? 500? Getting it set up invariably involves wasting a good part of the morning in a phone shop and the cost can be more than a guidebook. In France, a prepaid SIM card with a data plan is about €20 ($25).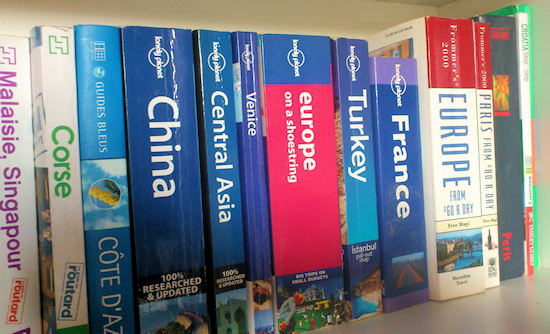 Keeping the devices charged is another management problem I could do without. After hours on a plane, train or bus listening to music, reading, making notes or playing games, one or more devices are tapped out just when I arrive and need them most! Sightseeing with a smartphone is battery intensive. Read up on the sights, check the maps, consult notes, check email, take pictures and chances are the battery is tuckered out long before I am. The digital solution is to carry an extra battery, an extra device and make sure everything is charging overnight. But a guidebook is a convenient backup.
Ebook maps are hopeless. The format just doesn't lend itself to usable maps. Once cached, Google maps on a smartphone or tablet are convenient but don't quite replace a good paper map with a map key that locates important highlights and is easy to annotate. If I need directions (as I surely will), I'm more comfortable whipping out a paper map on a busy street than asking a stranger to pour over my tablet. In fact, just taking out the map can attract a helpful local.
Unlike a novel which is read sequentially, using a travel guide involves a lot of jumping around. Flipping through paper pages or turning to a good index to find what you're looking for is easier than the tapping, searching and bookmarking in an ebook. Should I visit this village or that village? In a guidebook, I can put a finger on one page while reading another, easily comparing the two places. Not so in an ebook, let alone an app. And, it's still useful to hand-write a notation, cross out a phone number or circle an essential sight.
More Practical Information
With all the hotel, restaurant and sightseeing reviews online, what can a guidebook add? They're good for the mundane details such as which bus to take, price ranges (including discounts and promotions), opening hours and how to ask for a room or table in the local language. Of course the information is dated by the time of publication but there's usually a reliable link to a website with the latest updates. On review sites it's hit or miss. Sometimes a dedicated volunteer will be right on top of all the practicalities. More often, you find yourself asking if someone in the community has been there recently and hoping the information is reliable.
There's not much resale value in a guidebook but smartphones and tablets are ever attractive to the sticky-finger set. No matter how much useful travel information is on your little pocket computer, there are certain places where the pricey device should remain hidden. Bring it to the beach? I don't think so. Consult it on a bus? Unwise. The prudent traveler has already secured her device with software to prevent a catastrophic data loss in case of theft (something else to think about before leaving home) but losing a smartphone remains a far more miserable experience than losing a guidebook.
Guidebooks are certainly not as essential as they once were, when I wouldn't dream of traveling without one. As the only source of information in an often remote location, a guidebook was treated as a bible and often called just that. But they never were bibles, not really. They were and are intended to guide you to your bliss, not supplant the sense of curiosity and adventure that drove you to travel in the first place. So I say, use it all. Soak up information online and with apps, ebooks and guidebooks. And then put it all away, look around and prepare to be surprised.