Summer is coming up and if you ask a mother what her idea of a vacation is, I'll bet you she censors her answer. What runs through her mind is, "a trip without the kids!" That's not what she says, though... until now. After reading these hacks, moms will be rushing to their favorite booking site or travel agent, scooping up the best deals! Ok, maybe not quite like that, but I promise that your next family vacation will be more enjoyable if you use my tried-and-true tips!
I have three kids, ranging in ages from 1-6. My 6-year-old has extra needs, so I'm met with a few additional challenges when traveling. With our families spread out over the world, we get away a few times a year, and I've made a lot of mistakes, which you can now benefit from!
1. Learn. You've chosen your destination, now's the time to research! Don't just Google your locale, post your questions on Facebook for your family/friends to try to answer. You can find great kid-friendly gems that are rarely written about on all those blogs and travel articles.
2. Ship ahead. Don't try stuffing diapers, swim diapers, wipes, cream, sunscreen, etc., into your suitcases! With amazing shipping prices (or FREE), you can place your order ahead of time and have it delivered to your hotel! The front desk will keep it for you until you check in. If you're a worrier like I am, call ahead and let them know that you have a package coming. If you're not staying at a hotel, you can also rent what you need (crib, car seat, stroller), and if you're renting from a local (with an investment property), they will generally hold your packages for you!
3. Discuss. Talk to your kids (if they're old enough) about where you're going, and what to expect. Show them pictures of your hotel room online, and ask them what they're looking forward to. Excitement can easily turn into anxiety, and this step really helps.
4. Set reminders. Use your smart phone to help you remember essentials. No, I'm not talking about toothbrushes, I'm talking about favorite teddy bears, blankets, night lights or whatever-your-kids-need-to-fall-asleep. I'm going to rank this tip as the most important one. I've learned the hard way that this is not something you want to forget/skip!
5. Target. Raid the dollar section at Target, and hide the goodies until you're on your way. New toys, coloring books, stickers and snacks are a great way to occupy and distract your lil ones on the journey!
6. Suite Life. Just because you're staying in a hotel doesn't mean you need to be smushed in like sardines, or spend an arm and a leg to get two rooms! Book a room in an all-suite hotel (bonus if breakfast is included!), and you'll actually be able to have some quiet/bonding time with your spouse after the kids are asleep!
1. Be Prepared. Every kid should have their own backpack, and in it should go:
Change of clothes, including underwear and socks. Accidents happen, and so do travel delays.
Items you bought at Target, including their snacks.
Wipes. To clean tray tables, hands and faces, and general messes.
Gum. Have you ever noticed how a kid won't complain when they're chewing gum? I may have just given you the greatest motherhood hack!
Travel sized first aid kit. Moms, we've all been there. This is an easy find at Target, too.
Empty plastic bags. Put garbage in here, or worst case scenario: use it as a barf bag.
2. Music. If you're on a plane, remember to bring headphones! If you're in the car, prepare a mix that will be new to the kids, so they anticipate which song will come on next.
3. Learn how to take deep breaths. Going through security with three little ones? Stuck in traffic? It's going to get stressful, so take five deep, calming breaths and remember: nothing lasts forever! I've said it before, and I'll say it again: Kids are so zen, we should be too! Move on from the stressful event, and focus on the amazing memories you're going to be making!
1. Bedtime Routine. Lack of sleep and change of environment is the perfect recipe for tantrums! Even if you're staying up late, try to keep your at-home bedtime routine the same. It's a small comfort, but it really helps ease the stress of sleeping somewhere new.
2. Laundry. Stained/dirty clothes, and no access to a washing machine? NO PROBLEM! Just put a dime sized amount of shampoo into the sink and do a quick hand wash. The kids love to help out with this one. Wring it out, and hang to dry. Doing more than just two or three items? Put a good squirt or two into the tub, and go to town! Bonus: Jetted tub? Turn the jets on to make your job easier!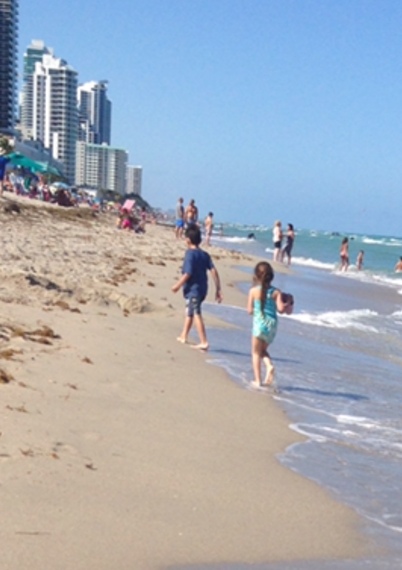 3. Lower Your Expectations. When we get upset and lose our temper with the kids, where does it come from? Did they behave differently than what we envisioned? Were we expecting them to be angels, but they ended up behaving just like kids? A good way to keep it in perspective is to silently ask yourself these questions, and remember that perfect memories actually come from imperfect moments.
I wish I had some life hacks for after the trip, like the copious amount of laundry you'll have to do, but I haven't figured that one out yet!
Let me know: will you be trying these hacks?
Related