Hawaii is supposed to have more millionaires than any other state and yet you can never find them! Because everyone is in aloha attire and looks so casual, it's impossible to spot them. I can tell you where they hang out and how to hang out at their haunts and no one will know that you're not one of them. Having lived and traveled there all my life, it is the only place that is so welcoming that you can just sachet into a hotel as though you were staying there. Here's how:
Waikiki has recently undergone a multimillion-dollar renovation and it shows. It has all the top shops and in multiples. Browse through them and see the finest of the designers. Pop into these stores to see their beautiful things and appreciate the goods the way you appreciate a museum's.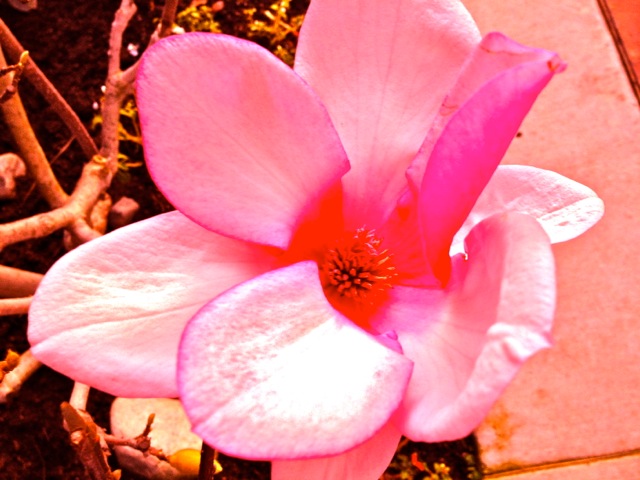 Waikiki's beach walk begins at the iconic Ilikai Hotel so this is a fun starting place while the nightly torches are lit ceremonially at 5 pm (watch from the rooftop bar) and if it's a Friday night then here and the Hilton Hawaiian Village next door are superior places to watch the weekly fireworks show at 7:45 p.m. The new Modern (formerly The Edition) Hotel is also great but here you will have to spring for a drink or dinner at one of my favorite restaurants, Morimoto, named for the Iron Chef of the same name and the prices are weighty, too. The serene green scene sails the harbor view straight onto the horizon for great sunset dining. If you like Japanese fusion, make sure to try the tofu they make at your table.
Both the newly renovated Ilikai (great rooftop restaurant!) and Hilton Hawaiian Village are wonderful to explore and the yachts and boats of the marina have two yacht clubs, one of which hosts the annual Trans Pac so there are some wonderful vessels to see and walk around. Hilton Hawaiian Village drained then refilled the adjacent lagoon and no one will mind if you incorporate it into your walk or stay. Make sure to visit the lush koi pond, the tropical penguin sanctuary, and the fabulous flock of flamingos that make it look easy to stand on one leg!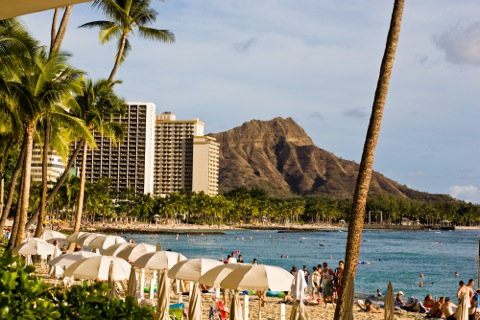 The Halekulani or house befitting the gods was the first place I ever stayed in when I was a child and before my family moved to Hawaii so it is a cherished favorite. At their House Without a Key restaurant, you can read on the menu about the origins of detective Charlie Chan in Honolulu, and get a great meal at a price that won't break the bank, dine al fresco, and really take advantage of the beauty in a stunning setting! The nightly hula dancer and show really make it worth having a meal here. When they ask you if you would like to charge it to your room, you'll be tempted to stay!
Walk on toward the Diamond Head Volcano Crater and you will come to the Pink Lady or the Royal Hawaiian where you can browse the gorgeous grounds for free and they have one of the most beautiful grassy courtyards anywhere with torch ginger gardens and monkey pod trees that would make any monkeys proud. Of course, Hawaii doesn't have monkeys but does have a Monkey Bar dance club at the Hyatt named after the real Monkey Bar from Downtown Honolulu's glory days.
Waikiki is where Honolulu's glory days lie now with its international restaurants and amazing chefs like Sam Choy, Alan Wong, and Morimoto to name a few to add to the established Roy's, Nobu, and the great restaurants in the hotels mentioned here. The hotels in Honolulu have great dining and most people in Honolulu dine out because food is so expensive at the market that it's the same price whether you dine in or out so you may as well dine out! It is fairly priced and Hawaii's accommodations and cuisine are a bargain compared to Europe! And, you can walk into the top hotels, get a table, and enjoy!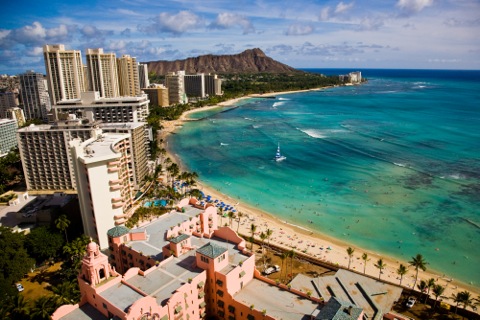 While you can't enjoy beach services unless you are a hotel guest, you can visit hotel gift shops for unique trinkets. I didn't say to buy them but you can enjoy seeing them just as you can grab a bite at the restaurants upstairs and behind the Royal Hawaiian which was painted pink during WWII when that was the only available paint. And it stuck! As you keep walking toward Diamond Head, you will pass some major hotels such as the Sheraton. Keep going until you see a magnificent banyan tree.
This is the tree that Robert Louis Stevenson wrote under and I believe everyone needs a tree. You don't have to write Treasure Island but you do need a tree. You can share this one. Mr. Stevenson wouldn't mind. It entreats you on the sandy beach side of the The Moana which, like The Royal Hawaiian and The Halekulani, are part of Hawaii's historic past which include the ali'i or royalty of Hawaii choosing this whole stretch of beach known as Waikiki as their beach. They chose it because of its gentle surf and sunny weather. While some other areas may be beautiful, none can touch the perfect weather and conditions of Waikiki.
You can sit on the lanai and rock in the rocking chairs while touring this beautiful Moana property. You can look at a room with an eye toward staying at this or any of the above mentioned resorts or condos (The Ilikai has both hotel rooms and condo rentals and The Hilton also has time shares).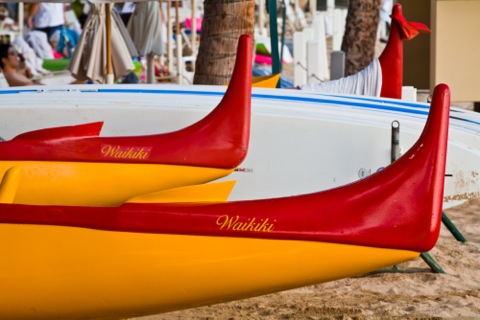 And, if you want to get away from it all and see no one except those trying to see no one, then head by car to The Kahala which is a destination resort and just about as quiet, beautiful, and peaceful as you can imagine. The famous may be seeking privacy poolside while the real stars are the brainy dolphins (their brains are larger than ours!) with whom you can have a dolphin encounter simply by being there or interacting with them in one of their active programs where you get to be in the seawater with the dolphins. You need not be a hotel guest to sign up.
So, you can go to the beaches by day and swim and surf and snorkel then later shop and try some refreshing shave ice and starting at the top of this article at around 5 pm begin your Honolulu travel in style trip through Waikiki accented with a trip to The Kahala which has free valet parking, by the way! You will no longer be a malahini or newcomer and you've just cavorted around like a millionaire! Aloha nui loa! Happy Trails!